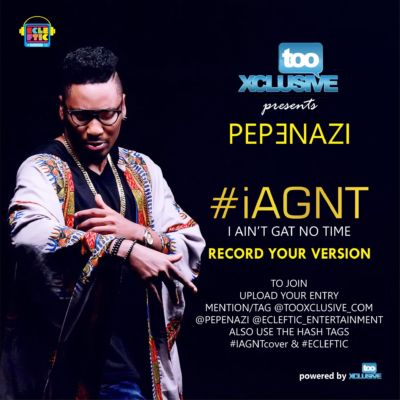 The #iAintGatNoTime cover competition has finally run out it's course. After several weeks of engagement both on Pepenazi's social accounts and tooXclusive website and user handles, we saw a variety of contestants jumping on the fresh hip-hop influenced beat as produced by Htee.
The cover versions varied from hardcore rap to spoken word poetry and indigenous displays from both the South West and Eastern terrains. We also had versions that showed vocal spice from the R&B genre and even ragga on which the Jamaican touch of 'patois' was felt. We kept reaching new levels of wow by the performances of artistes who participated, playing their sense and style of creativity to very impressive and sometimes quite unusual genius. From over scores of entries received, it came down to the best of the best. We tried hard to give room for diversity shown on the competition and so the lump sum was cut to a short list of 20 semi-finalists. Based on your choice as well as the competition dynamics, only 5 hotshots made it to the finals and were tied for the feature spot on the exclusive competition remix for "I Ain't Gat No Time".
So after collating the voting results from the polls, Pepenazi, Ecleftic Management and tooXclusive are proud to announce the two artistes who emerged on a winning streak by having the upper margin of votes against their competitors as SISDAB and LALA, winners for the #iAintGatNoTime cover competition. Their verses will be featured on the exclusive competition remix.
Even as the team wishes to express appreciation to everyone who participated, we however recommend that you cop a listen below on their cover versions that have set them apart from others. We are all winners no doubt, but as is the case in happenstances such as this, someone must go home with the prize. So congratulations to Sisdab and Lala! Now let's keep moving.
---