Last Updated on Jun 29, 2015 | 14:39 by Jim Donnett
I love this industry. You wake one morning to watch how drama perpetrated by some of it's biggest and well-celebrated acts, just unfolds itself. As y'all know, the BET Awards held yesterday and for us Africans, our concern is majorly on the category where more of our home grown acts like Wizkid, Ice Prince, Davido, Sarkodie, Mafikizolo, Yemi Alade, 2face, AKA, Fally Ipupa, D'Banj and more others slug it out for the "Best International Act: Africa" award.
The news this time is not the fact that Wizkid or Yemi Alade didn't win, neither is it Stonebwoy's win but that Fuse ODG – a British musician with Ghanaian origins, shaded the hell outta the show organizers. He boycotted the gig to attend the Glastonbury Music Festival (where he also made a surprise appearance on the set's line-up) and later tweeted that his reason for skipping the show was as a result of his dissatisfaction with the manner BET regards African artistes.
See his tweet below.
Dear @BET, the reason why I didn't come is because you give our awards backstage! You have no respect for our hard work and achievements

— Fuse ODG (@FuseODG) June 28, 2015
This disrespect now, refers to their constant nature of presenting the awards to non-Americans before the show and off the actual (LIVE) stage. In 2011 when this feat began, 2face Idibia and D'Banj won. Although Idibia was unavoidably absent, the awards were presented to the koko master backstage. Same thing happened in 2012 when Wizkid and Sarkodie won. Even with Wizkid's absence, it still didn't save them the charade as Sarkodie who was actually seated in the hall, had his award presented to him backstage. By now, it was already a trend and it continued for category winners, Ice Prince and Davido the years 2013 and '14 respectively.
Here's where it gets interesting. Fuse ODG is very African (by origin) but he was was nominated in the "Best International Act: UK" category because of his music's prominence abroad. And it so happens that he's the next person to vividly express his discontentment when he directed snide shots at BET with his tweet. This brings back memories of the time Dencia made a fuss about it the year Ice Prince won, but apparently everyone just thought she was busy hating. Perhaps Fuse's rant opened more people up to this realization because next to slam their obvious show of disregard would be fellow African and BET nominee, Yemi Alade. She expressed her sentiments in an instagram post as shared below.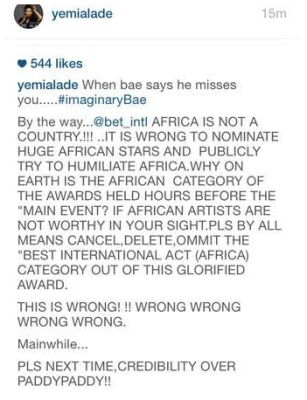 Talk of drama… mama effyzie had taken off the comment for reason we do not want to speculate or fathom but you can bet that it's slowly on it's way to viral status… no thanks to the screen shotting technique and those blessed with genius mind hand of fastest finger first.
So what are your thoughts? Do you have any?
Or sentiments perhaps? Please do well to share them with us!