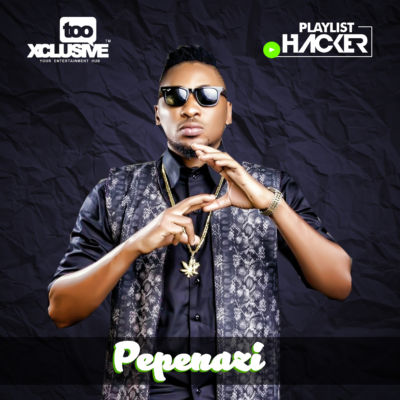 Last week, we introduced "Playlist Hacker" – a new content feature on the hottest music entertainment joint, tooXclusive.com where we get your favourite superstars to share the songs that are buzzing on their playlist, which we have also categorized into themes like dance, romance, comic relief, party/club, church… it goes on and on.
Today, we got hacked into Pepenazi's workout playlist.
I can't believe 'One For The Road' is not even there.
Lol. Oya don't let me spoil the fun for you. Read the playlist note as written by Pepenazi himself!
I'm not a serious workout person, but whenever I decide to hit the gym or just break a sweat at home or while jogging I like to listen to really fast tempo songs. It helps me maintain a steady pace. I get lost in the catchy, repetitive beats and I just keep pushing until I can push no more.

When I'm in the gym, I always put to mind that I'm there for "me". I'm not lifting for a girl or to impress anyone. I lift to build my best self.

Here are a couple of songs that top my playlist when I workout.

1. Avicii  – The Nights
2. Lmfao – Party Rock Anthem
3. Eminem – Lose Yourself
4. Black Eyed Peas – I Gat A Feeling
5. Baha Men – Who Let The Dogs Out
6. Madcon – Beggin'
7. Wiz Khalifa – We Own It
8. Florida – Club Can't Handle Me
9. Busta Rhymes – Break Ya Neck
9+ DMX – Ruff Ryders
10. Missy Elliot – Get Your Freak On
As you can see, it's a very fancy collection of classic and western hip-hop joints. And it's obvious why Pepe keeps going hard instead of going home. All ye fit fa(r)mers, take note! 😉