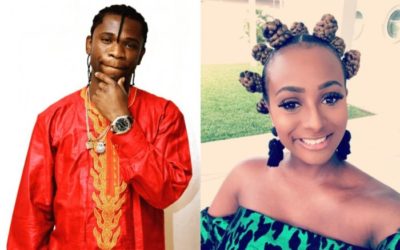 It seems the issue between DJ Cupppy and comic singer; Speed Darlington is not dying anytime soon. Following the release of the video to Masterkraft's freshly released single; "Charged Up" ft DJ Cuppy, Speedy also known as the "irregular Speedometer" went on to his Instagram page to release some impossible words and after which encouraged the superstar female disc jockey.
Speed darlington said he likes the miniskirts DJ Cuppy and the other girls in the video wore and while watching the video, he said he was praying that their skirts gets blown up so he can see "something".
The "irregular speedometer" however encouraged the DJ after the "bants" he wrote, in his words he wrote; "Cuppe you done good job keep doing it never stop have fun. I feel like you mentioned daddy too much in your songs. I'm a mama's boy too but try pretending like you're not a daddy's girl. You want people to see maturity. A person who can go on tour without your daddy holding your hand. There's no shade here I can never shade a person that I like."
We are excitedly waiting on DJ Cuppy's reply to know if their issues till continues or reaches an end.
See his post below
---