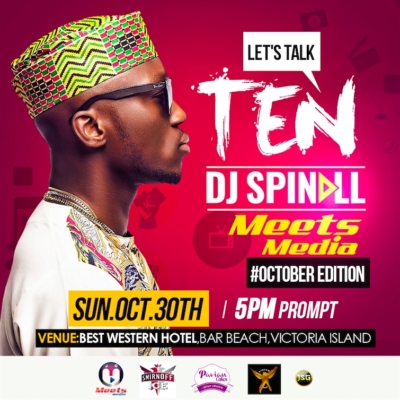 October edition of 'Meets Media' monthly interactive dinner and networking circle for media practitioners mainly from Nigeria is scheduled to hold on Sunday, October 30th, 2016 at the courtyard, Best Western Hotel, Victoria Island, Lagos.
The monthly celebration of media personalities continues this October as we celebrate media mogul, Femi Aderibigbe aka Kwame. The founder of Nigezie, Prime!, TEN and Orisun TV takes centre stage at this edition as we celebrate his 10 years of founding Nigeria's premiere 24 hour music channel, Nigezie!
The event's platform recognizes media personalities that have maintained consistent growth over the years. This October, we celebrate Kwame's active service in the broadcast and entertainment industries.
Activities to feature on the three hour event will include overview of DJ Spinall and his recently released album TEN, star comedian and actor, AY fireside chat with Kwame, introduction and profiling of Xtreem Hype music acts of iShyne, SnS and Nomzky, brand exhibitions, among others.
'Meets Media' monthly interactive dinner creates an enabling environment for communication and marketing professionals to interact with leading media organizations on how their respective companies work.
The platform also gives opportunity for Politicians, Actors and Musicians to interact and share information with the media on their respective projects, achievements, ambitions, and other topical issues.
Event proudly supported by Pavian Cakes and Smirnoff ice