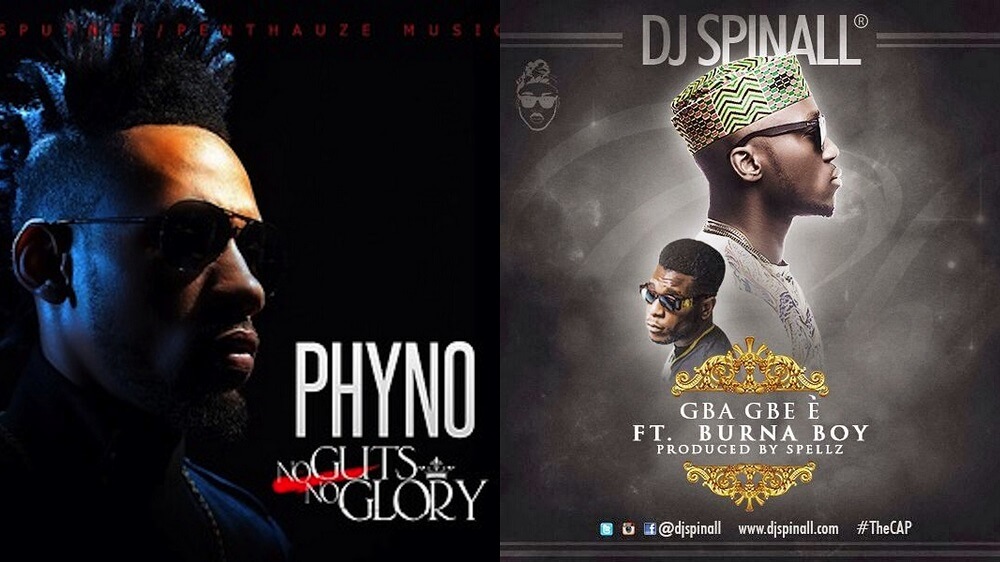 Phyno's musical career has elevated as the Igbo spitting rapper unleashed his "No Guts No Glory" album and there has been needed controversy to ensure the album leaves a landmark.
It all started when fans who bought the LP came across "Authe (Authentic)" featuring international high-life star Flavour and took to micro-blogging site Twitter to vent about the undeniable familiarities the chorus of the song shares with DJ Spinall's Burna Boy assisted single "Gba Gbe E" which was released earlier.
Rumours are flying up and down that the melody was birthed by Flavour and Burna Boy during a studio session they shared and they ended up using it without telling each other, while others believe that Burna Boy stole the infectious melody from Flavour and likewise.
DJ Spinall went on Twitter to voice his displeasure with what he described as pretty much ripping the entire chorus whereas Phyno, Flavour and Burna Boy are yet to address the issue directly.
The team at tooXcluisve have gathered that Spinall is going ahead with promoting his single regards of the massive threat "Authe" poses and will be releasing the video for the song soon.
 Listen to both songs and tell us what you think. Who copied who? Who stole what?
See DJ Spinall's tweets below.
Phyno – Authe (Authentic) ft. Flavour
DJ Spinall – Gba Gbe E ft. Burna Boy
They COPIED the entire chorus bro @BabaOloriokoBB: How can u play that song and tell me some parts don't sound like spinall's song"

— DJ SPINALL (@DJSPINALL) March 22, 2014
Yes @vinchenzononso: The Hook For this Authe Song by Phyno nd Flavour sounds like the hook for GbaGbe by Spinall .. Noticed that yet?"

— DJ SPINALL (@DJSPINALL) March 22, 2014