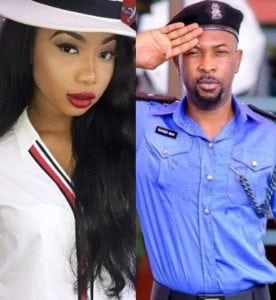 Singer and fashion entrepreneur, Mocheddah attacked Ruggedman on social media over his decision to drag celebrities into his campaign against the Special Anti-Robbery Squad (SARS) unit of the police.
For a while now, Ruggedman has been actively campaigning against SARS on social media. The rapper has been one of the few celebrities that have been vocal about the illicit acts of oppression and brutality perpetrated by the uniform men. He decided to shift his focus to celebrities who have been quiet about the issue and he made a social media post to charge his 'conservative' colleagues to join the call to end the oppressive SARS unit.
However, Mocheddah did not agree with the approach of Ruggedman to the matter at hand. The singer who recently got married replied Ruggedman with a post, telling the rapper that it is not proper to try to force his beliefs and opinions on other people. She urged him to focus on his cause and not expect that other celebrities would join the cause.
See post below.