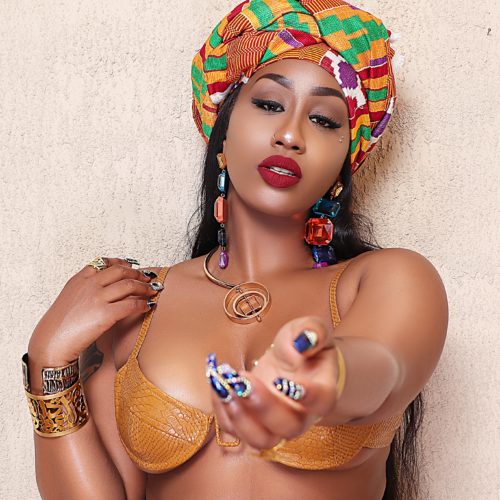 Could the quote; "In every rumour lies an atom of truth" describe the allegations Kenyan singer; Victoria Kimani has levelled against Nigerian music diva; Tiwa Savage? Why I have asked this question is because since Kimani's cover of Kizz Daniel's raving single "Fvck You" hit the internet where she accused the Mavin singer of putting up some really dastard acts to frustrate other female singers in Africa, we haven't been able to reach the very end of the issue but instead it continues to become grievous and irreversibly spread rapidly like wild fire.
Victoria Kimani has accused Tiwa Savage of using her influence and closeness with the biggest personalities in the music industry to occlude her and other female artistes from being called to perform at events she (Tiwa) performs at i.e. she consciously makes efforts to frustrate their music business.
Since Victoria made the allegation, the music industry has not been the same as 85 percent of the topics you'd be seeing on social media pages and the one being discussed by music fans would be the controversy currently surrounding both female singers.
It is also important to know that since Victoria Kimani came up with these allegations, there has been serious tongue-lashing from celebrities and the ordinary music fans sent her way because it is being alleged that she is lying and framing things up which i honestly find really unfair. Why is nobody looking at it from the angle that she could be reacting based on what she was told? I feel hypocrisy could be a major part of this problem, hypocrisy majorly on the parts of the music celebrities.
But for the sake of clarity and precision, I thought it would be a great idea to get Kimani to shed more light on the currently 'hot' story. And also for her not to be consumed by the hatred of Nigerian music fans over the notion that she is allegedly trying to bring down their own, I caught up with her in an interview so she could tell music fans exactly what they need to know about the heavily trending situation.
It was really tough getting to have her talk as she felt, there is nothing she would say that would convince music fans that are allegations are simply nothing but the truth. But after so many telephone calls, SMS(s), emails and the help of third parties, I was finally able to persuade her to let music lovers across Africa know what she calls "The Truth" and nothing less in the interview below.
In the interview, she discussed how Tiwa Savage allegedly uses her influence to monopolise the music business, an unfortunate encounter an east African female artiste had with her, Oga Paulo's response to her allegations and the recent support of Tiwa savage by MI.
One question has been crossing my mind since the start of this saga came up, even during the conduct of the interview and up till now. And that is…Can all other female artistes be having the same notion about Tiwa Savage as all because of envy??? Remember this quote once again, "In every rumour lies an atom of truth."
Read the interview below.
Hi Victoria
Hello!
I guess before now, you felt it's only a matter of time before a media team gets across to you on the current buzz you are having right now in the music scene, right?
Honestly I wasn't expecting any contact from any media agency, so I felt just like Victoria Kimani when you made your first contact.
Hmmm! So who is Victoria Kimani?
I am just that sweet, loving girl that loves to speak the truth. I don't hide my feelings.
That's obvious though…
(Smiles)….I know right
So quickly moving to the hottest gist in the entertainment scene right now, I'd like you to let us in on the whole situation…
(Laughs) Sorry! What's that?
You and Tiwa Savage…
Oh! Got ya
What exactly could be your reason for dealing Tiwa Savage a heavy blow on your your Kizz Daniel's "Fvck You" challenge?
Well, I grew up on rap music, and my understanding of Hip Hop Culture as I know has always involved the "Battle Rap," an element that is popularly known to "hit below the belt" lyrically, but be able to shake hands or hug it out after the musical battle. In this case in the FVCK You challenge, I definitely said some things that were harsh and also exaggerated. We know she (Tiwa) isn't 45 or a grandmother (although being a grandmother is an amazing thing to be), however the F-U to her was for the known fact that she blocks (or tries to…..) other women from stages, anywhere she is performing. That was my FVCK you to her and I stand by that.  
Obviously a lot of Nigerians would find it difficult to believe the accusations you've thrown at Tiwa Savage is genuine, could you recount an experience you had that aligns with the allegations?

Several, and also, so can many other female artistes, and promoters who have experienced her wrath behind the scenes. I am not at liberty to speak on anyone else's truth but my own, in order to respect their wishes.
Why have you taken to escalate your difference with Tiwa in the way you've done, don't you feel there could have been a better way?
I didn't expect the comedic parts to be taken literally. I also did not expect this to turn out the way it has and I would have talked about this years ago which I didn't but because of all the hate that is coming my way I've decided to speak up and explain why I said what I said. It's wrong to force promoters' hands by asking that other women not be billed on the shows that you are performing in.
Lots of people would think you are envious of her rise in the industry and that's why you have come out to shade her publicly, how could you cure the notions of these people and sincerely feed them with what they should know?
I am not aware of much that goes on with her career. But I do know that It has been proven time and time again, that Yemi Alade is the most successful and touring female artiste in Africa and if I am going to envy someone, it would be her obviously.
We know there was a music relationship between you and MI in the past which suggests you two should be close, but with a recent post on his Instagram page which suggests he is siding with Tiwa, don't you think this would further downplay your allegations of her?
Absolutely not! who made him (M.I) the "validator" of such well known claims? He knows what's happening in the dark, also that's his friend I guess, so he is supposed to do that.
Why do you think Tiwa is working against other ladies in the music business?
Same reasons that I mentioned above, and also, Pure evil. This is not the economical or morally correct climate to be suffocating African girls' strides with your "one girl in the   palace" mentality, It sends a horrible message to young girls out there.
Do other East African female artistes feel the same way you feel about Tiwa?
Yes! there is one that experienced this herself and witnessed it behind the scenes on her doing this, but she still comments heart eyes and love struck emojis, famzing for TV, but saying the truth in dm(s). One thing you should know about me is what you see is what you get. You will always know where You stand with me, if I LOVE you, you definitlely will know and if I am angry with you, you will know still. I will never understand the fake life.
You levelled some allegations towards music business mogul and show promoter, Paul Okoye popularly known as Oga PaulO regarding what Tiwa Savage once told him about other female artistes, can you shed more light on that?
The man told me and other female artistes that the woman (Tiwa Savage) doesn't want the other women on a particular show, like…why are you giving them the platform? He said that he explained to her that this woman (Victoria Kimani) is representing her country Kenya….  why is the presence of other women an issue to raise any questions about especially if you don't have any personal beef with her? He denied it… typical, sad! more enabling this woman vs woman culture to exist… you say one thing behind closed doors and another in the public eye.
You seem to be hell-bent on Tiwa using sexual output to get music favours and financial gains, how are you so sure about that Victoria? Do you think there is anything we should know?

I apologized for slut shaming and age shaming Tiwa, I should not have done that. However I will stand with the rest of what I've said. There's no need to stop other women from performing on the same stage that you are on.
What gave you the guts to speak out, would you describe yourself as fearless?
I never intended to, I could have spoken out when she was doing this years ago. I only intended to do the FVCK you challenge and have it go under the radar as a lot of my amazing music have, but what gave me the "guts" is genuinely not giving a fvck after seeing the output of hate from her imaginary accounts (fake – robot accounts).
With the buzz you are currently getting, do you intend to ride on its advantage by dropping a song ASAP?
Regardless of these issues, my team and I were already working on a material to drop soon. Honestly, I didn't expect this type of buzz from my own challenge. I was only speaking out for myself and other women in the music business.
Do you feel other Nigerian female artistes feel exactly the way you feel about Tiwa Savage?
150%
What's your relationship with other Nigerian female artistes like?
We are cool as Ice. Supporting, cordial, respectful and loving. We don't have to be bffs or talk on the phone to feel the love! Hopefully it's not China love.
Why do you think women find it very competitive in the music business?
Women feel the need to be the only option so they can collect all the money & false admiration alone in fear that their spot could be compromised! Insecurity, doubt, and also…maybe someone did it to them. Also the men — they allow for that women hating women culture to exist, they even forge it most of the time, telling young girls "you have to be the only one, 20 men on stage but just one of you female, that is what will make you shine, that is what makes you special" It's an old trick in a very old book, used time and time again. However, the presence of another woman will not dim my light from shining.
What would you change for women in the music business if you have your way?
I'd create a space that allows female African voices to be heard and respected, I would create more platforms and opportunities for women in music. I'd have an all-female line-up one day, God willing.
Paul Okoye (Oga Paulo) insinuated via one of his most recent Instagram post that you must have been under the influence of drugs to have levelled such allegations against him, what could you say of that?
I don't have to be on drugs to fight for women, but it doesn't matter whatever name I am called, I will continue to fight for what is right.
Thank you for your time Victoria…
My pleasure, thank you too!
By Taiwo Oluwafemi
Twitter: @neefemie
Instagram: @neefe_nawti