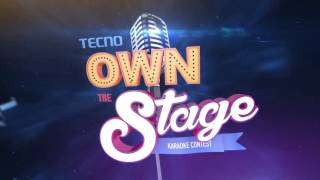 As contestants keep up with the struggle to earn the $25,000 grand price on the #TecnoOwnTheStage Karaoke competition, today we bring to you one of the best performances which is from Kenya's Ramar254 as he gives an enchanting performance of M.I's  "Number 1".
Did he do it better than the chairman? See below

The YouTube ID of EZ-FE_zwYCo?t=1097 is invalid.

To answer the questions and win, you must visit www.tecnownthestage.com
For more info and updates, you can follow us on;
Facebook – Tecno Own The Stage
Twitter – @tecnoowndstage
Instagram – @tecnoownthestage
Tecno's #OwnTheStage shows on:
Sundays – Africa Magic Showcase at 19:00 CAT
Sundays – Africa Magic Urban at 21:00 CAT
You can watch the repeat broadcast on:
Tuesdays – Maisha Magic East and Maisha Magic Bongo at 18:30 CAT
Wednesdays – Africa Magic Family at 19:00 CAT
---