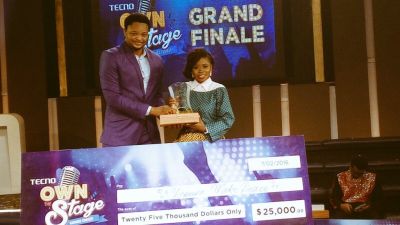 After 13 weeks of fierce music battle, the winner of the Tecno own the stage first iof its kind karaoke show finally emerged. As you might have guessed it, it was none other than Shaapera Makepeace. The super amazing, multi talented, beautiful Nigerian contestant, yes the very one!!
Laying her hands on the prize was no walk down the park for Shaapera, she had to battle competition from the trio of Pascal, Sikin from  Kenya and Tanzania's Sikin.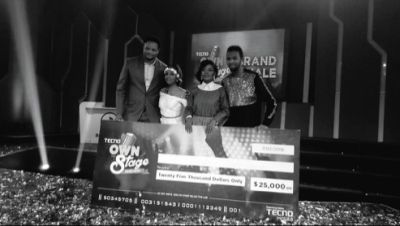 Sikin came in fourth, Nandy was the second runner up and Pascal first runner up.
Shaapera left Tecno own the stage 25,000 US dollars richer. She would also get to record a song with one of the judges in the show as well as a music video. And more importantly she gets a Tecno smart phone to share her experiences.
The runner ups did not go home empty handed, Nandy gets $15, 000, a three month internship at Chocolate city and a Tecno phone.
Pascal gets $10, 000 in addition to  a Tecno smart phone.
Congratulations to Shapeera on her well deserved win!!!
---