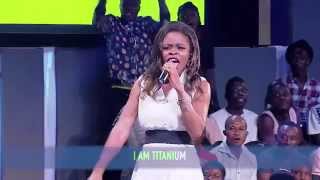 Covering the chart topping "Titanium" is no small feat. However this tecno own the stage contestant Shapeera Makepeace went on to bring down the house with the song originally performed by David Guetta and Sia and she did so almost effortlessly.
So much so that she got M. I doing a 360 on his chair, Yemi Alade and Kenya's Sauti Sol boy band member, Bien-Aimé Baraza, were on their feet dancing for the better part of the performance.
The judges could not stop praising her brilliant performance.
Watch and tell us if you think she slayed it!
To answer the questions and win, you must visit www.tecnownthestage.com
For more info and updates, you can follow us on;
Facebook – Tecno Own The Stage
Twitter – @tecnoowndstage
Instagram – @tecnoownthestage
Tecno's #OwnTheStage shows on:
Sundays – Africa Magic Showcase at 19:00 CAT
Sundays – Africa Magic Urban at 21:00 CAT
You can watch the repeat broadcast on:
Tuesdays – Maisha Magic East and Maisha Magic Bongo at 18:30 CAT
Wednesdays – Africa Magic Family at 19:00 CAT

"#TECNOOwnTheStage: Watch This Lady's Mind Blowing Performance Of Sia's "Titanium"", 5 out of 5 based on 1 ratings.
---