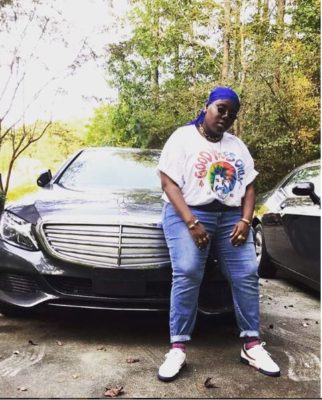 Status quo for aspiring female artistes who had any intention of making it in this saturated patriarchal music industry was to show a reasonable amount of skin in photo-shoots and videos, dance sensually during performances, ensure to be eye candy at least most of the time and generally cut a sexually provocative and arousing figure-
presence or absence of talent regardless.
Only a few VERY SPECIAL female careers have stood the test of time and have been commercially successful without playing by any of the aforementioned rules. Without mentioning any names, you could literally count them with your fingertips. In comes this big, bulky, tomboyish human being called Teniola Apata with the alias Teni the Entertainer. On first sight, she comes across as a rebellious, spoilt rich kid with no care for public opinion and just likes to sing for egotistical purposes. But underneath all that façade and misconception is a beautiful tenderhearted happy-go-lucky lady with a deeply rooted passion for music.
Having been around the entertainment circle for a bit, Fargin was the song that got heads turning her way. What was probably meant to be a high-life cover freestyle on Instagram turned out to be a full-blown single that got everyone scrambling to her social media pages to catch a glimpse of this weird-looking yet funny singing talent.
Then she released "Wait For Me". A signal that she meant business with music. Her contemporaries and perceived rivals were not so amused anymore. The odds would be stacked to the high heavens against her. Plus her sound thus far was not exactly popular. A flash in the pan at most.
Introducing "Askamaya", Teni's club banger that got both male and female bumping and grinding in their corners. A club/party favourite. Did I mention that she won Rookie Of The Year at the last Headies?. She most certainly did. Ahead of DMW's Peruzzi, Aquila Records' Airboy, and Ancestor Records affiliate, Junior Boy.
As her social media following astronomically increased, so did her industry acclaim. Her funny videos on Instagram quickly and easily made her a fans' delight and just when it seemed she was toning it down with the music, she recently released "Shake Am" and "Case". While Shake Am gives off a groovy, afrobeat influenced vibe, Case is a mellower and more carefully thought out tune which shows Teni's emotional side and easily puts her fans in their feelings.
Obviously, she has the very rare ability to switch between groovy tunes and the more conscious stuff which means she would be able to cater to her deep and emotional music side while still appeasing her jollof music loving fans. That should make her label owner happy for sure. She defies every feminine norm and is gradually gaining acceptance among music lovers locally and internationally. One thing is certain, Teni the Entertainer is not going away anytime soon.
——————————————————-
Chuks Asoegwu – A political scientist by degree, a writer, OAP, event host, lyricist, sports lover, social commentator and radio junkie. You can connect with him on social media where he shares his "explicit" thoughts on issues spanning across entertainment, sports and politics.
Twitter/IG: @chuks_ea