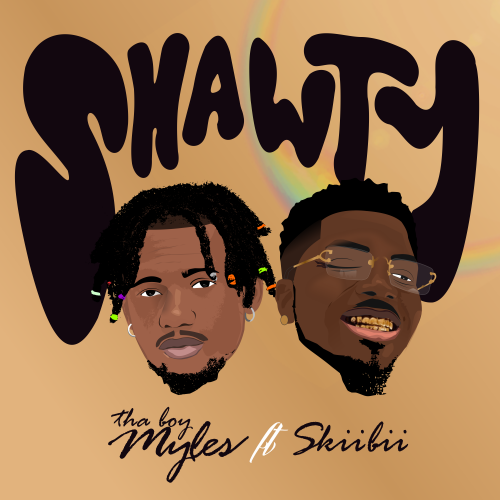 Tha Boy Myles Teams Up with Skiibii For Brand New Single 'Shawty'.
Hot on the heels of his recent single 'Sugar' and following the release of the 2021 Mylestone EP, a six-track wondrous showcase of love in all it can inspire, the exciting Afrofusion artist The Boy Myles is back with a brand-new single 'Shawty' featuring fellow Nigerian artist Skiibii.
Produced by super-producer Niphkeys, 'Shawty' is another dreamy self- observation of emotions that dance around the tender feeling of loving someone with the willingness of doing anything to pull them close. Brimming with authenticity, Myles' impassioned lyrics fit so snugly in his rooted-from-the-heart, lush vocal lines, allowing listeners to feel the emotion he pours into his craft. How he delivers the line, 'How much be
money wey I no get/how much be motto wey I no fit buy for you?' with such soothing sophistication is a testament to his textured vocal. Skiibii on the other hand showcases his unmistakable touch and seamlessly flexes his lyrical prowess, giving the overall tune a very enthralling vibe.
Showing no sign of slowing down, Myles is putting his soul in the listener's hand as he continues to leave an unforgettable mark on the world of Afrofusion music. His undeniable vocal talent and knack for writing exactly what he's feeling, which is the ultimate recipe for success, sets him as one of the most promising artists on the rise.
Listen to "Shawty" below;
Available On Digital stores- STREAM/GET HERE
Tha Boy Myles: Artist Bio
Ogunleye Olawale Michael with stagename THA BOY MYLES is a young talented performing artist, singer, songwriter and music producer who has been underground for a few years mastering his craft, building his fan base and solidifying his sound carving his niche and polishing his strength . Tha Boy Myles is a prolific songwriter having written some hits for A list artists locally in Nigeria. Tha Boy Myles is a stunning looking artist, admirably 6'1″, dark and with meticulously built physic.
He is a recording artist extraordinaire, his work ethic is near perfection, his good communication skill, humble and friendly attitude makes him the ladies' favorite. His control of rhythm and melody is incredible in addition to his mostly clean and meaningful lyrics.
Tha Boy Myles is a profound artist, quite evident in his ability to translate his life and his environment into music that evokes all kinds of emotions from his listeners and creates an instant bond between him and his listeners and also creates a common shared interest between his listeners too.