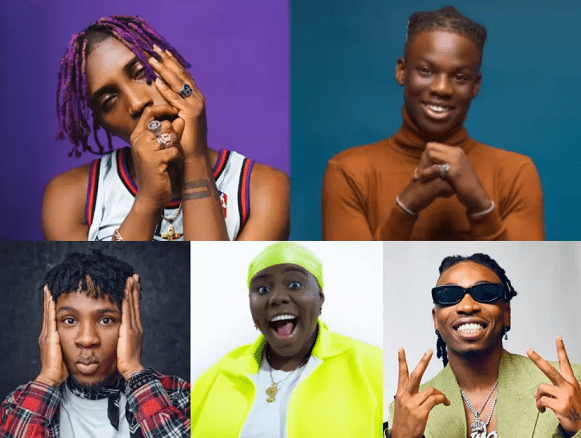 The beauty and expression of Nigerian music cannot be over emphasized. New music from various
Nigerian acts and successes accrued to them with lots of recognition and appreciation made the
Nigerian music industry bubbly and exciting in 2021 and they made their fans happy by entertaining them with good music as they journeyed through the highs and lows of the year.
Lots of hit singles, top trending music albums and Extended Playlists were released and they have gained good reception from their listeners. New names in the industry have also doubled their game to try and match up to the existing names and they have done in that regard. To better understand the quality of the Extended Playlists released in 2021, we have highlighted some of the top rated Eps that not only excited listeners but they received good ratings and topped charts.
Tems – "If Orange Was A Place" EP
The EP, 'If Orange Was A Place' is one of the best EP released in the year, 2021. Tems definitely had a good year in 2021 with the success of the song, 'Essence' which she was featured on by Wizkid. Her addicting vocals assisted the song in making it a sweet track and it gave people an insight on how talented she is. To further reveal in her success, she released the summer inspired Extended Playlist that sent music lovers in a frenzy. The songs on the EP were well delivered and radiant.
The lead single off the EP is the incredible song, Crazy Tings that highlights the absurdities we face every day. The reception of this song alone is quite inspiring and is enough to conclude that the EP has done well. It also serves the promise that Tems still has a long way to go and she won't fail in dishing out good music to her lovers as she journeys through her music career.
Psycho YP – "Euphoria" EP
Euphoria is an amazing project by the talented rapper, Psycho YP. He gave his listeners an incredible delight with this EP. On this 9 track project, he featured Alpha P, Patrick Lee and some other talented acts. Euphoria served fans of the new age rap with good songs like '+234 (Daily Paper), Guapan, and the lead track, Euphoria which was brilliantly track-listed last. Psycho YP is a good rap artist that does things on a different and high level and this work of his, proves how talented he is, how deep he can get and how expressive he can be. Euphoria is slowly becoming a fast rising talented rap artist that will take over the music industry one day.
Tiwa Savage – "Water and Garri" EP
Tiwa Savage, Nigeria's diva in the music industry released this EP which is titled off the popular local fast food in the country and the EP is quite refreshing and satisfying as the food. With quite a number of love songs and fusions of Afrobeats, Afropop and R&B, it has received positive reviews from its listeners and critics.
On the EP, she featured Amaarae on 'Tales by Moonlight', Tay Iwar on 'Special Kinda', and a Brandy feature on 'Somebody's Son' that is the lead single off the EP and it been a hit song since its release. The Extended Playlist further proves that Tiwa is best at what she does and there's no slowing down when it comes to dishing out good music. The album also has a feature with Nas which is also a hit song likewise 'Tales by Moonlight and Special Kinda.
Ruger – "Pandemic" EP
Ruger, an upcoming and breakout artist of 2021 released this mind blowing EP that was inspired by the Covid 19 Pandemic era. The EP is a 'viral infection' that infected everyone with the incredible soundtracks off the EP. Hit songs like 'Abu Dhabi, Bounce popularized it and made it noteworthy among the top rated EP of the year.
The song 'Bounce' is an outstanding song on its own as it because one of the hottest songs of the year. The EP was released in March and has become one of Apple Music's top 20 most streamed songs in 2021 and has over 12 million streams on Boomplay.
Ayra Starr – "Ayra Starr" EP
'Ayra Starr EP is named after the talented young singer and songwriter, Ayra Starr whose entry into the music scene had everyone surprised because she was signed to one of the most powerful record labels in Africa. 'Ayra Starr EP'; easily convinced anyone that had doubts about Ayra Starr that she is well talented.
Off the EP are the hit songs Away and Sare that gained massive airplay after its release and they had lots of digital streams and downloads. The success of these hit songs off the EP gave Ayra Starr the record of the youngest most commercially successful female Nigerian musician. The smooth delivery of the songs proves that she is versatile and learned in her field.
Lojay and Sarz – "LV N ATTN"
Lojay and Sarz teamed up to collectively put out this EP. At first, it had lots of controversies regarding the co-signs from Sarz who single handedly produced the 5-track EP as well as the Wizkid feature on the similarly titled promotional single. Lojay is a talented and exceptional vocalist whose vocals on the songs instantly lured listeners' in. 'Monalisa is a hit track off the EP and it has become a smashing hit single overtime.
This is a well crafted, well delivered project that the producer, Sarz uses once again to prove that he is the boss and he is simply the best at his game. This EP is filled with banging hot singles that have made waves across the nation and are widely played in events, clubs and gatherings.
Kizz Daniel – "Barnabas" EP
Kizz Daniel orchestrated this beautiful collection of hit songs titled, Barnabas. Overtime, Kizz Daniel's music has been regarded as a fresh of breath air we didn't know we needed and yet again this EP gives the satisfying feeling. Most, if not all of Kizz Daniel's songs are successful and wave making songs upon release. Barnabas is no exception to this. The 7 track EP is a refreshing composition of tracks that wraps around Highlife and Afropop.
On this EP, Kizz Daniel maintains the same relatability that has made his songs outstanding over the years. The songs, 'Eh God and Pour Me Water' have received good reviews due to them being well perfected works of art and amazing hit songs. Pour Me Water later became a challenge on the Tiktok medium and this further increased the success of the song to make it one of the best songs in the last quarter of 2021.
Buju – "Sorry I'm Late" EP
This EP is an amazing output from one of the most promising and wave making Nigerian music acts,
Buju. Ever since Buju gained recognition from the song, 'Feeling' by Ladipoe, he has been featured on lots of hit songs and his fans had been anticipating this EP before its release. Buju released the EP Sorry I'm Late to a lot of anticipation.
It's an interesting and delicate yet melodious array of songs that leaves many hopeful for the better years to come for Buju. This EP has received lots of positive reviews and airplay as well as gathering lots of streams and downloads on digital platforms.
Bella Shmurda – "High Tension 2.0" EP
Bella Shmurda, a talented Nigerian singer released this highly anticipated debut album titled 'High Tension 2.0 (EP)'. With a total of 8 tracks, it has quite a number of hit sings that shook the nation with its release. Songs like 'Rush and Party Next Door became slang and are being chanted everywhere in the country. Not only are the songs fit for every gathering, they are one of the top rated songs of the year.
Bella is also a promising act and we cannot wait to unveil more of his incredible songs.
Reekado Banks – "Off The Record Vol. 2 (Where Did We Stop)" EP
In continuation to his previously released EP, Off The Record, Reekado Banks, an award winning Nigerian singer and songwriter drops yet another impressive EP that houses five impressive tracks. The lead single off the EP is the Amapiano infused single titled, Ozumba Mbadiwe' which is used to reference the End SARS period. The song is a well delivered and accepted song that dazzles Reekado's fans and good music lovers. Lupita Nyongo is another impressive track off the EP that has generated lots of positive reviews and hope for Reekado Banks as an award winning talented artist.
Waje – "Heart Season" EP
Talented singer, songwriter and amazing vocalist, Waje released this body of work after the success of her single, Best Thing. Waje has been in the music scene for over a decade with lots of hit songs and successful concert. She has carved a niche for herself with her blend of Afro-fusion songs with soulful rhythms and distinct guitar interpretations. Heart Season EP is a 5 track composition that oversees hurt, betrayal, joy and beauty. Off the EP are the hit songs, 'Hold My Hands, Call On Me, Naked and Last Time.
All these songs have received positive reviews.