Last Updated on Jun 24, 2022 | 18:43 by Eniola TX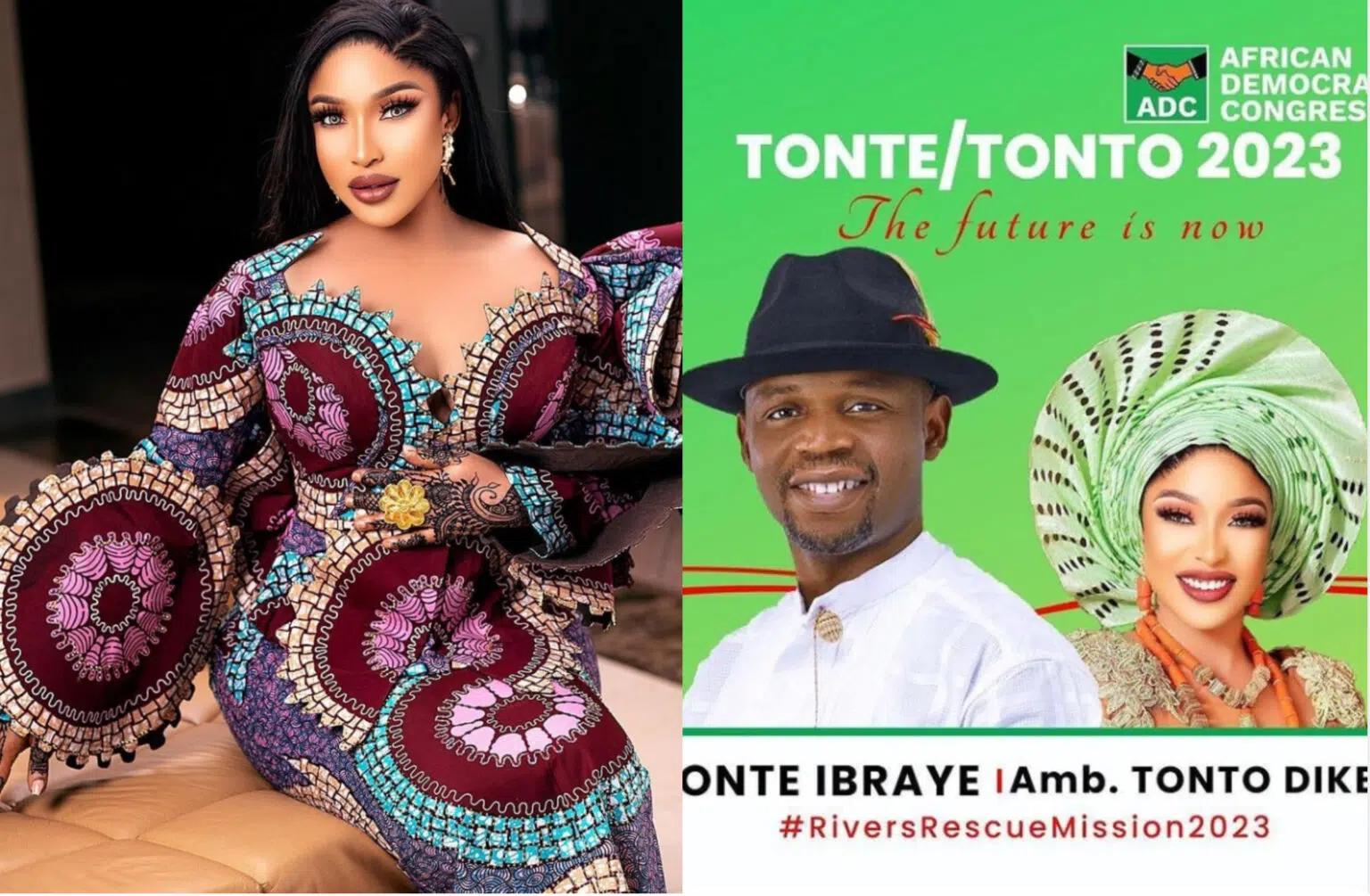 Nollywood actress, Tonto Dikeh now rolls with the big boys, as she joins the leagues of those contesting for a political seat.
The actress, who recently emerged as the deputy gubernatorial candidate of Rivers state, shocked her fans with the news, while announcing her ambition.
In her lengthy post, she pointed out the issues she would be concentrating on when elected, as she urged her fans to obtain their PVC.
ACCEPTANCE SPEECH TO SERVE AS THE RUNNING MATE OF HON TONTE IBRAYE THE GOVERNORSHIP CANDIDATE OF THE AFRICAN DEMOCRATIC CONGRESS (ADC), RIVERS STATE COME 2023 ELECTION*
Protocols:
Your Exellency, the Presidential candidate and the party leader, Mr. Dumebi Kachukwu.
The National Chairman of the African Democratic Congress (ADC), Chief Ralph Nwosu and all the party leaders including members of the National Working Committee (NWC) here present.
The Governorship candidate of Rivers State, Hon. Tonte Ibraye.
Other invited guests,
Members of press crew.
Ladies and gentlemen.
Permit me to stand on existing protocol and state that today is not a day of long speech but, a day to work the talk.
1. It is obvious that majority of Nigerians and the good people of Rivers State in particular, have complained for far too long on how governance and Democratic developmental dividends have not met international best standards.
2. We have also grumbled on why selfless, vibrant, and innovative youths have not been given the opportunity to participate and contribute their quota towards the development of thier States with special interest in Rivers State where i come from.
3. I Am very optimistic that we are in a defining moment in our social and political history but, desperate measures shouldn't be the first and last option BUT A technical approach is needed to salvage the plights confronting our dear State.
4. Truly, high rate of unemployment has become A fundamental challenge confronting our teeming youth, the causes of restiveness, insecurity and other social vices.
We shall work out modalities for job creation for massive employment, inclusion of more youth and women in governance and play vital roles in the development of Rivers State where their ideas and strength can be properly utilized.
5. As a patriotic Nigerian, an advocate of good governance and a humanitarian who have positively touched the lives of millions of less privileged through my foundation, TheTonto Dikeh Foundation, and my experience on governance, leadership ,administration from Committee of Youth on Mobilization Sensitisation (CYMS), I will play a crucial role in moving RIVERSTATE, she wrote.
See post below:
View this post on Instagram
See reactions from some of her fans below;
Henrysklue : This is the future congratulations king
whi_tee0 : All the way OBA. This one sweet me knai. Congratulations should be your middle name. I love you
blecoblinking : Waooooh this is huge congratulations king
porsh_kelly : My oba be making all of her fans proud
iamlilicase : Them dey jealous u they won't comment congratulations king aka "if u do u collect"
officialedaghakenneth : Go go go Tontolet… Success all the way. Great foresight and vision. Best wishes!".