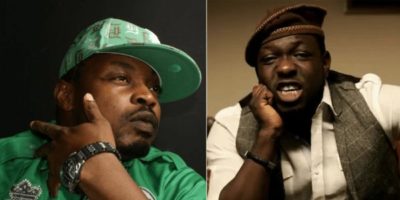 Timaya threw caution to the wind in his clap back at hot headed rapper, Eedris Abdulkareem. Eedris had earlier called Timaya an ingrate and he claimed to have helped Timaya in his pursuit of a music career. In Timaya's epic clap back video, he debunked Eedris' claim and shaded the rapper for supporting Rafioso, who Timaya said is no longer relevant in the music industry.
Rafioso recently spoke on the controversial issue in an interview with Punch's Saturday Beats. According to him, Timaya didn't telling the truth. Rafioso who said he was Eedris Abdulkareem's manager at the time when Timaya was serving under him, said Eedris treated everyone under him with respect and shared the story of how the rapper saved Timaya's life when they went for a show in Ogun state.
"There was a time we went for a show at Ogun State University. I was already asleep in my room during the show but I learnt that Timaya insisted that he wanted to perform last after Eedris was done with his performance. The show promoters were not comfortable with the arrangement because Eedris was his boss. Eedris agreed and when he went on stage, the tempo was very high but when it was Timaya's turn to perform, they were not feeling him anymore. The people began to insult him and Timaya insulted them back.
When he came down from the stage, the cult boys in the school followed him because they wanted to beat him up. The next thing I heard on my door was a loud bang, it was Eedris at my door shouting that I should wake up because the boys wanted to kill Timaya. We went to where Timaya was and brought him to my room where he slept that night. You can ask Timaya or the show promoter, Offshore, he would tell you the truth. Spydaman was at the show among other artistes. The cult boys began to look for Timaya for insulting them but we hid him in our room. Early in the morning, we had to move out.
So when I saw what Timaya posted about Eedris, I felt it was like an insult. I don't know why he called my name and said that I am nowhere to be found. You don't say that. He should speak for himself and not for me. I am doing very well. I am an artiste and a show promoter; I also have other businesses I am into. I have houses and tenants. I don't understand why Timaya mentioned my name. I was with Eedris for more than 16 years and he helped me. He showed me love just like he did to everybody."
…he said!
Rafioso went on to apologise on behalf of Eedris Abdulkareem, to the artistes that the rapper has verbally abused over the years, excluding Timaya. He said;
"When I watched Timaya's video and saw that he said Eedris did not treat him right, I did not understand what he meant. When I first joined the crew, I did not get to see Eedris all the time. He was always inside so we had to relate with his manager.
He was not someone you could walk up to like that because there was protocol. The compound was very big so whenever we got to his place, we would sit under a tree and we ate whatever we wanted to eat because they would bring food for us. Timaya was not the only one with Eedris, there were so many people with him. I remember Eedris told Timaya then that he should stop singing and try to sing a song about his dialect or where he is from. I sincerely apologise on behalf of Eedris to the likes of Tuface, D'banj, Davido, Mr. Eazi and every other person he insulted except Timaya."
Reacting to Timaya's statement calling Eedris Abdulkareem a "dirty-looking igbo (marijuana) smoker," Rafioso said;
"Ask Timaya if he smokes Indian hemp as well. That should answer your question."