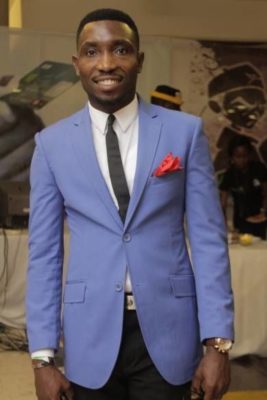 Timi Dakolo has revealed the very emotional thing he told his children while on a family vacation in Dubai. 
The singer revealed through his Instagram page that while in their current vacation in Dubai that he's been expressing huge excitement at every opportunity in he gets that his kids had to ask him why he's been so happy  since they arrived Dubai.
The singer revealed he told them he's been happy because he knows there would be days he wouldn't be able to have such moments with them. He said by that time they would have gone to set up their own families and he wouldn't have anyone to run to when a misunderstanding occurs between himself and his wife. Timi said he is already thinking ahead and preparing for those moments.
He wrote; "SO I TOLD MY CHILDREN THIS MORNING, THAT THIS TRIP IS MORE FOR ME THAN FOR THEM AND THEY GO DADDY ARE YOU A CHILD? I SAID SOON YOU GUYS WILL BE SO GROWN AND WOULD LEAVE MY HOUSE AND WHEN MUMMY @busoladakolo STARTS HER WAHALA(USUAL QUARREL) I CAN'T USE YOU GUY AS EXCUSE TO RUNAWAY BY COMING TO YOUR ROOM TO GIST TILL SHE FALLS ASLEEP.
"I KNOW I WILL MISS YOU ALL SO MUCH, SO I AM PREPARING MYSELF FOR THAT TIME,BY MAKING THESE MEMORIES FOR MYSELF.IF YOU SEE HOW THEY NOW PETTING ME AND PROMISING ME THEY WON'T LEAVE ME.SO I TOOK ADVANCE OF THE MOMENT TO ADD THAT WE WOULD HAVE A WHATSAPP GROUP AND I WILL FOLLOWING THEM ON ALL SOCIAL MEDIA PLATFORMS AND MADE THEM VOW NOT TO BLOCK ME NO MATTER HOW ANNOYING I GET…THEY ARE ALL FEELING LIKE THEY OWE ME CLOSENESS.INFACT LET ME RECORD ALL THEIR PROMISES SO I CAN HAVE EVIDENCE.I DONT WANT TO HEAR I DIDN'T SAY THAT."

"Timi Dakolo Delivers Heart-Breaking Message To His Children While On Vacation In Dubai", 5 out of 5 based on 1 ratings.
---