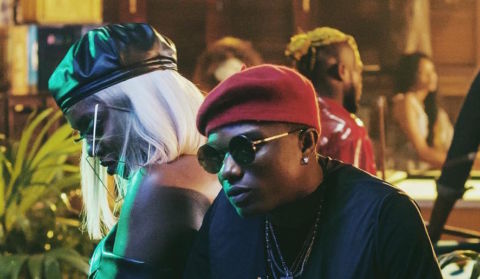 Roboskeske, roboskeske
If no bi you boy tell me who o-oh
The aura of Tiwa Savage's Sugarcane EP is still very much overwhelming, having literally commandeered the attention of the whole music industry and sitting at the center of major discussions around. The reason for its first class treatment is obvious; the "Queen of Nigerian sound" has some music to share, so we gotta listen and of course; the big piece of the EP is the song titled Malo, because its got the very eminent Starboy on it. The song is already a major hit but the video is new and still under review.
Read what we think about the video below and let's also have your thoughts about Tiwa x Wizkid's in the comment section. Drop It!
@dahnielz When it comes to Tiwa Savage, everything she does is just sensual. Even when she is not trying to be (which is never). You just have to love the "bad boy" look Wizzy portrayed in the video. It was simply a badass video.
@tommy5smith Away from the fact that Tiwa Savage always has her way in music videos, this particular one feels to me like it is just a freestyle. I don't think it really goes well with title "Malo."
@mag_designz At first when I heard the audio (the production was okay though) I didn't really like the song despite that Wizkid was on it. But after seeing the video with the whole visuals and everything, I think it's good to go on a scale of 50/100.
@ibironketweets Sexiness comes natural for Tiwa, and Wizkid is the don of the place. The two characters have a chemistry build up that led to some sort of "Bonnie & Clyde" love, that's the story of the video and it captures the message of the song perfectly. When an industry big boy meets an industry big girl; we expect nothing short of quality and that's exactly what we get from the Meji Alabi directed video.
@therealmarcusbrown This video is nothing short of amazing. I never imagined there could be a chemistry between Tiwa Savage & Wizkid. Meji Alabi did something spectacular in the simplest ways in this video, one can't fault why it has gotten to the number one spot on trending videos.
@jimancipation Malo is a great video that depicts an obvious working synergy between Tiwa and Wiz. You can literally see that both highly rated acts had fun filming the session together, and they enjoyed every bit of it. Kudos to Meji Alabi for a very good job well done! It's a video I'd defo look forward to seeing again.

"Tiwa Savage x Wizkid In "Malo" Video… Hot Or Not?", 5 out of 5 based on 1 ratings.
---