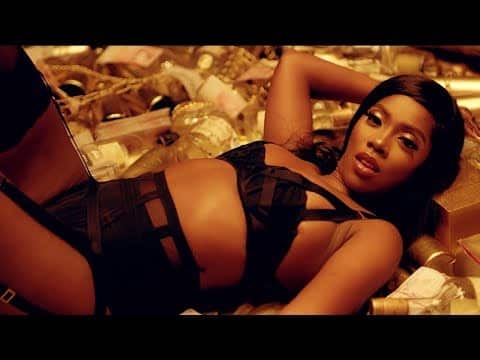 Hennessy for my cup, Henny dey for body oh
Shayo gallore, see, oju ti leri oh, yeh yeh
Since the release of the Sugarcane EP, the success of Ma Lo especially, has Tiwa sitting comfortably on the seat of Queen of Afro-pop music. Except for one vocal contender, the treat to her reign is non-existent. She forms a graceful pair with the King and together they use their position and influence to expand the Kingdom of lovers of African music. The first material of the year from the Queen dropped to the delight of her fans and she recently put out a visual to the song.
Read our thoughts on the video below:
@ibironketweets The video is a dramatic representation of the dominant aura of Tiwa Savage, both as a singer and as a person. She's the type that occupies a central role in a group of friends and stands as the cynosure in a performance set involving a bevy of pretty dancers. She possesses such a potent charm that she herself isn't immune to; such that she get trills watching herself perform on stage. The Tiwa's Vibe video collects images of a Tiwa Savage as majestic queen, a high-cost mistress and a liberated force of a woman. The video is perfect to the fault of a needless pyrotechnic effect.
@jimancipation Tiwa Savage is such a hard worker who leaves no stone unturned when it comes to the presentation of her music art, especially in the studio and of course in visuals. Having revamped the women's division since breaking on the music scene in 2010 when she altered the pattern of doings with a dose of breath-taking sexiness and a palette of playful colours, she's held it down back-to-back by constantly appraising her craft, taking criticism constructively, and reinventing herself with appliques of dance and other show theatrics, if, when and where necessary.
While the video for Tiwa's Vibe might be hard to fault, what's rather clear is how statement-based the video is. Amidst the chatter of who or what is number one or if there's even a number one and what not, Tiwa would rather show you than relegate herself to idle banter on a disparity of thoughts, opinions and maybe facts. But really, on a plainly sincere note, can you think of any (other) leading female who always comes through with concept, statement, energy, voice and demure theatrics? No, don't answer that. Think first, think!
And major shouts to Clarence Peters for delivering what will most arguably be a top contender for video of the year (2018)
—————————————————–
Share your thoughts below on Tiwa's Vibe music video.
Click HERE to watch Tiwa's Vibe music video
Also watch the stunning B-T-S video for Tiwa's Vibe HERE
---