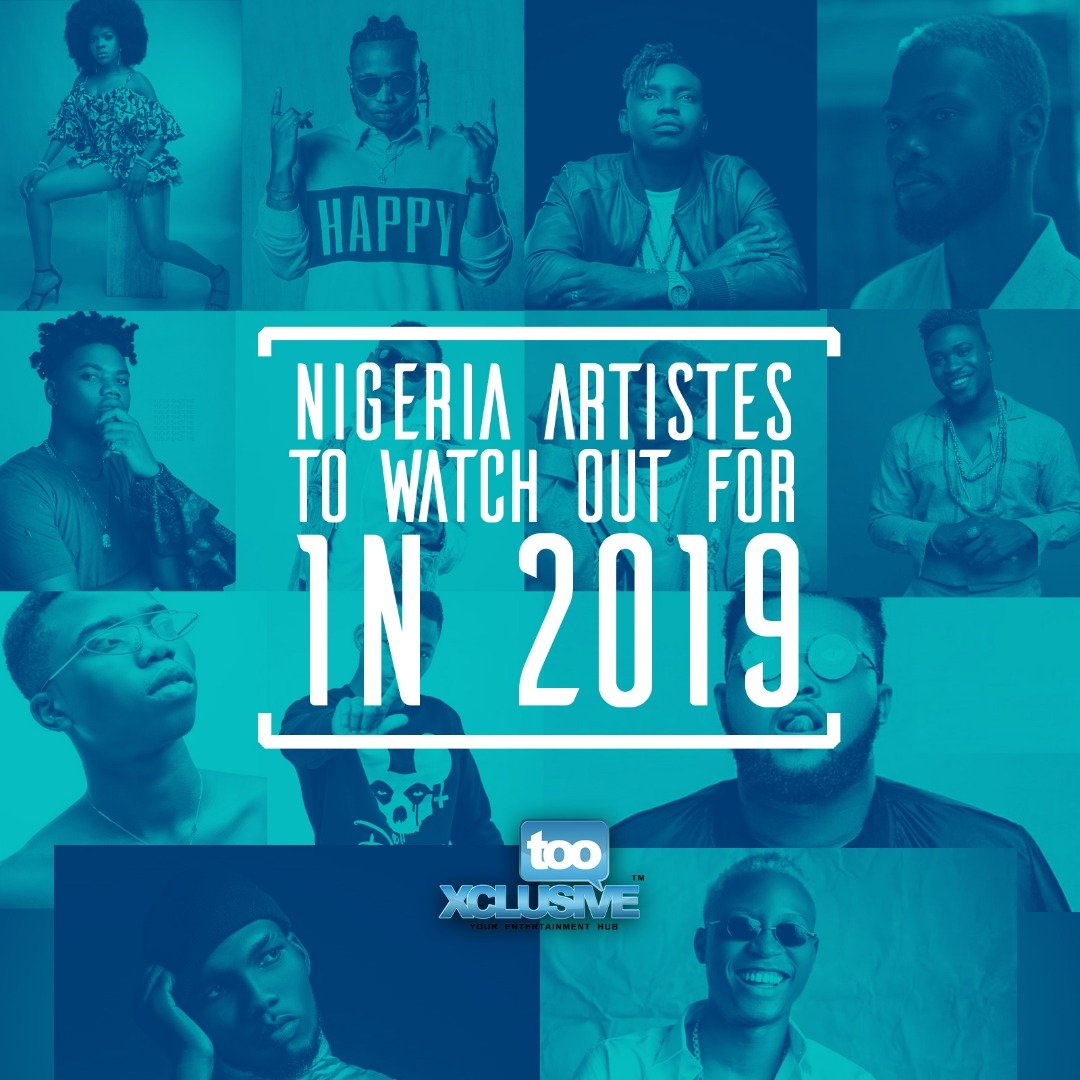 Over the years, a myriad of artistes have come into the music scene showing off their individual talents. However, only a few make it to the top with hits and a good buzz to follow; while others, like small fishes in big ponds, remain unnoticed despite the huge talents they possess. As 2019 is off to a great start for the music industry kingpins, it is also expected to be a great year for a myriad of underdogs who just might attain the kingly status in the industry before the year runs out.
Some of these artistes are known only within their own niche, yet wield so much talent and potential that we can suffice it to say that they are forces to be reckoned with. In no particular, we present the music acts to watch in 2019:
DEMMIE VEE
Demmie Vee's career is on the fast track, despite being overlooked by many. In 2019, he made headlines when it was reported that he signed to Fly Boy INC., while details of that business venture remains sketchy, Vee is on the rise. In the last music calendar, he stunned with sleeper hits "You Go Wait?" featuring Kizz Daniel and "Tiff". Now, he has started 2019 with a guest appearance on Falz's acclaimed fourth studio album, "Moral Instruction" on the track "Hypocrite".
[youtube]https://www.youtube.com/watch?v=img0csChXj8[/youtube]
OKIEMUTE
Okiemute has all the makings of an African diva, and that is why she is one to watch! Towering vocals, showmanship, charisma, pop sensibilities and fierce style are some of the strengths of the young singer; who rose to stardom after winning the last edition of Project Fame. Okiemute has released an acclaimed Extended Play, which she followed-up with buzz singles "African Wonder" and "Wosa". Having shot the visual for the later and rumoured to have inked a major recording deal, she is set to attack 2019 like it's her last.
[youtube]https://www.youtube.com/watch?v=TV9uSQhAiK8[/youtube]
WURLD
In today's climate, Wurld is arguably the most audacious artiste in the music-sphere. Wurld's demanding image will get your attention but it is his sound that will leave you spellbound. Think it is all hype; consume the Sarz-aided "Troubl", the solo-addictive "Contagious" and ear-hook "Show You Off". He is just a song away from global domination and when the stars align, he will be up there with the likes of Wizkid, Mr. Eazi and Burna Boy.
[youtube]https://www.youtube.com/watch?v=3TYQjfDxXlU[/youtube]
SOFT
Since the debut of his viral hit "Tattoo", Dagogo Records' henchman Soft has not relented, dishing out rock-solid pop cuts and putting these bops on his aggressive promo machine. Soft might just be 2019's breakout star; he has done the time, worked with Davido, Yemi Alade and L.A.X. Though armed with a couple of sleeper hits in his discography, he is still pressing on like he just kicked off.
[youtube]https://www.youtube.com/watch?v=3OJs_h32rNA[/youtube]
ZLATAN IBILE
Kapaichumarimarichopaco!
Zlatan Ibile is rising to be the new face of Naija's street-hop. Zlatan has been on the grind for a minute and finally, he is ascending above his peers to royal status. In addition to championing the current Zanku trend; Mr. Ibile has shown his ability to adapt, evolve and pioneer judging from his serial singles. Starting the year on a high note with "Able God", "Killing Dem", "Zanku (Leg Work)", "Osanle" and "Ijo Ope"; Zlatan is sure to reign supreme in 2019.
[youtube]https://www.youtube.com/watch?v=dWArEf2htUw[/youtube]
JEFF AKOH
The throne of Nigeria R&B is vacant, and Project Fame winner Jeff Akoh is playing his cards to occupy the seat. Talent and vocals are not lacking in Jeff's arsenal; as he matures in both artistry and image, the tenor is poised to lead his generation into an era of fresh romantic and heartwarming anthems. Akoh's wedding smash "I Do" is currently gaining momentum, thanks to the star-studded visual and sheer brilliance of the Password and Don Jazzy-produced number.
[youtube]https://www.youtube.com/watch?v=2Mh5hSX31vs[/youtube]
OLAKIRA
After creating a star with Dotman; U & I Music is creating a pop juggernaut with Olakira and it seems Olakira will succeed where his former label-mate failed. Debuting with his radio hit "Hey Lover", Olakira has created a mark in the digital space amassing about a million streams separately on both YouTube and Spotify. Olakira is talented and his team are playing no games, on making him a bonafide pop star.
[youtube]https://www.youtube.com/watch?v=gNnKROaiLGA[/youtube]
SPYRO
Afro-pop newcomer Spyro made his mark in 2018, with his sleeper hit "Funke", with also got a remix treatment featuring afro-pop giants Davido and Mayorkun. He has been compared to Wande Coal by critics, and he is working to fill up Coal's shoes and evolve to be a predator in the food chain. Spyro followed up "Funke", with a buzz cut "Japa" which featured Dremo and Big Brother Naija's Tobi Bakre, ahead of his next official single which will be a game-changer for him.
[youtube]https://www.youtube.com/watch?v=BUjAf7zH15g[/youtube]
VICTOR AD
Victor AD was the wildcard act of 2018, birthing a massive smash hit no one saw coming in "Wetin We Gain?" Feared to be a one-hit wonder, as his follow-up single "No Idea" was almost non-existent; AD remains a contender expected to dish that savory cut because the sheer force of "Gain" and Erigga's "Motivation".
[youtube]https://www.youtube.com/watch?v=P-18_poMFNs[/youtube]
OXLADE
Social media sensation Oxlade may be following the steps of Mayorkun as Davido has reportedly signed the talent to his imprint DMW. If Oxlade has moved into the DMW Kingdom, the success of his musical conquest is fated to be a success. Oxlade has been gaining a cult following due to his previous singles "Sing", "Questionnaire" and "Shugar", and strategic social media blueprint. 2019 might see, Oxlade the new DMW experiment after Davido had launched the career of Peruzzi into the skies last year.
[youtube]https://www.youtube.com/watch?v=78vyXPCPshQ[/youtube]
YBNL NATION – LYTA, PICAZO
YBNL took on numerous acts recently but Lyta and Picazo are both on cruise control; breaking the social-media sphere at will with temperature-high covers and freestyles and grooming an army of fans with their own singles. Lyta's "Self Made" and Picazo's Olamide-assisted "Marconi" performed well, not-forgetting their praised appearances on the label's "YBNL Mafia Family" album.
[youtube]https://www.youtube.com/watch?v=3XXU6SR5QRo[/youtube]
[youtube]https://www.youtube.com/watch?v=CLrb3p6xZV8[/youtube]
BRAINEE
On the afro-hip-hop/rap circuit, Brainee has being building a cult following from the University of Lagos to the cyberspace at large. Obviously a hard worker, Brainee a.k.a "Mr. One Time" won the Pepsi Top Ten Chart Show and the viral #HeartRobberChallenge which smoothed his killer deal with Rebel Movement. Said record/management deal and his buzzing official single "Gbese", inspired by the "Zanku" trend make him a player in the artistes to watch for this fresh calendar. The said song is rumoured to have a visual aided remix with his peers Chinko Ekun and Zlatan Ibile, waiting to be premiered.
[youtube]https://www.youtube.com/watch?v=EUC6hgpqCgI[/youtube]
CHINKO EKUN
2019 will make sure there is "No More Insufficient Funds" for Chinko Ekun, if he plays the right cards. Ekun is a major player in the new era of street-hop music and owns what is arguably the hottest record currently on the streets in "Able God". Ekun is also featured on the buzzing "Ijo Ope" by Zlatan Ibile, Junior Boy and Rahman Jago; so eyes are locked on him.
[youtube]https://www.youtube.com/watch?v=rvSyIqZSzHw[/youtube]
Compiled and authored by P.R expert Ogaga Sakpaide [ @Ogagus ]