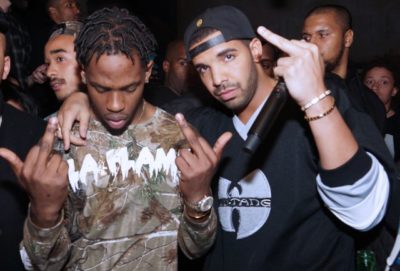 "SICKO MODE" has been floating in the top 10 of the Billboard Hot 100 for a minute now, but it has yet to reach the top of the chart. The single peaked at #2 before declining, but all thanks to the recently released remix from Skrillex, Travis Scott has earned his first chart leader on the Billboard Hot 100.
Along with having a number one album on the Billboard 200, Travis Scott also nabbed his first number one single on the Billboard Hot 100. Travis Scott and Drake's "SICKO MODE" officially topped the chart after Scott and Skrillex released the official remix to "SICKO MODE" last week. The album spent four weeks in total at number 2 on the Hot 100, including two consecutive weeks, but officially hit #1 this week.
"I don't know how I'm writing this right now … it's so many emotions. Just super-thankful to all the fans and supporters," Scott told Billboard. "Me and Drake been working to make something so crazy for the kids. It's dope that one of our illest collaborations just went No. 1. I just want to thank him and the whole OVO fam for everything. And love to Skrillex!"
This happens after the song Sicko mode has been sitting at #7 last week. Congratulations Travis.
---