Miss Kedike posted a photo on Instagram to celebrate her mother. The artiste who recently dropped a new song, 'Martha' revealed that the song was created to praise her mother's efforts.
Chidinma opened up in her Instagram post about how she was blind from birth.
"The song MARTHA is dedicated to my mother Mrs Martha Ekile. I DECIDED To show my fans a different side to Chidinma, a side never revealed to so many, a side I will forever remain grateful and indebted to Father Lord for His miraculous interventions and guidance in my life… I was conceived and certified totally Blind at birth. For fifteen nights this woman held me in her hands and wept uncontrollably, with my father calling on God to bless newly born Chidinma with sight… On the 16th day I opened my eyes… And they been open ever since.. I was born a very fragile baby with some health conditions. Her prayers took it all away. Today I dedicate my entire life selflessly and earnings to catering to visually impaired/blind people. Life is such a wonderful and colorful piece of art and it must feel like hell not to envision Gods creation. THE Mma Charity Foundation is my little giveback the world".
Seun Kuti Gets Turtle Named After Him In Spain

Oluseun Anikulapo-Kuti took to instagram earlier today to share an honour he received from the people of fuerte Venture, Spain.
He captioned it: "The people of Fuerte Venture named a turtle after me and together with the governor and entire city l released it back into the wild. Very symbolic as it goes home this is my last show, l go home too!!"
DJ Xclusive, DJ Neptune, DJ Humility, Others Gather For Jimmy's Jump Off…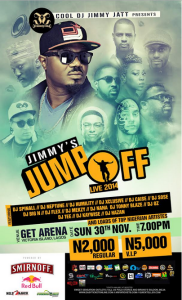 African's leading Disc Jockey, DJ Jimmy Jatt is back with the summer edition of his annual DJ concert tagged Jimmy's Jump Off, and has announced the venue, 15 deejays and various artistes billed to perform at the event this year. The show is set to hold on Sunday, November 30, 2014 at GET Arena, Victoria Island, Lagos by 7 pm. And this year's edition will showcase top-notch DJs like DJ Xclusive, DJ Humility, DJ Caise, DJ Spinall, DJ Tonny Blaze, DJ Sose, DJ Neptune, DJ Big N, DJ Nana, DJ Mekzy, DJ Kaywise and a host of other entertainers…