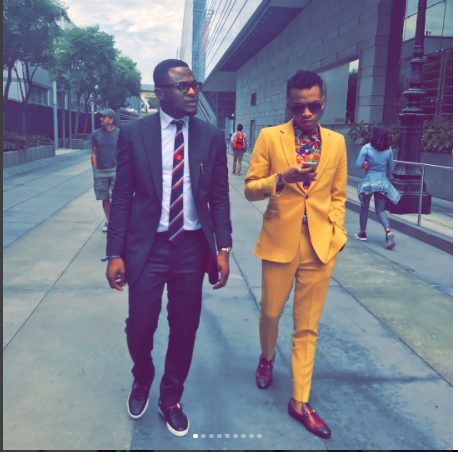 CEO Triple MG, Ubi Fraklin, may have just thrown a subtle shade via his IG handle while celebrating his act, Tekno.
Ubi, who accompanied Tekno, (whom he declared is his few months back) to the 2017 BET AWARDS where he was nominated in the BEST INTERNATIONAL ACT: AFRICA, category, shared photos of himself with the singer on his IG, penning down a caption which has many assuming he is throwing a not so subtle shade at former business partner, Iyanya.
He wrote:
So one man said when I leave you will suffer, But When you know Man is not God just smile and keep working hard.
GRACE LOOKS GOOD ON ME ????????????????????????
His fans immediately took to his comment section to share their thoughts on his post asking that he just includes Iyanya's name in the post as it his obvious, the post is meant for him.
aceman_beatzBros just shade iyanya
ste_phynGeez! This shade is so apparent!
A strong allegation. Parting is never easy but remember great leaders or mentors don't hold on to protégés. when it's time for them to fly. They embrace the moment. @ubifranklintriplemg you are bigger than that..
brownie_largeIyanyan catch your sub ?
What do you guys think? Is Ubi subbing Iyanya?
Share your thoughts below.
---