Rema, Selena Gomez Calm Down Official Music Video.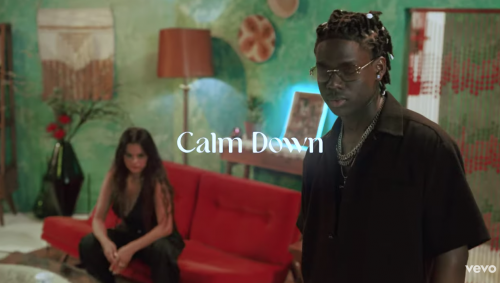 Selena Gomez Calm Down… Rave Lorde, Rema teams up with American singer, @selenagomez for a new version of his mega hit "Calm Down". The original was one of his debut album ('Rave & Roses') lead single.
Rave & Roses, is a 16-song set on which Rema details love, addiction and fate with pointed clarity. "Calm Down" brought out Rema's experience of a girl he met at a party. According to Rema, 'I was trying to get her attention and we could only go halfway in the party, but it advanced and we just locked in and loved up'.
Rema declared himself "the future" after winning Headies Next Rated Award in 2019. Whether those words were prophetic or just an audacious estimation of self, the Benin-born musician has delivered on his promise ever since.
As a standout talent, Rema has been a critical factor in pushing Afropop into a genre-fluid, futurist epoch that produces a vibrant mosaic of the music. In 2022, he released a smash titled 'Calm Down'. This record penetrated deep into the US Market and got Selena Gomez attention. The American Celebrity link up Rema and jumped on 'Calm Down'.
Enjoy below;