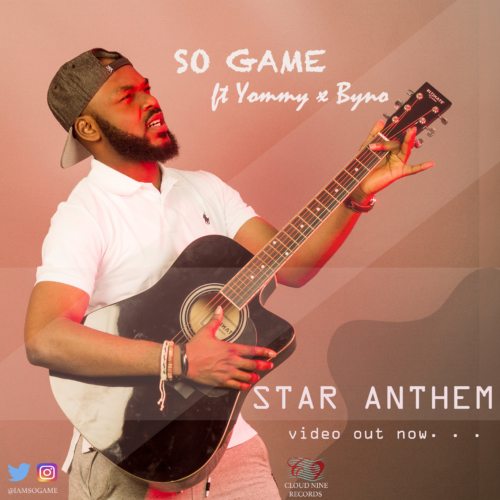 The wait is over and the Video to the Song "Star Anthem" by So Game feat. Byno & Yommy released by Cloud Nine Records (@cloud9record) about a week ago is finally out. This song has been getting massive airplay on top radio stations and it also sparked up a movement "I'm a Star Challenge #StarAnthemChallenge" that helps promote humanity by advocating Hope, Unity, Equality and Love. This is a Utility song, and a huge classic at that, as it's very relatable with heart warming melodies and sensible lyrical content that many will come to appreciate.
The idea behind the #StarAnthemChallenge is to celebrate Humanity! (You can view the hash tag to see the various posts from people so far). First and foremost, we are all humans, and that fact precedes any other aspect of our lives. And we owe the progress and achievements we have made on earth to every one of us, whether young or old, rich or poor, living or late, everyone has contributed to the continuous existence of humanity in their own ways, thus the need for the appreciation of everyone of us without discrimination. We are all Stars in this movie of existence and we will continue to be Stars irrespective of our challenges in life, our problems or our victories by standing as one, we will remain strong together. Thus the need for this declaration: We are stars because we are Humans! Celebrate life, celebrate humanity, celebrate unity and equality…
To join the challenge, make a video of your self, starting with "i'm a star", followed by "Not because (one or more true statements about yourself)", then end with "But because i'm human. This is my Star Anthem". And post the video on any social media platform with #StarAnthemChallenge
Example A: I'm a star, not because i'm a doctor, not because i have just 2 shoes, but because i'm human. This is my star anthem.
Example B: I'm a star, not because I'm a billionaire, not because i own over 10 cars, but because i'm human. This is my star anthem.
Example C: I'm a star, not because i'm a Fisherman, not because i haven't caught any fish today, but because i'm human. This is my star anthem.
Remember to post your videos with the hash tag (#StarAnthemChallenge) and @cloud9record on Instagram, Twitter and Facebook. Invite your friends and loved ones to watch and do the same. Feel free to have fun while doing this, and get creative. To spice things up, you can use the song that inspired this movement as a background music: Song Title – Star Anthem. Artiste – So Game. (The song can be downloaded online for free on music blogs and various music streaming sites).
https://youtu.be/frd9l7aWD04
Get audio below