Still basking in his recent lit performance at the SXSW festival in Texas, a video of Sony Music Act, Davido, performing his hit single, 'Aye' has been shared online.
Davido, who performed to the delight of the thousands of people who stormed the event over the weekend, did a great job on stage.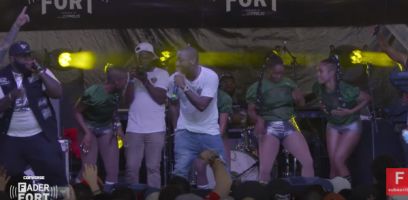 He was in full fledged energetic mood he thrilled the audience with his song and his dancers, clad in Nigerian flag inspired outfit, matched his energetic performance with well choreographed and entertaining dance steps.
Drake, who himself has graced the cover of Fader Magazine, was seen signing Davido's Fader Cover while at the vent in Texas.
Watch Video Below: