Last Updated on Sep 22, 2016 | 07:57 by Temitope Delano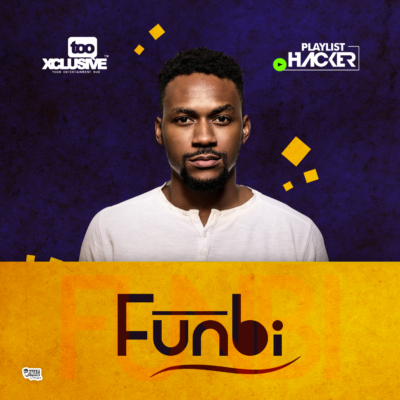 Hi guys, yes we missed you too. Welcome to another edition of Wednesday Hacker.
So, for years now, he has serenaded our very being with his voice and  recently topped that love with his latest single, Halleluyah. Many wonder the kind of songs the soft spoken Funbi listens to, well, y'all need not wonder for too long because today, we have successfully hacked into his playlist to reveal them.
In his words, we will be revealing the top ten songs on his playlist that inspires his sound.
All bucked up? Here weeeee gooooooo…..
1. James Brown – Cold sweat
It's super funky, makes me feel invincible and the groove is undeniable
2. Anderson Paak – Suede
Like the title suggest it's smooth makes me feel like a pimp from the 70's who drives a time machine. The fusion of the old with the new is what got me here
3. Orlando Julius – James Brown ride on
I find it incredible that a visit from James Brown could get Orlando Julius to make such an epic joint. This made me go listen to more James Brown
4. Kci & Jojo – All my life
It's one of the songs I would always refer to. Though the lyrics are very direct, it shows how personal the song is and it seems to have come from a genuine place. It's actually one of the songs that made me start singing. Couldn't get enough of it.
5. Peter Andre – Mysterious girl
The melody of this song is what I would call "swingy" and that to me makes the song very catchy. This song is timeless, I'll listen to this any day
6. Usher – Superstar
I'm a big usher fan ever since the "my way" album. I like the descriptive nature of this song
7. Michael Jackson – Remember the time
There's something smooth and sensual about this song but I guess that can be said about a lot of Michael Jackson records, but there's something about this song I connect with. I also like the harmonies here.
8. Michael Jackson – Smooth criminal
Another M.J that resonated with me I think this one is mainly about the dance moves and the energy in the song. This made me start dancing back then, I wanted to do every move he did.
9. Usher – Seduction
This song here is all about the sensuality it's a theme that blends perfectly with the instrumentals. This turns on the grown and sexy
10. Bob Marley – Turn your lights down low
This song as soon as it comes on puts me in a particular mood. I love how it captures ones attention and the feeling in that moment of which he speaks, it is truly spiritual.
Were these choices expected? Oya fans get in here and let's discuss.
Written by: Tope Delano and Funbi