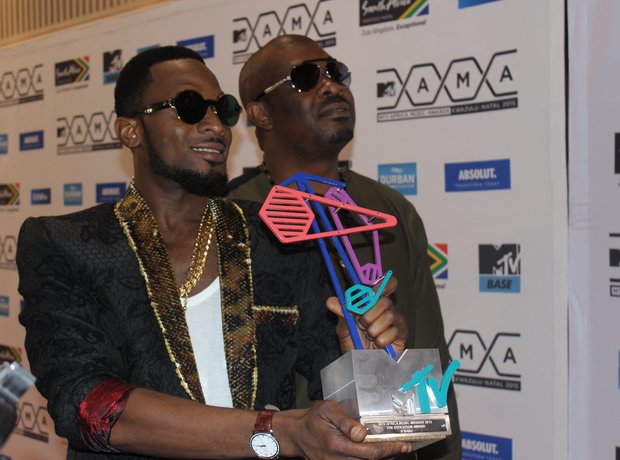 These two have come a mighty long way and they have an undeniable working chemistry that results in the finest of afropolitan musical classics ever heard. Although a nasty rift in the past got them so torn, they have since buried the hatchet but our wait has tensioned enough for when they'll decide to bless us with the magical awesomeness of their hands and mouth.
Don Jazzy  has been responsible for producing volumes of record-breaking, chart-topping and award-winning songs by the éjà nlá crooner, D'Banj. From Tongolo to Soco, Mobolowowon, Why Me, Mo Gbono Feli, Igwe, Fall In Love, Scape Goat and Oliver Twist (just to mention a few), D'Banj held sway by revamping musical standards in the afro and pop division while keeping it on serious lock down. This and more, he did with the aid of the maestro, Don Jazzy who often also lent his vocal assist on majority of these tracks.
Since supposedly burying the hatchet, these once before partners and best friends have never made visible moves, not even suggestive ones that there might likely be another collaboration from them in the very near future. But following D'Banj's public spectacle at the recently concluded MAMA's where he showered encomium on Don Baba J, it's has become enough basis for us to draw surmise that there might afterall be a collaboration in the works. D'Banj followed that gesture by doing same with former label mate, Dr Sid. But really, who goes to Mavins HQ only just to say sorry, hug it up and play FIFA? *I literally just rolled my eyes vigorously too*
Anyhu, I'm of the opinion that this good spirit should be put to productive use. If D'Banj and Don Jazzy were to do a song now, I expect D'Banj would use it as a perfect opportunity to whip out his harmonica again and blow us into another one of his melodious frenzies just like he did on Mobolowowon. We all can't deny that we don' missed that acoustic set like hello!
So tell me, what would you be expecting to hear (or see sef) from a new D'Banj-Don Jazzy collabo? Take a turn and share your expectations with us.