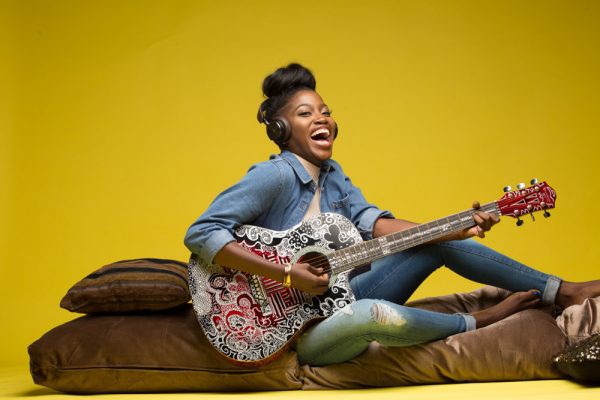 Olomi ni, e ma je o lo, e ma je o jabole o
That's my baby, that's my love, e ma je o jabole o
Around the start of every year, it is customary of writers in the entertainment niche to publish lists of music talents to watch out for in that year. For the year 2017, most of them agreed on the choice of Temmie Ovwasa, to grow from being a newbie in the industry to new heights of stardom. But as we approach the middle of the year, we are yet to see the manifestation of the YBNL first lady.
Recall that the moment Olamide announced her signing to the world in April 2016, Temmie Ovwasa was immediately placed in the focus of the music-loving audience in Nigeria. Her introduction to the industry was met with frenzy, the news of her signing to YBNL and the inspiring story behind it, spread like loose gas. In an instant, she became the darling of the media. With the splash of her photos on spaces in the media that cannot be ignored and the numerous interviews she granted, she won for herself, her first set of fans. The speed at which she achieved all of these was unbelievable. In fact, I can hardly point out any other artiste that had such early impact in the industry of late, because even without a debut single, without participating in a talent show, Temmie Ovwasa could already boast of good followership.
In all of these early successes, something worked for Temmie, she had an alluring artistic trait, a feature that is necessary in becoming successful in the very competitive and dynamic Nigerian music industry of today. She also enjoyed the tremendous goodwill of YBNL, as interest in her had gathered even before her appearance on the scene, thanks to Olamide. Before her signing, the YBNL boss had blown the air of suspense around his many music lovers. He had tweeted about his search for a female artiste to sign to his label; going as far as mentioning his preferred specification. On Jan 17, 2016, Olamide tweeted that, "my YBNL First Lady should be a combination of Asa and Dej Loaf… What do you suggest? #YBNL1StLADY." This tweet threw the Nigerian entertainment community into wild excitement. Whoever was going to take the job already had huge expectations to meet. She had to blend the artistic depth of Asa with the hoyden nature of Dej Loaf. So the moment Temmie Ovwasa was handpicked for the job, conjecture among fans was evoked.
One could say that introduction of the YBNL first lady to the industry was near perfect and all she had to do from there, was to ride on the momentum. It was as though, she had the path prepared for her to follow the same success route as fellow YBNL signee Adekunle Gold and ex-signee, Lil Kesh had done. While a lot of fans fell in love with Temi Ovwasa at first sight, the media carried her like the golden egg. So even before she was ready to serve her debut single, a lot of plates were already put forward. Finally when the song, Jabole was released, it quickly reached the high-mark of downloads.
She went on to whet the appetite of fans, when she revealed in an interview with Punch later in July that year that she had written about 300 yet to be recorded songs. This teaser was followed by the release of her song, Afefe, a song that confirmed her lyrical dexterity and projected her as a beautiful songstress; these same traits have distinguished the paragon, Asa, over the years. So for Olamide, he must have felt justified at the point of the song's release, and the young songstress would have considered 2016 a fulfilling year.
A lot of fans would have hoped that in 2017, the YBNL first lady would shoot herself to higher grounds in the industry, by recording and releasing some of the hundreds of songs that she had earlier boasted to have in writing. We are five months into the year already and nothing has been heard from the 'next big thing', not one single, not even a featured song. While some of the other young artistes tipped for big things earlier in the year have begun to justify their inclusion in the lists, and some others who did not make the lists have begun to give writers a reason to rethink, Temmie Ovwasa, literally the unanimous choice of young star to watch in 2017, has simply been on hiatus. Her hiatus is certainly not helping her claim to be the star of 2017, and its impact on her career might be perpetually pernicious, except of course she hits the industry with a seismic impacting song soon.
But even if the plan is to wait till she records a defectless song, the voracious nature of the music audience means that they would not wait for forever, especially when other budding artistes like Ric Hassani, Wale Turner, Terry Apala, have not stopped thrilling.To fulfill the prophecy, Temmie Ovwasa would have to be more consistent with her musical releases and perhaps need to broaden her scope to entertain fitting collaborations, as she has good options within the YBNL house, starting with Adekunle Gold and a pool of options outside of the YBNL team.
The music industry of today operates at a high frequency and the general taste of the audience is protean in nature. Like start-up companies in a highly competitive industry, young artistes cannot afford to slow down on an early momentum, rather, they should build on it, especially when the artiste rides on a high intensity wave, like Temmie Ovwasa's. Perhaps when a niche is carved, and the voice is distinct and recognizable, taking breaks can prove to be a good strategy. It works for Asa, Timi Dakolo, Darey, M.I, but Temmie Ovwasa is nowhere near their realm, yet.
Conclusively, it is usually pleasing to see the careers of artistes take flight, since many of them have had to grind through years to make it to the mainstream. But having to watch artistes make it to the mainstream, only to fall off without making a mark can be greatly disappointing. The careers of such artistes are usually reported with the view of 'what could have been.' For some of those artistes, it started with them struggling to connect with their audience, and after continually failing at musical attempts, and then they simply take the backseat. While only few of them are successful with their comebacks, most end up in oblivion. I sincerely hope that the nascent career of Temmie Ovwasa, the beautiful guitarist that had earlier shown immense promise, would not go down that road, but for this to be avoided; she would need to be get back to her task of making good music. This way, she would not only be fulfilling her own dreams, she would also be fulfilling the many wishes of her fans, who would be expecting her to rise and shine this year and perhaps claim the Headies rookie award.
Written by Ibironke Oluwatobi
[email protected]
@ibironketweets