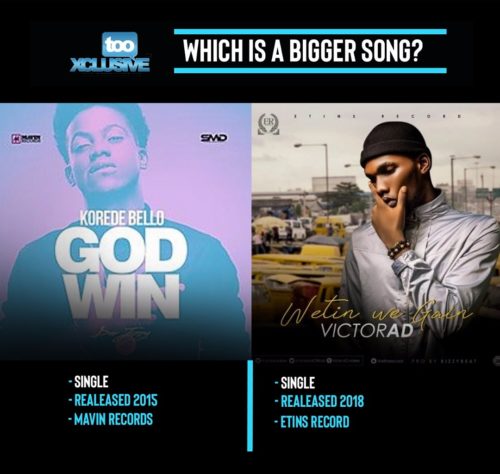 "Godwin"  and "Wetin We Gain" are two very massive debut singles for Korede Bello & Victor AD respectively. While "Godwin" is a more ancient song than the one it's being compared to here, some people are still of the opinion that it still creates more buzz than "Wetin We Gain" when played which in turn means it's a bigger song.
However, many others feel it is an out-rightly wrong opinion as "Wetin We Gain" is a bigger song due to its acceptance all over the country. But over here,we don't know which side to fall on so we have decided to ask you guys, Which is the bigger song of the two, "Godwin" or "Wetin We Gain"?

""Godwin" vs "Wetin We Gain"… Which Is A Bigger Song?", 5 out of 5 based on 1 ratings.
---