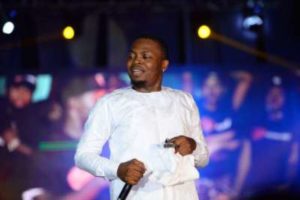 The National Film and Video Censors Board (NFVCB) says it has yet to ban Olamide's controversial music dubbed 'Science Student' because it wasn't done to promote hard drug consumption and other crimes, Daily Trust reports.
Although there have been calls for the government to ban the album from being played on the airwaves and on TV stations, the NFVCB Director General, Alhaji Adedayo Thomas who spoke with Daily Trust on the sideline of the Safer Internet Day 2018 in Abuja, Tuesday said the song was done to discourage crimes.
Alhaji Thomas said rather than looking only at the negative side of the album, Nigerians should look at the positive side. He said,
"If you look at the short video of the track, you don't see Olamide himself there. That is one. Two, we are in the internet age where a lot of things fly. What we need to do is to encourage our children to take only the good side of the internet and leave the bad side.
"The very week Olamide released that record, he released a press statement saying the song is a caution for people not to mix things together and take it as intoxication. So you don't expect us to ban it just like that when he had explained why he sang the song.
"But we are still going to engage with NBC, NDLEA and other agencies to dialogue with our artistes so that whatever is coming out from them would be highly productive and has positive effects on the youths."
Earlier in his remarks, a representative of Google at the event, Mr Babatunde Olaifa said over 90 million obscene and crime-related videos had been taken down from Youtube by Google in the last couple of years.
He said the search engine doesn't encourage obscenity and crimes, but is advocating for safer and crime free society.