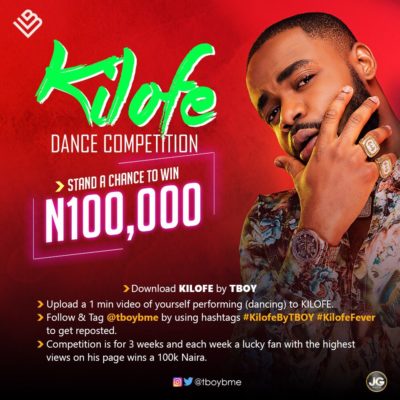 Billionaire Minds Enterprise sensational artist TBOY presents #KilofeDanceCompetition. TBOY gives back to the society and this time he his doing it in an extraordinary way. TBOY will be giving out 100k weekly for 3 weeks to a lucky individual or dance group.
INSTRUCTIONS:
To be eligible for this contest follow the steps below.
• Make a video of your self dancing to Kilofe by TBOY.
• Post on your Instagram page and use the hashtag #KilofeByTBOY #KilofeFever, follow @tboybme & @billionairemindsent and wait for it to be reposted.
The competition will last for 3 weeks. Afterwards, the entries with the highest views would be awarded the price money each week!
Be sure to follow @tboybme & @billionairemindsent on Twitter & Instagram for all updates.
---