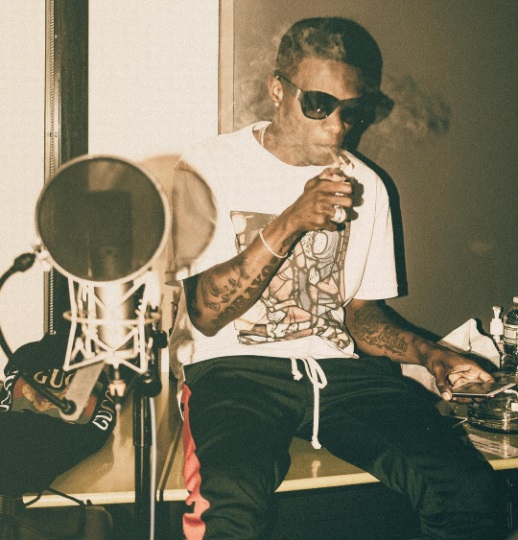 If you've been following Wizkid's career path closely, you'd know him to be that guy that likes the big challenge. Even when he was in a safe-zone with EME, with a smooth-sailing career; he took the big risk of starting a label of his own, contrary to popular belief that it wasn't going to turn out well.
With the same nerve, he set out to launch himself on the global music scene, even with the fear that artistes from Africa have struggled with the dynamics of the international music market in the past. Wizkid took on the difficult and chancy challenge, and his hustle produced the Sounds From The Other Side album, which scored high even on international music charts.
Having toured different countries in his pursuit of penetration into the global market, and after recording a level of success in his pursuit, he returned to Nigeria to his day-one fans, making it clear upon arrival that he returned to make some more music, hinting that he could record tens of song and even an album in his short stay. A lot of people, including myself, thought it was a joke but when the rain of songs started to pour down, I quickly readjusted my stance as if I never doubted him.
In quick succession, Wizkid lined up three songs; Medicine, Odoo and Medicine Remix. In fact the three songs dropped in the same week, defying the norm of strategically spacing musical releases to give each song enough time to grow on fans. A strategy that other artistes would quietly use to stay relevant all year round. For Wizkid, he doesn't seem to care about the danger of running out of songs to drop in the next two – three months. He doesn't even care that his #SFTOS just passed one month in the market, with its 12 tracks yet to reach their climax of airplays.
Some critics have said #SFTOS was mainly for his new audience and that his last three songs are part of the offerings to appease his longtime fans – who are mostly Africans. #SFTOS has gotten a worthy review published on the TooXclusive website but my take on the last four songs (Medicine, Odoo, Medicine Remix, Craving) can be rounded up with the statement that they are mostly rushed efforts. Particularly the Medicine song which appears to be a product of a quick stop-by at a friend's studio, a listening session of the one or two available beats and a sketchy freestyle.
On the remix, Wiz only had to sit back while Phyno and Flavour brought in everything new about the song. Odoo might have appeared a more thoroughly done song, but it still doesn't meet the high standard that has become expected of the "one and true Starboy". One could pretend not to notice Wizkid's careless approach on the triad of songs but on his most recent song, Craving, his sloppiness is laid bare. After repeating almost the same scanty set of words for most part of the song, the remaining 80 seconds of the song was just wordless beat playing. Fraud!!!
Mind you, the catchy sound of these songs does a good make-up job, such that the flaws are not easily noticed. It is quite easy to get blown away by the appealing sounds, forgetting to check for the content and the coherent messages that the songs are supposed to carry – which they do not seem to have by the way. One must admit that a poor offering from Wizkid betters the best of some other artistes. Knowing what he is capable of, and the international tag that he now wears, an average offering from the Starboy is no longer acceptable. Rushed songs in the manner with which he has offered his last couple of songs, would not do the job of appeasing his fans that felt betrayed by the heavy influence of Caribbean sound on the constituent songs in his #SFTOS album.
I believe fans would appreciate and cherish two or three consciously created songs from Wizkid, rather than 20 rushed and hype-fueled songs. Certainly, making dope music isn't beyond Wiz's capability, he only needs to go back to applying the right formula; of good sound, proper message, well laced lyrics with the listeners in mind, while in the creation room. With this, his African fans nursing the feeling of betrayal would no longer see his international success as a curse, rather, they would join others in reveling in Wiz's new found success.
Written by Oluwatobi Ibironke  
@ibironketweets