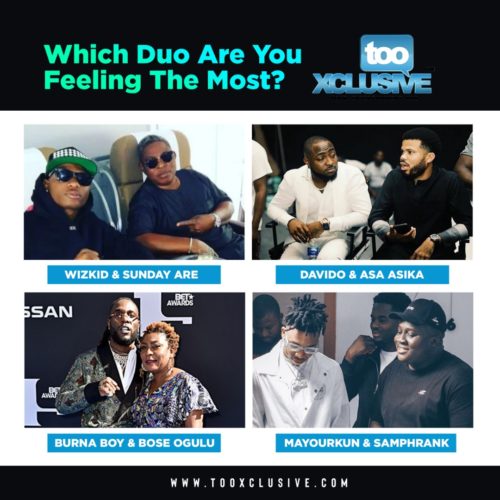 Davido & Asa Asika
Davido's journey into Nigerian music started with Asa Asika in 2011 as his manager and in a short space, both were able to establish the singer as a superstar both in Nigeria and Africa at large.
However, in 2013 Davido sacked Asa Asika as his manager and appointed Kamal Ajiboye as his replacement. Kamal did well for Davido too, but after some musical issues Davido had in 2016, he sacked Kamal Ajiboye and reinstated Asa as his manager. And ever since then, it's been a hell of a jolly good ride for the two 'lover birds.'
Wizkid & Sunday Are
Wizkid officially announced Sunday Are as his manager in 2015 after separating from Osagie Osarenz who managed him for 3 years. The superstar singer under Sunday Are has soared so high that he is now being considered by many as the biggest Nigerian music star ever. The combination of both men have sprung results and is still very much doing wonders fornWiz and African Music.
Burna Boy & Bose Ogulu
Burna Boy and Bose Ogulu who happens to be his mother are currently thriving in the world of music, and Burna is having the best music run of his fairly long career. Burna who started with his mother as his manger sacked her in 2014. He revealed he wanted the role of his manager and the role of his mother to be separated and defined. After some time, he however hired his mother to be his manager again and ever since then it's been all the way up for the superstar.
Mayorkun & Sam-phrank Abariku 
Mayorkun from the start of his music career had Sam Phrank as his manager and up till this moment, Sam still remains the one directing the managerial affairs of the singer. These duo are the youngest partners on this list and within a short-while, they have been able to push their course to the top-most level of music in Nigeria. Mayorkun is one of the hottest artiste in Nigeria at the moment and Sam-phrank has played a huge role and continues tom play a hug role in that.
---