Chocolate City Music, is set to own the music industry for the year 2016.
The label, which is now headed by rapper, M.I Abaga, will be working on seven different projects for this year.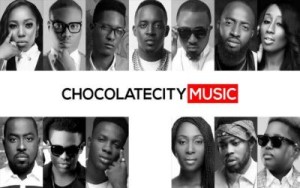 Five Mixtapes and EPs, 1 solo album, and 1 compilation album, are the projects to be released for the year.
M.I Abaga, will be releasing mixtapes to included highly anticipated 'Illegal Music 3', and 'Yung Denzel'.
"The Gemini Project", mixtape by rapper Loose Kanyon is already out. Pryse's "The Pryse Tag", and singer Ruby Gyang's "This Is Love" EP, will follow suit.
Rapper, Jesse Jag, has the only album coming out from the label this year and it will be titled, "Odysseus".  The compilation album, will be titled "The Indestructible Choc Boi Nation", Vol. 2.
See artworks for the projects: