Sony Music act, Davido, is the cover of the latest edition of Fader Magazine.
The singer touched on a lot of topics with his deal with Sony Music included.
On his deal with Sony, Davido revealed that the deal is an opportunity for his music to reach both European and American fans.
He further revealed that he hopes to get a spot on a huge U.S tour,  a major push for a crossover single, amongst other things.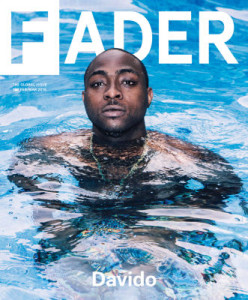 The singer will also feature non -Africans in his album with U.S rapper, Future, being one of them
According to Davido:
I know what kind of songs work. The music should have everything in it—Jamaican, African, American, everything. Something like Wizkid's 'Ojuelegba,' it has a cool feel to it. But are foreigners going to come to Nigeria to listen to that all the time? No. It has to have a pop influence.
The 'Dodo' crooner further added that he believes he will make a difference where others have tried and failed. This according to him is due to his understanding if both the American and African world.
I can be in the club with Meek Mill and Future and be on a level with them. I understand what they're talking about. I know what the trap is. These are things that some of these other guys, they don't have it. They can't have these conversations with the rappers, so how can they have them with the fans?