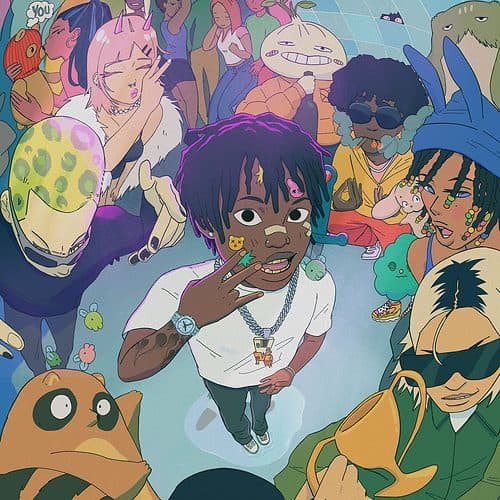 The global music industry has been influenced by the hits that the Nigerian music scene keeps releasing over the past few years. 2022/2023 has continued the country's prolific musical output trend, with significant releases from artists like Rema, Joeboy, and Ruger as well as noteworthy alternative recordings from Lojay, Bella Shmurda, and others. Read on as we highlight 11 exquisite Nigerian songs for your pleasure.
Moto – Lojay
With the release of a new fascinating melody termed "Moto", the talented Nigerian artist and composer, Lojay made his overwhelming presence and melodies jammed up everywhere. This engaging tune is a follow-up to his earlier duet with DJ Maphorisa and Kabza De Small, "Canada". "Moto" already sounds like a timeless classic that deserves a spot on your playlist, it's really simply that tune that puts you in a good vibe.
Reason You – Rema
Rema is a talented Nigerian musician signed to Mavins Records, he recently dropped the thrilling new song "Reason You". this record is a testament to Rema's artistic talent and originality as a whole. Also, it is a song that appeals to a variety of audiences. The Mavins superstar releases "Reason You" same period as "Holiday". This is another amazing track from Rema, add the song to your playlist and have a good listen.
Soso – Omah Lay
Omah Lay continues to receive praise for his musical prowess on "Soso", which keeps resurfacing as the hit song tops charts and smashes speakers across neighbourhoods in the country. His most recent project, "Boy Alone", includes this fantastic music. This is a good time to introduce this song to your playlist and vibe.
Asiwaju – Ruger
Ruger uses a catchy melody in the beautiful song "Asiwaju" to explain the feeling of being in the lead. Notably, the song's production was executed by Kukbeats. Note that the record "Asiwaju" was released alongside "Red Flags", as a double release. Due to how popular the song has become, Asiwaju has quickly established the Afro-classic crooner, Ruger, on the music scene as he achieves milestones.
Body & Soul – Joeboy
An intriguing new track titled "Body & Soul" was released by Joeboy, a heavy from the Nigerian music industry who is currently signed to emPawa Africa, to kick off the year 2023. Joeboy really came through with an excellent delivery on this record. If you want to enjoy a piece of good love music, you should add this magnificent masterpiece to your playlist.
ARA (Gen Gen Tin) – Bella Shmurda
Bella Shmurda, one of the faces of the new generation artists, recently released the hot single "Ara" (Gen Gen Tin). The talented artist decided to join in on the rave sounds by releasing this song, demonstrating their vocal prowess and abilities in the music industry.
This is Bella Shmurda's first release for 2023 as his last entry was his debut studio collection, "Hypertension", which spans fifteen alluring songs and was made to capitalize on the current Afrobeats movement sweeping the Western world and featuring top-tier music superstars. You can download "Ara (Gen Gen Tin)" mp3, add the song to your playlist and enjoy.
Omo Ologo – Zlatan
President of Zanku Records and a superb musician from Nigeria, Zlatan opens the new year with "Omo Ologo", another outstanding tune. This hot song is also a follow-up song to his earlier release, "Let There Be Light", which he worked on with renowned Nigerian executive producer and vocalist Seyi Vibez. Omo Ologo by Zlatan is a smash hit that deserves a spot on your playlist if you enjoy good music.
Sability – Ayra Starr
 Ayra Starr, the apparent princess of Afropop, released "Sability" as her first song of the year. The club banger is produced by Nigerian-British artist, LONDON. The duo created a catchy song that includes a zesty sample of "Coupé Bibamba" by legendary Congolese soukous musician, Awilo Longomba.
The song's usual passionate tone is echoed in "Sability", but this time something is different. The relentless rhythmic pulse compels you to move your body. Your playlist will definitely enjoy this one.
Availabu – Lojay
Lojay came through with some explicit vibes in this intriguing song called "Availabu". The song comes off his just-released EP "Gangster Romantic". This song is destined to be a smash with music listeners all over the world thanks to its catchy melodies and finely tuned production.
The exquisite song, "Availabu", is the sixth track on the excellent studio album "Gangster Romantic", and it is a standout track. Enjoy this masterpiece by listening to the mp3 and adding it to your playlist.
Money & Love- Wizkid
Wizkid unravels this stunning harmony labelled, "Money And Love", for the enjoyment of all music enthusiasts in the year 2022. Notably, this was Wizkid's second release of 2022 after the Amapiano-infused song "Bad To Me". The talented Afrobeats musician, Wizkid, has cemented his position in the hearts of many music fans, and he continues to be the undisputed master of this Afrobeat subgenre. Said simply, stream, download, and add this masterfully crafted song to your playlist.
Pressure – Peruzzi x Fireboy
Peruzzi, who is renowned for his love of and dedication to creating wonderful music, has released an energizing euphony titled "Pressure (feat. Fireboy DML)". The smash hit "Pressure", released in 2023, is a mix of the Amapiano and Afro-pop musical styles. With this entry, the Nigerian superstars, Peruzzi and Fireboy DML, really crafted a stunning sound, showcasing their proficiency in the mainstream. You should include this incredible song on your playlist this week so that you don't miss out.