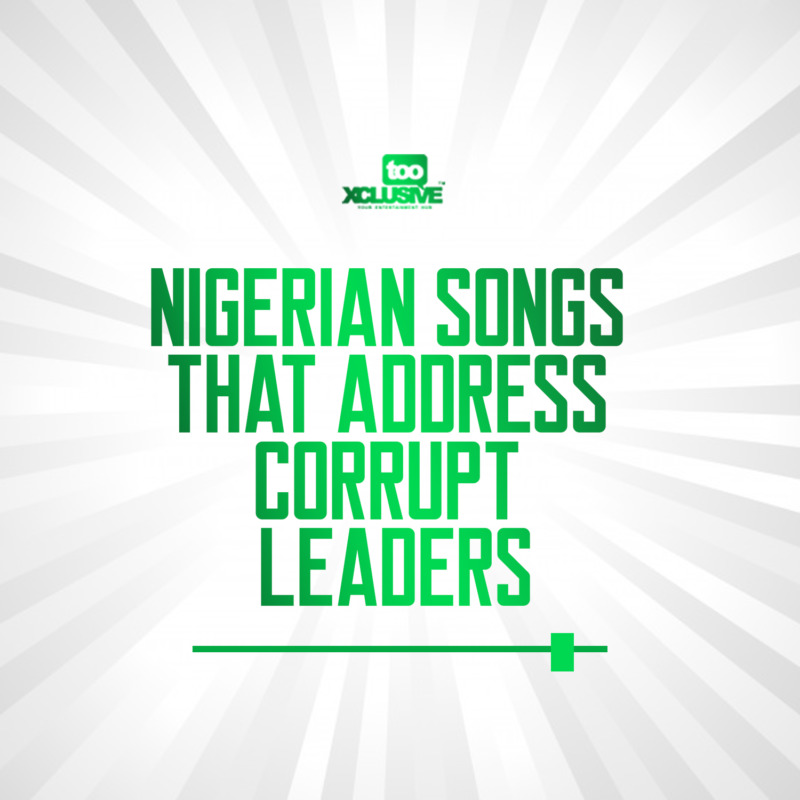 Nigeria celebrated 60 years of independence and there were mixed feelings about it. While some artistes were unfazed by the ills plaguing the country and spread positivity with their music, there are some artistes that have reminded Nigerians of the harsh reality they live in. Their songs speak of all the things wrong with the country.
"Songs For Corrupt Nigerian Leaders"… From poverty, corruption, lack of basic social amenities, poor education, insecurity, Nigerians feel there is nothing to celebrate. This article seeks to highlight 16 songs that addresses the high rate of corruption in the land.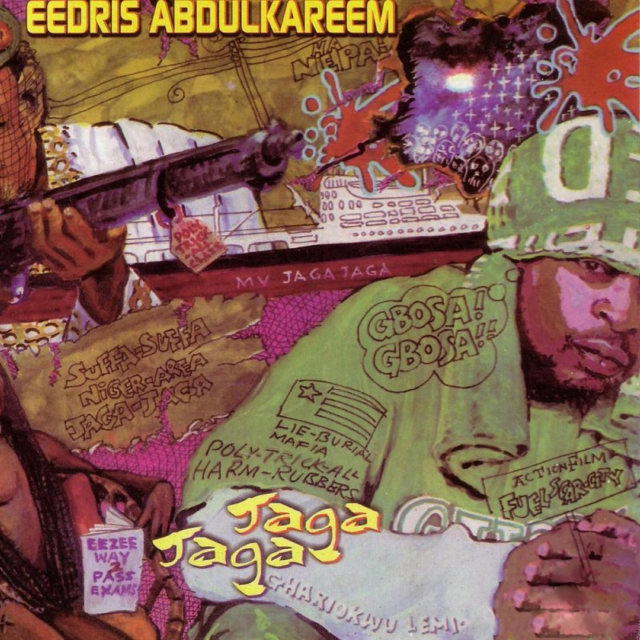 Songs For Corrupt Nigerian Leaders 
Fela – "Authority Stealing"
From the godfather of Afrobeats himself, Fela compares the crimes of an armed robber to a person in power stealing. The armed robber would be lynched or thrown in jail for stealing a petty amount, meanwhile, the man in authority would get away with it. Or even be praised. "Authority people them go dey steal, Public contribute plenty money, Na authority people dey steal."
He also listed out the crimes of those in power "Misappropriation, Maladministration, Nepotism, Mitigation, Make I remember another one wey them dey use, Defraudment, Forgerylization,, Embezzlement, Vilification, Mismanagement, Public inquiry"
Eedris Abdulkareem – "Jaga Jaga"
It seems Eedris saw the future when he wrote this song. "Jaga Jaga" was released during the administration of ex-president, Olusegun Obasanjo, a time when corruption was gradually gaining momentum. 'Jaga Jaga' which is a popular slang used to describe something in a state of chaos or disarray was attributed to the situation of the country at that moment. "Nigeria jagajaga, Everything scatter scatter, Poor, man dey suffer suffer, Gbosa, gbosa, gun shot inna di air, Armed robber came to your house, Eno thief money, eno rape your wife
Went straight up to your bedside"
This song was so powerful and controversial that it put him at loggerheads with then Olusegun Obasanjo and it was eventually banned off radio waves by reason of its supposedly non-gratifying lyrics as they were subject on the nation's goings-on. 18 years later, it still describes Nigeria's situation because Nigeria is still Jaga Jaga.
African China – "Mr President"
"Mr President" is one of African China's most notable tracks till date. The socially conscious song emphasizes on the struggles of Nigerians on a daily basis. "Food e no dey, Brother eh water no dey, And our country no good o, Everyday for thief, One day for owner e, Poor man, wey thief maggi, Omo, dem go show ehm face for crime fighter"
China also calls on all Nigerian politicians from the President himself to a senator to lead the nation well.  "Rich man go dey halla pe ah (modupe) Poor man go dey shout (Amolawe), Make una lead us well, No let this nation to fall inside well, Mr. President (lead us well), If you be governor (Govern us well) If you be senator (Senate am well) If you be police (police well well) Oya lead us well"
Tekno – "Rara"
In the same fashion, Tekno addressed the issues plaguing modern day Nigeria.  The singer seeks to encourage Nigerians to try to stay positive amongst the suffering and corruption. He begins the track talking about a major issue in Nigeria- Electricity. Tekno sings "NEPA no bring light oh, 'NEPA no bring light ooh, aah, Generator wan tear my ear,Generator wan tear my ear ooh-oh-oh"
He doesn't leave out the corrupt politicians who steal public funds and load it offshore accounts because they can not be investigated or traced. "Them packi our money oh, Take it to other nation (oh no-no), Investi for your country oh, make it a better place, Spendi money for your country oh, make it a better place".
Falz released this direct jab at Nigerian politicians just before the 2019 elections. It was aimed at reminding Nigerians about the dirty and shady schemes of the politicians. "Talk" addresses Nigeria's ills in detailed and witty lyrics.  At the start of the song, Falz speaks on the controversy of religious pundits attacking him over his use of the hijab to reflect the condition of the Chibok girls captured by Boko Haram. He warns against electoral violence in the next line "election don dey come dem go need your support".
He also throws shade to the politicians who like to fly out of the country to treat themselves and for other reasons that remain undisclosed. ""4 year tenure, 3 year holiday". In summary, Falz urged the youths to speak up for what they truly want.
Sound Sultan – "Bushmeat (Ole)" ft 2baba
Veteran singer, Sound Sultan teamed up with 2Baba and W4 in 2008 to speak about the corruption in the country. He sings "One day bushmeat go catch the hunter" before urging people to shout "Ole" which means 'Thief'. He sings about how the government doesn't care about the millions of citizens who are living in poverty. He also sings about the common practice of getting a job in Nigeria which is through connections (Knowing somebody to secure a job, Padi-Padi).
2Face – "For Instance"
Released from his iconic album "Grass To Grace,"  2baba sang about how he would make the country a better place if he was given the opportunity to rule.  "For instance, Say na me be one wey dey give chance, Say na me be one wey dey make plans, For all man to benefit abi, To make we disagree, To agree to create chance".
He sings about the corrupt politicians who have ignored the existence of Nigerians who put them in power. "But now I am not of importance, Cos now I am looking from a distance, That's why you give them the chance. To do us and turn us to victim of circumstance, Them just dey ignore our existence, Them get us use do excuse to buy chance.". And also how the politicians pack the country's money and resource abroad to foreign lands leaving the citizens to suffer in abundance.
Falz – 'This Is Nigeria"
Another brilliant masterpiece from Falz which addresses the country's worst problems one reference at a time. The track is his take on Childish Gambino's groundbreaking "This is America" video. According to Falz, the song "addresses numerous political and social ills", and is an attempt "to spark a reaction in the positive direction".
The captivating visuals  highlights played out the everyday struggles of Nigerians from political corruption, Police brutality/violence, to extreme religious practice, and terrorism. It even captured the snake that swallowed 36 million Naira which is yet another example of the absurdity of Nigeria's daily corruption.
Yemi Alade – "Criminal In Agbada" (CIA)
Released off her "Woman Of Steel" album, Yemi takes a direct jab at corrupt politicians describing them as "Dirty Criminals in Agbada."Mr criminal criminal in agbada, Very dirty politician, Criminal in agbada". The same people who steal from the country are the same men that treat citizens like criminals.
"Na who be thief na who be criminal, Shebi na the man wey dey take all of the money na, Na the same man wey say he go free me na.The same man wey con dey treat me like a prisioner, Na who be thief na who be criminal, ."
Listen!
Tiwa Savage – "Ole" ft Naira Marley
Listening to this track at first listen might give the impression that it's another song to call out debtors but a closer look gives out the real intention. Tiwa and Naira Marley throw heavy shade at Nigerian politicians who they describe as thieves." "Because sey I quiet no mean sey I be fool, Lori titi awon temi ti kanaku hmmm… E ba mi ki gbe ole (ole ole), Come and see ole (ole ole), Somebody shout ole (ole ole), Ki gbe ole (ole ole), Come and see ole (ole ole), Somebody shout ole (ole ole).."
The Outro of the track mimics the conversation between a Niger Delta Minister, Godswill Akpabio and the lawmakers leading the recent NDDC Probe. Tiwa Savage made reference to a viral video of the probe that occurred at the Nigerian senate meeting. The 40 billion Naira mismanagement. Tiwa was referring to our leaders/politicians that embezzle from the nation, take us as fools, neglect us, and run away from their duties.
Listen!
Burna Boy – "Collateral Damage"
From his Grammy nominated album "African Giant," which made it to Obama's playlist, Burna Boy speaks on issues of corruption, oppression, and nonchalant attitude of the youths as a whole to take an unflinching stance for their rights. In the hook, Burna sings about how the high ranked officials in government from the Ambassador to the President cart away with funds meant to better the country. "Ambassador go dey chop, And Governor go dey chop, And President go dey chop"
Burna says Nigerians fear what they do not see but they have a reason to be scared.  "My people serve they fear too much, We fear the thing we no see, One day all of us go die, We always get reason to fear. Fight for your right o you go to fear, Police go slap you,you go to fear, Fight for your pikin dem no go to fear, You go to fear fear fear"
Listen!
2face – "E Be Like Say" ft Soul E
Another iconic track from his "Grass to Grace" album, 2baba sings bout the dirty games politicians play especially when elections are near. "It seems like you've been playing me all the while, So many times, you asked to put the whole of my trust in you, So many times, you betrayed and played me for a fool, Why don't we work together so the future would be brighter. Cos, e be like you and I, We dey need each other all the time".
He sings about being tired and done with the empty promises year after year. "Another year has come, And now you want my trust once more Oh no, Chorus, E be, like say you want me to tell me another story again oh"
He tells people that the government doesn't care about the welfare of Nigerians as all they want to get is the money because they believe it gives them power. But if the people have no peace, education, power is nothing. "They don't really care about us, Because all they want to do is to get in touch with big bucks, Because they think the money gives them the power, But the power is nothing, If your people cannot get quality education, The power is nothing, If your people keep on dying of disease and starvation"
Listen!
Sound Sultan – "Mathematics"
Off the "Jagbajantis" album from the Veteran Sound Sultan, this track may sound like it was made to grab the attention of kids but it's much deeper than that. On the track, Sultan addresses the pain Nigerians go through on a daily basis, from brothers killing themselves to the evil and corrupt politicians.
"Situation in this nation, Disposition, our condition, Unexplainable pain in our hearts not to mention, Brothers killing brothers for the wages adoration, Resolutions are made, For all we've made we lack conviction ,And perfection is the order as we keep seeking solutions
Only God can solve, this mathematical equation."
Fela – "Army Arrangement" 
Fela sings about how Nigeria actually has the resources to be a better country. "Nigeria get the money, Foreign money for oversea, Nigeria get the money, Foreign money for oversea, Announcement start to happen, Newspaper carry them paper, Radio dey shout for studio, Obasanjo turn vocalist, Yar'Adua road manager, Every government statement, Seven billion naira missing, Missing from oversea, Foreign currency scandal, Them start to arrest everybody o"
He calls out Obasanjo for rigging the election and also stealing funds. "Election story nko, Obasanjo plan am very well, Election story nko, Obasanjo plan am very well, Him take old politicians, Wey rule Nigeria before, The same old politicians, Wey spoil Nigeria before, Obasanjo carry all of them, All of them dey there now"
Listen!
Falz – "Hypocrite"
Nobody wants to hear the truth because we are all hypocrites. Released off his 2019 "Moral Instruction" album, Falz again addresses the wild socio-economic and political ills that continue to plague the society. A nation where old corrupt politicians are recycled, the rich gets richer and the poor gets poorer.
"What about the really greedy politician, Acting like he really care for the layman, And what about even you voters, wey dey act like say you only see two jokers, Recycle the same corrupt men, later you complain you say you hate the government, And the fake prophet, some dey for convent."
Listen!
Sound Sultan – "2010" ft MI
As the title depicts, "2010" is a political song released in year 2010 as a reminder for the Nigerian Government about their promise to provide constant electricity supply by the year 2010. Sound Sultan and M.I emphasize on the electricity problem and how it has hindered the growth of the country .
"When we ask our government o, When dem go give us light, Dem say na 2010, we don dey wait 2010 since then, But now the waiting must end, Cos 2010 don show oh oh oh, Oh oh oh , i want to be like Moses, eh, Show my people dem to the promise land, But then i notice something"
They sing about how those that were bold to take charge are 6 feet buried and urges Nigerians to wake up and fight for a change. "People wey try am don dey underground, I see dem i ja, Look dem from far, Me i fear this government people. Rise up Naija, Raise your apa, Tell them you are tired of the evil "
"Shey na today, wey we dey wait, go buy candle, go buy candle"
Its 2020 now but do we still have light?
Songs For Corrupt Nigerian Leaders 

"16 Nigerian Songs That Address Corrupt Leaders", 5 out of 5 based on 6 ratings.
---