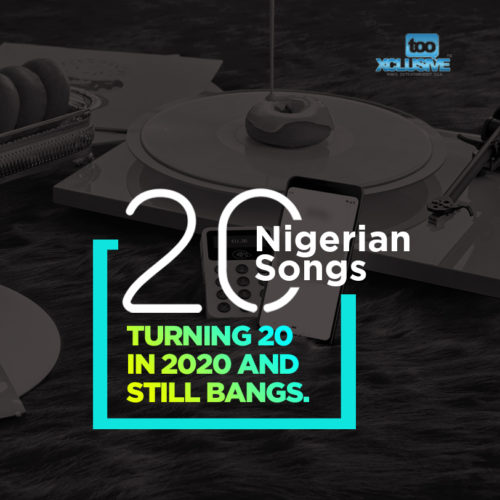 It's the year 2020, Twenty (20) years into the Third Millennium (after the Y2k). This article is a listicle centered on songs that was released in and Rocked the year 2000.
We at tooxclusive were reminiscing on old songs that where top bangers, hits and jams during 2000. These songs will also be turning 20 years and the lovely part is that they still bangs and bring good feelings.
Seat back and Relax as we take you back memory to the year 2000. Checkout the list of 20 Nigerian Songs that will be Turning 20 this 2020 and still rocks with good vibe… Enjoy!
1. Lagbaja – "Konko Below"
2. Lagbaja – "Nothing For You"
3. Lagbaja – "Feyin E"
4. Lagbaja – "Gra Gra"
5. Sound Sultan – "Mathematics"
6. Azadus – "You Is The One"
7. Tony Tetuila – "Omode Meta" ft. Plantashun Boiz x RuffRugged & Raw
8. Tony Tetuila – "Your Kind Of Woman" ft. Tuface
9. Black Reverende – "Ayangba Girls"
10. Rasqie – "Soji"
11. Trybesmen – "Plenty Nonsense"
12. Trybesmen – "Shake Bodi" ft. Eldee
13. Wale Thompson – "Lalale Friday" ft. The Remedies
14. Plantashun Boiz – "Plantashun Boiz"
15. Plantashun Boiz – "Don't You Know"
16. Plantashun Boiz – "Knock Me Off"
17. Plantashun Boiz – "You And I"
18. Maintain – "Ni Bo Lawa Gbelo"
19. Maintain – "Alo"
2o. Eedris Abdulkareem – "Player Meji"
Now permit me to include a Non Nigerian Song that was released in year 2000, A party banger that rocked every corners of Nigeria all through Y2K. A 2000 Music list in Nigeria/Africa without this record isn't a complete one, A song is "1Er Gaou" by Magic System an Ivorian musical group from Abidjan.
Notable-Mention
Magic System – "1er Gaou"

"20 Best Nigerian Songs Turning 20 In 2020 And Still Bangs With Good Memories", 1 out of 5 based on 9 ratings.
---