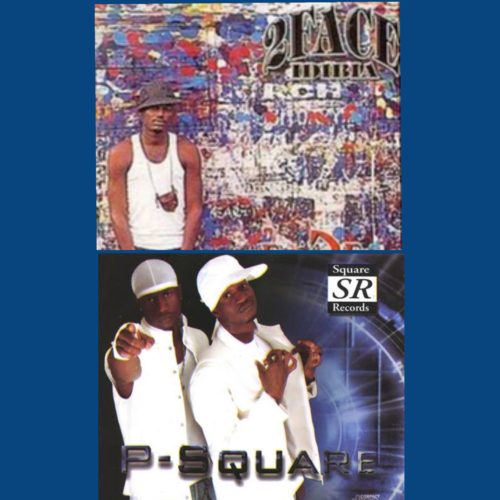 2face's and P-square are a member of the league of the very few in the Nigerian music industry who have awesome albums that became instant hits.
Their albums were great quality in terms of the songs on them and they did hugely commercially too as they sold millions of copies nationwide and in other countries outside of Nigeria.
However, as it is time for our "Versus Throwback," we will be picking one each from these superstar-veteran singer's album store, leaving you to judge which the better album is.
From 2face's album store, we have picked his debut solo album; "Face 2 Face" which is an 11-track album that houses hits such as "African Queen," "Ole," "Right Here" and a lot more. Infact, all songs on the album were hits and the project sold over 2 million copies. This is Arguably 2face's greatest album.
On the other hand, we have picked P-square's sophomore album, "Get Squared" to square up against 2face's "Face 2 Face." P-square's "Get Squared" was released in 2005 and it sold over 5 million copies nationwide. The 13-track album houses also a lot of hit songs such as "Omoge Mi," "Temptation," "Bizzi Body," "Say Your Love" and a few others. It is a classic.
With what has been written above, which was a bigger album?
2face's "Face 2 Face" VS P-square's "Get Squared" – Which Was A Greater Album?
---