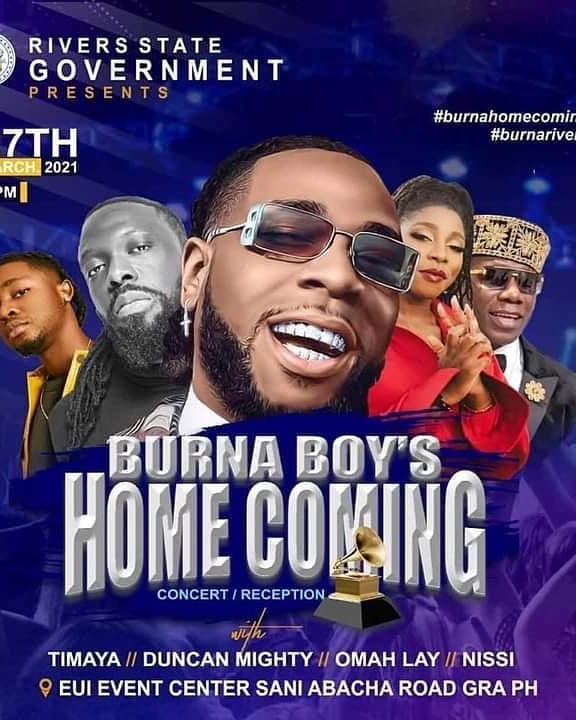 BurnaBoy's BIO – (Homecoming), Born Damini Ogulu in Ahoada West, Port Harcourt, Rivers, Nigeria, to parents Bosede and Samuel Ogulu, he is the only son and eldest of three children. Burna Boy is a Grammy Award Winning Nigerian Afro-fusion singer, songwriter and performing artiste signed to Atlanta Records in the United States, Warner Music Group internationally and his record label, Spaceship Entertainment. He is one of the most successful African Artiste in the continent.
Burna Boy is one of the few key figures in the Nigerian Music Industry whose musical talent is constant reminder of the importance of ufabet and African voices being heard and whose musicality evoke memories of many global music greats, past and present; something that has aided his meteorite rise to global prominence.
An indigene of Rivers State in Southern Nigerian, Burna Boy has worked with an impressive number of local and international A-list artistes including; Justin Bieber, Sia, Diddy, Sauti Sol, Jorja Smith, Youssou N'Dour, Sam Smith, Ed Sheeran, Stormzy, Dave, Damien Marley, Sarkodie to mention a few. He has been nominated for and won numerous awards locally and internationally, some of which include the Grammy Award, MTV Europe Music Awards, MOBO Awards, Edison Awards, BET, Soundcity MVP, etc…
This past weekend, On the 27th of March, 2021, Rivers State as a whole and The Governor, Ezebunwo Nyesom Wike organized a Homecoming Concert to celebrate her most decorated Indigene Artiste, Damini Ogulu (Burna). The Burna Boy's Home Coming Event was a successful one, filled with lots of excitement and Here in this article we would share with y'all 5 Adorable, Unforgettable Moment at the Home Coming Day.
Enjoy Below!!!!
5 Unforgettable Moments At Burna Boy's Homecoming
1. The Warm Welcome After Landing In A Private Jet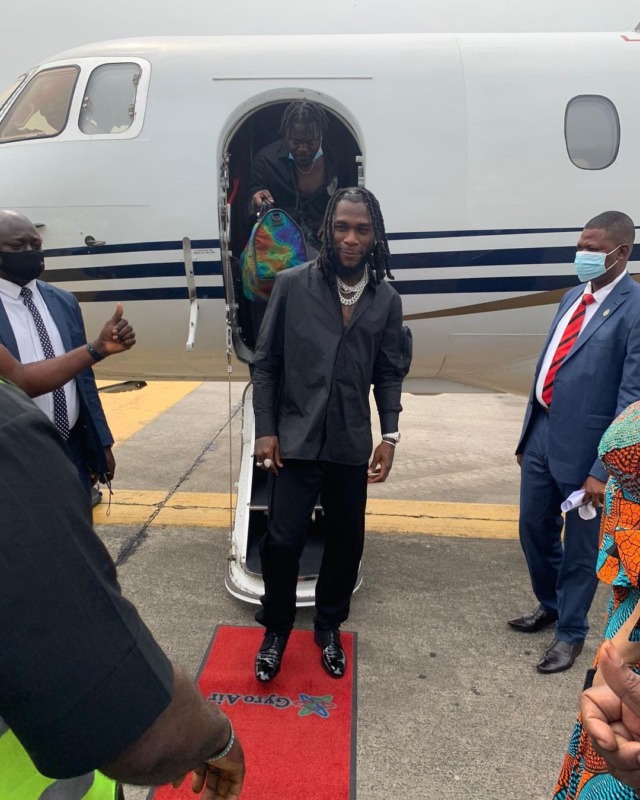 Few days after the renowned African Giant made Nigerians and Africans proud with his win at the 63rd Grammy Awards Show, he was invited by Rivers State Government for a special Homecoming concert. The concert is reportedly being hosted by the State government to celebrate his recent achievement after they were criticized on social media for not acknowledge their own.
The best words to describe the grand reception Burna received, Splendid, Royal, Unreal. Burna boy was given nothing short of a royal welcome following his arrival in Port-Harcourt, Rivers State. From the airport to his motorcade greeting, Burna Boy was treated like a king.
You would recall how the gist of Burna Boy's management requesting for a private jet and 100 million for Burna Boy to attend his own homecoming ceremony was trending, well it appears Burna Boy got his wish and we can tell you it's exactly what dreams are made of. Governor Wike went all out for this superstar who deserves it and more.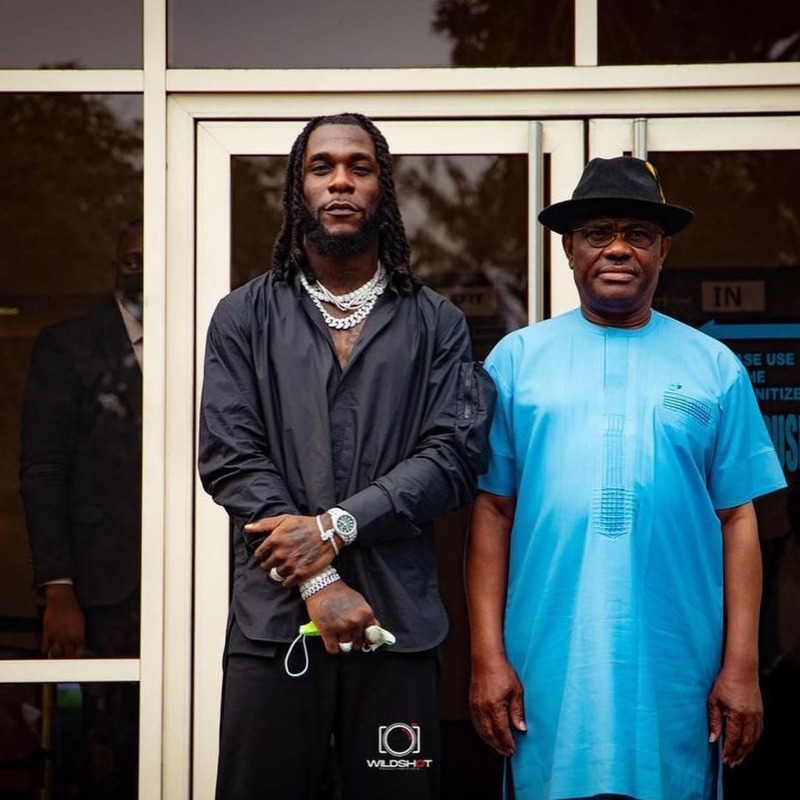 Fans poured out in their numbers to show their love and support to the African giant and his female team which included his mother and manager, Bose Ogulu. They couldn't stop singing his praises as the shouts of 'Odogwu' and 'African Giant' filled the air.
To be honest, It gave me a visual representation of the story of Jesus when he rode a donkey into the town of Jerusalem and a large crowd gathered and laid palm branches and their cloaks across the road, giving Jesus royal treatment and shouting "Hosanna to the Son of David! Blessed is he who comes in the name of the Lord! Hosanna in the highest heaven!"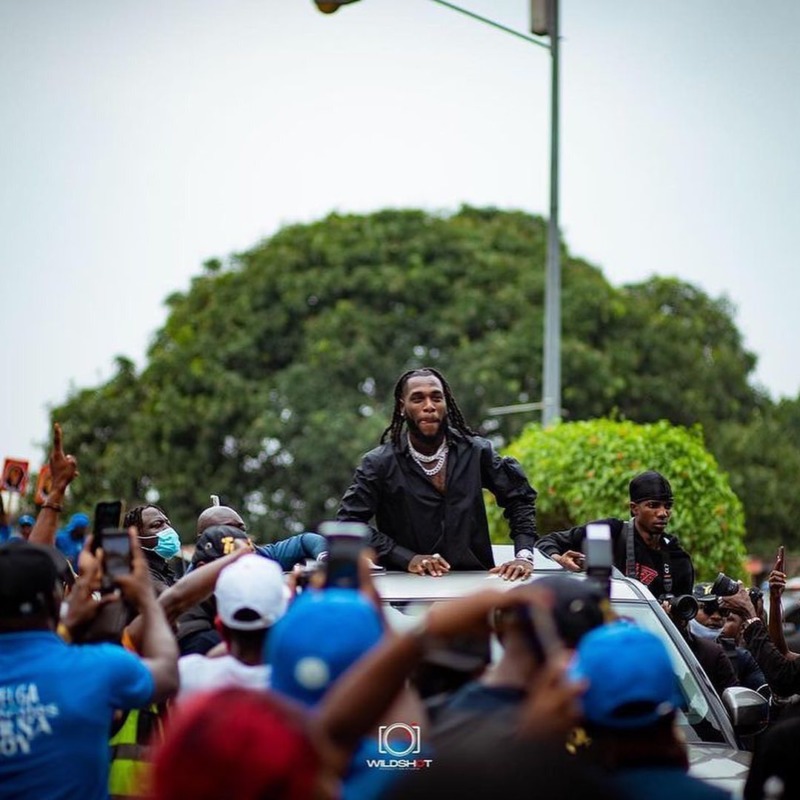 Well, Burna Boy as seen in the video was in a moving car waving to his excited fans who wouldn't stop singing his praises.
View this post on Instagram
View this post on Instagram
2. Awarded The Second Highest Title In Rivers
It's official, Burna Boy is a national treasure and should be kept in a museum (Just kidding)….
During his homecoming concert, Governor Wike bestowed on the Grammy award-winning artist, the Distinguished Service Star of Rivers State (DSSRS), the second-highest distinction in the state. For those who might not know the importance, DSSRS is the same honor bestowed on Deputy Governor.
The award, Distinguished Service Star of Rivers State, is conferred on individuals in recognition of their exceptional service/performance in any field of human endeavor. According to Governor Wike, he said the honor was aimed at appreciating indigenes of the state who show outstanding talent with their works and stand out head and shoulders above others, in Burna's case, his win at the 63rd Grammy Award.
View this post on Instagram
3. Burna Boy's Reaction to His Gift (A Land & Millions Of Naira To Build A Project)
We are certain of this fact, Rivers State government knows how to honor their own. During the homecoming concert, Governor Wike announced that he would be rewarding the grammy award-winning artist with a piece of land in the old GRA area of Port Harcourt. As seen in the video, Burna Boy was literally blown away by his Governor's generous gesture. He couldn't hide his joy which was probably the best thing as haters would have dragged him relentlessly if his reaction was anything short of what they saw. Still recovering from the big surprise, words can't possibly explain Burna's joy when Governor Wike added that he will be giving him money to build on the land whenever he is ready.
See His Reaction below
View this post on Instagram
Governor Wike felt Burna boy shouldn't be the only one getting an early Christmas gift, he "promised" to reward fellow Port-Harcourt bred artistes who came out to show support and celebrate Burna Boy with the sum of N10 million each. In conclusion, Timaya, Ajebo Hustlers, and Duncan Mighty will be #10 million richer whenever they receive the money from the Rivers State government. Cheers to that.
4. Timaya and Burna Boy on Stage
The only way to express what I felt seeing Timaya and Burna Boy on Stage is "Awwww", especially after the brotherly hug. It's amazing when you see no hate among two artists, be it a Grammy award winner and well, one yet to win a Grammy. It was all cruise and fun when the two Port Harcourt-borns, Timaya, and Burna Boy linked up. It was an emotional night as Timaya got on stage and gave a motivating speech.
Timaya, the Plantain seller also shared the emotional story of how he and Burna Boy started. He called him "FEARLESS" as he showered praises on Burna Boy. As I said, it was emotional and fans present testified to this. Timaya also confessed that Burna Boy's level is a good level to be at and he wouldn't mind being on that level. Timaya congratulated Burna Boy and sealed everything with a hug.
View this post on Instagram
5. When Port Harcourt 1st Son, Duncan Mighty Carried PH Born – African Giant, Burna Boy
Another highlight from Burna Boy's Homecoming Concert was when the Port Harcourt 1st Son, Duncan Mighty Carried our renowned African Giant. Calm down, let me explain. After his performance on stage, Duncan Mighty rushed to meet Burna Boy. He excitedly hugged Burna Boy and ended up carrying Burna Boy who giggled like a child thrown in the air. It was indeed a beautiful and lovely sight to behold as the two artists tapped from each other's happiness. Later, during Duncan Mighty's performance, Burna Boy approached him and whispered (maybe a secret tip to win a Grammy) in his ear. Note to upcoming artists, "Na person wey carry Burna boy he dey whisper for him ear wen he dey perform." A word is enough for the wise… LOL
View this post on Instagram
BURNA BOY'S HOMECOMING