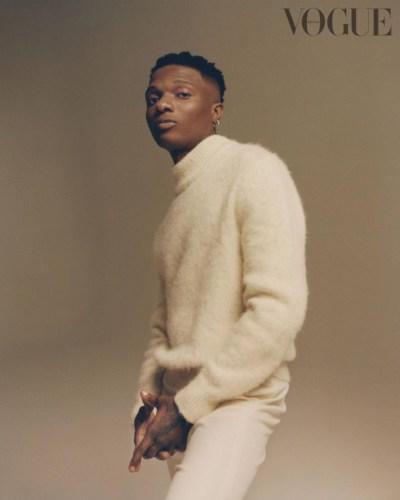 (Wizkid Top 50 Songs…) It's been over a decade since God blessed the Nigerian music industry with the gift of Ayodeji Ibrahim Balogun, whom we all fondly call Wizkid, or Big Wiz as he now likes to be addressed.
The legendary musician took the music scene by storm when he introduced to us his debut album, Superstar – an all-encompassing album that not only depicts entertainment in every aspect of the word but screams raw talent.
Over the years, the Grammy-Award-winning artist has displayed true growth and evolvement, constantly breaking boundaries and putting Nigeria on the global map at all cost as the true 'Giant Of Africa'. He is indeed, evidence of hard work, consistency, and dedication.
10 years down the line, Big Wiz's love for his craft keeps growing stronger, as he, without fear keeps raising the bar, thereby paving way for the new generation of artists who solely look up to him for strength and courage. His success and massive achievements over the years are nothing short of grace, but also go to show that anything is possible if only you set your mind to it.
To celebrate him, we have curated a list consisting of 50 of his best songs yet. Get ready to bask in the euphoria of nostalgia.
Checkout Wizkid Top 50 Songs 
50. "Sisi Nene"
Produced by Jay Sleek, Wizkid dropped Sisi Nene in 2012. On this track you get to hear the EME Wizkid, that fly young champ!
Listen and Enjoy!!!
49. "Say My Name"
Say My Name, the first track on Wizkid's debut album – Superstar is one Big Wiz's record that can't be forgotten, and ignored when talking about sound of Wizkid.
The song is that which Ayo Balogun used to announced his stage name. He made literally everyone scream his name.
48. "In My Bed"
This is the third single off Wizkid's sophomore album – AYO. The self-titled EP was released 7th of September, 2021.
In My Bed is a tune that comes with catchy lyrics. It has that mild Shoki dance vibe. Enjoy!
47. "Wiz Party"
There is no party without the Wizkid jam, voice and melody.
Wiz Party is a freestyle bonus track on Wizkid's debut album- Superstar. The ladies man sings about how a particular lady is making him feel.
46. "Electric"
Starboy Entertainment released this chilled tune 'Electric' by Wizkid in December, 2019.
The London produced track is taken off Big Wiz's Soundman Vol. 1 EP, an Eight track afrobeat EP.
45. "One Question"
Wizkid gifted fans this record as a single after the release of his sophomore albume – AYO.
He worked with saxophonist Yemi Sax and producer Dokta Frabz to deliver this cool jam.
44. "Gbese"
This Gbese is not the one on Sounds From The Other Side (SFTOS) but that which Wizkid used to bless his official Disc Jockey, DJ Tunez.
Produced by Blaq Jerzee, The record is comes with an addictive Afrobeat vibe and catchy lyrics. On this Wizkid is willing to be a debitor for the sake of love.
43. "Mighty Wine"
Also from the Made In Lagos album, this track is one of Wizkid's favorite.
The Afrobeat song comes with a dance vibe in a mid-tempo. Wizkid shares how he always feel whenever his lady gives him that mighty whine!
42. "Reckless"
Reckless is an amazing tune by Wizkid which is thoughtless and still spiritually.
Dem inna, inna, inna, inna, inna, I know sey dem go pray on my downfall but I'm still a winner, winner…
It is the first track from Big Wiz's highly anticipated 4th studio album – Made In Lagos.
41. "Shout Out"
This is the one record that had Wizkid giving massive shout-out. He recognized his real Niggas and prayed they get bigger.
Shoutout is off Wizkid's debut – Superstar which was released under EME, and executively produced by Banky W.
40. "Blow"
Oya blow blow… This song is off Wizkid's first ever EP titled Soundman (The Vol.1).
It's an addictive Afrobeat tune produced by Blaq Jerzee. The music Producer also dropped some vocals on this song.
39. "African Bad Gyal"
Featuring American pop star/ R'n'B singer and Dancer Chris Brown, this record is from Wizkid's third studio album Sounds From The Other Side (SFTOS).
Produced by Sarz, African Bad Gyal is a party warmer. It rocked  many clubs and concerts in 2016/17.
38. "No Lele"
No lele is a track off Wizkid's debut album – Superstar. The Masterkraft produced song gives a little insight about Big Wiz's Lagos Origin.
Ojuelegba Shitta, Ask my sister, My music travel no visa, Oya ask your sister, She not fit say she no know me, You feel the beat, you go down low.. Omo, day by day Me, I dey grind, I dey hustle, Make you ask Wande, Him go yarn you, How the ting go… Wizkid sings about how many doubted the Ghetto starboy.
"For Me" ft. Wande Coal  
At the time when For Me was released, fans were already clamouring for a feature between Wizkid & Wande Coal, the best freestylers and singers in the game at the time. 
It was a no-brainer, Wizkid was the best in his generation, while Wande Coal was equally the best among his peers. A collab joint between them then and now would have caused equal damage to the industry and rightly so. 
For Me wasn't just an outstanding song, it was a near perfect experience for fans, hardcore music lovers and other well-wishers who recognized the sheer powerhouse of talent distributed between Wizkid & Wande Coal.
"Gidi Girl"
Gidi Girl is one of the biggest songs on Wizkid's golden Superstar album. It is a romantic R&B song that had all the high school kids in Africa at the edge of their seats, falling in love and passing love notes.
Gidi Girl was one of those Wizkid songs that contributed to the defining moment of young listeners' incursion into Afrobeats and definitely deserves a mention among the top 50 Wizkid songs.   
"Expensive Shit" 
Wizkid became the talk of the town after the video shoot for Expensive Shit. In homage to his Surulere/Ojuelegba hood, Wizkid brings a lamborghini to the slums to shoot a video with his core fans. 
Expensive Shit did not only gain popularity for the lamborghini stunt, Wizkid infused a name-calling appreciation verse on the song, including almost all the big names in Lagos and thereby creating the domino effect of the song going viral at Nigerian Owambe parties. 
https://youtu.be/dWJoZx0cy6c
"Wad Up"
Wad Up was definitely one of the biggest street bangers of 2010. The song's popularity eventually crescendoed into a street lingo that is still used to communicate on the streets of Lagos and other parts of the country till today.  
Wad Up is a dope feature with D'Prince of the defunct Mo Hits Records, who was the king of kinky bangers at the time. Wad Up breathed a life on its own, a part of the legendary superstar album, the song was able to manifest into street culture and a focal point for galvanization. 
"Anoti"
Anoti is another song that was introduced on the deluxe edition of the Made In Lagos album. Wizkid shares credits with rising act Bella Shmurda on this one; creating one of the most contagious records of the year. 
Bella Shmurda is one of the most popular street pop acts right now. The strength of his street validation and Wizkid's infectious vibe produced one of the biggest songs out of Africa in the past year.
"Mood" 
Mood is one of the best performing songs on the Made In Lagos Deluxe album, garnering millions of streams from all over the world and refusing to leave the charts no matter how strong the new wave of songs are. 
Mood is a feature with rising star Buju, and has helped to further chart an upwards facing career trajectory for both Wizkid and Buju. Mood is one of the best feel good songs of 2021, and it doesn't seem to be resting from its chart domination anytime soon.
"Piece Of Me"
Piece of Me is one of the most sensual songs on the acclaimed Made In Lagos album. It's a sonorous feature with UK-based singer and songwriter Ella Mai. It's a sonorous love number that expresses deep intimacy between two lovers who're madly in love with each other. 
Piece of Me is a test of Wizkid's versatility, and it proved to be the perfect blend of Afrofusion poised to take over the chart in the West like it did. A feature with one of the most talented artists in the world, as a vehicle of propagation is a positive in my books any day, and Piece Of Me deserves a spot with the greats for its contribution to Afrobeats crossover.
"Picture Perfect"
Picture Perfect was one of Wizkid's first attempts at crossing over into the Western Market. It was dropped as a part of the Sounds From The Other Side album which made quite a critical splash. 
The song enjoyed considerable airplay here in Nigeria, and was on the lips of loads of fans for months due to the Picture Kodak metaphor that referred to one of the hottest supermodels and video vixens at the time.  
"Feeling The Beat"
Feeling The Beat is one of those freestyles Wizkid created spontaneously with Maleek Berry in the days when he'd just left Starboy Ent. This song had the streets on lockdown, and everyone in the country was feeling starboy all the way from Gwagwalada to the innermost parts of the country.   
Feeling The Beat is one of the viral Wizkid songs that paved the way for freestyling and vibe music in Afropop till today and is definitely a top 50 Wizkid song. 
"Fever" 
Fever was released in late 2017 and got tongues wagging after Tiwa Savage was featured in a very raunchy cameo appearance. 
Although the song was hit with a lot of criticisms, it was mostly what everyone was talking about in the country and eventually led to Wizkid & Tiwa Savage stealing the headlines both in Nigeria and the United Kingdom for a short period. Fever definitely deserves a spot among the top Wizkid songs ever.
27. "Blessed"
Blessed is another brilliant feature on the Made In Lagos album, this time it hosts Damian Marley, legendary reggae artist and songwriter. Blessed has been one of the strongest features on the album, introducing Wizkid to an elite reggae listening audience from all over the world. 
Blessed was a top-charting track and huge contribution to the message being passed on the Made In Lagos album before Essence stole the show. A spiritual feature of this magnitude with Damian Marley is all Wiz needed to gain the ultimate acceptance of the reggae community. 
"True Love" 
True Love is a mid-tempo summer love joint that featured Tay Iwar, one of Nigeria's most talented alte artists and Jamaican heavyweight, Projexx. 
True Love is a part of the Grammy-considered Made In Lagos album by Wizkid, and it is a love song meant for adult airplay. When the album was released, True Love was one of the major reasons why fans criticized the album for its insanely sensual touch.
"Jam"  
Jam is a tune off Wizkid's released project tagged, SoundMan Vol 1. EP – a 24 Minutes extended play (EP).  It's a track where Wizkid, Starboy boss, and talented singer, Chronixx.
Jam had heads turning when it dropped, and it literally became the talk of the town. People wondered what was so unique about the song their found themselves so drawn into. The over 3-minute track oozes a level of energy that cannot be described. It is safe to say that Big Wiz is the G.O.A.T.
"Joy"
Joy is a cover to Bob Marley's popular ht song, No Woman No Cry. Just like Smile, Joy is a song that sets out to keep you moving even in the face of challenges. It was released off the self-titled album, Ayo back in the year 2014.
Joy has such catchy lyrics that take you straight into a mood of gratitude. It's a thoughtful song that is consumable by all.
"Baba Nla" (Final)
Baba Nla was a clear message to Wizzy's contenders, the likes of Davido and Burna Boy, letting them know that they are not on the same level. The record was produced by the one and only, Legendury Beatz.  Wizkid related that he is still the boss and does not like to be stressed.
To date, Baba Nla is still a go-to song no matter the time and place.
"Sweet Love"
Nigeria's Afrobeat sensation, Wizkid releases his rendition, Sweet Love in March 2017. Sweet Love gave Wizkid away as the Fela Anikulapo Kuti of our generation, tapping into the legendary singer's style, with extracts from some of his popular catchphrases.
The song is generally a feel-good track. Wizzy tells his babe to give him some sweet love, also tells haters not to compare themselves to his baby.
"Smile"
Smile which features American artist, H.E.R. is generally a feel-good song that propels you to smile and generally have a positive outlook on life. Smile has some unique elements that are rare in the Nigerian music scene. The song resonates with all ages, be it young or old.
The P2J-produced track was released in July 2020.
"No Stress"
No Stress was released in the year 2020, off the album, Made In Lagos (MIL), an album that houses the official song of the summer – Essence. This impressive tune – No Stress comes after his sensational single, Smile which features American singer, H.E.R. 
No Stress, as the title implies has Wizzy talking about wanting not to be stressed and that's why he got himself a Pretty Pretty lady wey no like no stress…". No Stress topped charts for a long time and was more than not compared to Davido's "FEM".
"Azonto"
Azonto is a dance and music genre that originated in Ghana. Being a trendsetter, Wizkid decided to curate a tune using the dance, "Azonto" as the song title. Basically, Azonto is a dance
The music video for "Azonto" won Most Gifted Video of the Year and was nominated for Most Gifted Male Video at the 2013 Channel O Music Video Awards. It was also nominated for Best African Act Video at the 5th edition of the 4Syte TV Music Video Awards.
18 . "Mummy Mi"
"Mummy Mi" is a very thoughtful song by the one and only Grammy-Winning-singer, Ayodeji Balogun who has been around for over a decade and keeps waxing strong globally. We all want to appreciate our mothers for catering to our needs from childing and being ever supportive.
"Mummy Mi" is Wizkid's way of showing his momma love, being supportive all through the years, as well as, appreciating her love for him. This track definitely deserves a place on the list. Mummy Mi is off Wizkid's 2014 album, Ayo. It was produced by the talented Spellz.
17. "Show You The Money"
Show You The Money is easily everyone's Wizkid's favorite single. The song dishes out vibes on vibes and has you looking for your dancing shoes. Wizkid asks the ladies if they would dance and vibe if he begins to show them his assets.
The Shizzi-produced record was dropped as Wizkid's birthday gift to his fans in the year 2014. The record sits gallantly on number 2 on Wizkid's sophomore album, Ayo.
"Holla At Your Boy"
Those who were teenagers in the year 2011 are the only ones who can share the full extent of their experience with this song. Wizkid had every teenager feeling fly and unstoppable that year. The lyrics were enough ginger to give you that confidence to speak with your love interest than in high school.
Also, everyone became a video director by trying to recreate scenes from the video of this song. It was such a beautiful thing to experience. Holla at your Boy is also off Wizkid's debut album. Holla at Your Boy earned Wizkid the Next Rated award at The Headies 2011.
"Back To The Matter"
"Back To The Matter" was released in 2013 by Wizkid and was produced by singer and producer, Maleek Berry. In this song, Wizkid issues a stern warning to his haters, reminding them never to cross his path f they'll become history. It also depicts a guy who just wants to have fun with the girls, "Open and close… Oya baby oya yodi…"
Wizkid also informs the ladies that he has enough to go around without causing problems. The Surulere born hit-maker has always had his way with lyrics, especially for the ladies.
"Don't Dull"
"See you sitting in the corner (don't dull), Wearing Dolce & Gabbana…", This was literally all you needed to go crazy at the club that year. Wizkid did such an amazing job on the Samklef-produced track, which sits at number 9 off his debut album, "Superstar", the album that changed everything.
With, "Don't Dull", Big Wiz captured the hearts of his audience, making us dance mentally anytime we remember the beat. It created such an amazing experience for youth at the time, making them feel on top of the world.
13. "Daddy Yo!"
You know the kind of music you listen to when you just want to be goofy and have fun in your space, that's exactly what Big Wiz delivered via Daddy Yo. Wizkid's Daddy has the ability to lift your spirit when you're feeling down, as it dishes out the level of vibration to raise your mood.
We need no soothe sayer to say that Wizzy had fun doing this song and that it took his career to a whole new level. The 2016 banger, continues to be every green. It was produced by Dre Skull.
12. "Pakurumo"
Pakurumo, a Yoruba word that has no formal meaning but represents celebration, dance jubilation is the title of a track on Wizkid's debut album 'Superstar'. The record is a perfect blend of Afrobeat and Fuji music, Wizkid created a chart topping Fuji-pop tune! He dazzled like Pasuma on the Mic… lol!
The Official Video for Wizkid's hit single "Pakurumo" was directed by Clarence Peters and Banky W. Starring Funke Akindele, Watch and Enjoy below
Wizkid's Manya is an afrobeat banger featuring Mut4y, a Super-Music-Producer & Dj. The Killertunes and Mut4y-proudced song got all the spice of a hit tune. It was released in 2017, November.
'Manya' Sure enjoyed massive Airplay's, it took over clubs, TV stations as well as radio stations nationwide.
This tune bears a catchy melody and smooth arrangement of underlying sounds to the testament of Killertunes' skills as a fine producer, while Wizkid vibes effortlessly on it. The song is a remake of 'Ahomka Womu', a classic record released in 2003 by the Ghanaian music group, VIP.
The official video for MANYA was shot by 'Director Q" at the popular NEW AFRIKAN SHRINE with many special guest appearances. Enjoy below
10. "Tease Me"
This track right here – "TEASE ME" was an addictive tune back then in 2010. No Tease Me, No Wizkid – The Bad Guy Gang!. The record is on his debut album – Superstar, served as a leadoff single for the album. 'Fine girl no pimple, Yea i love you swag and i love your dimple, simple…' it was one of fans favourite track that came with that Wizkid slang 'E ye yeye', and blew out of Nigeria with ease.
"Tease Me/Bad Guys" is WizKid's massive single which started his FC. The song video was directed by Kemi Adetiba. Watch and Enjoy!
9. "Jaiye Jaiye"
"Jaiye Jaiye" is the first single off of WizKid's sophomore album "AYO". The song is pure Afrobeat, undiluted. Wizkid scored a high point with this record in 2013 and earned himself prestigious awards.
The song was produced by the incredible hitmaker Sarz, and features the legendary Femi Kuti. The video was directed by Sesan, and shot in Lagos at the historic Shrine location, and actually features a very creative "cameo" from Fela Anikulakpo Kuti himself. Enjoy!!!
8. "Ginger"
Ginger is a track off Wizkid's fourth studio – Made In Lagos, which features African Giant, Burna Boy.
This one of the most streamed on the project and has received rave/positive reviews on social media. "If you want make i ginger give me the kokoro, Ma ko je bi Jollof, Anywhere i go, je ki won mo pe mo ma gbo'mo lo, No dey do like bolo… Burna Boy brought in a big vibe, took this masterpiece to another level, a new Realm.
Ginger official music video was directed by Meji Alabi and it has surpassed 25 Million views on YouTube. Enjoy!
7. "Love My Baby"
Love My Baby by Wizkid is a lovely song with heart warm lyrics and wonderful melody. Wizkid's vocals on this tune is magical! One would think he is not of this region with the powerful voices he kept on display.
The record is a love song which blew off his debut album. At first many thought he was singing for a pretty lady but Wizkid revealed the song was for his Mom… What A WoW! Listen below
6. "Beat Of Life" (Samba)
Then Trybe Records super-producer extraordinaire, Sarz already known around the industry as a legend-in-the-making invited Wizkid and a few members of the Trybe crew to join him While preparing his 1st solo project at Iman Studios, and listen to a few tracks. One track aptly titled "Beat Of Life" caught Wizkid's attention, and a modern-day classic was born.
"Beat Of Life" ("Samba") featuring Wizkid dropped in 2013, it came like a nuclear bomb, wiped out other 2013 records and turned number 1 club banger!
5. "Soco"
Soco is a song full of vibes and abundant with melodies from the Starboy himself – Wizkid, the debutant, Terri, and contributions from the son of Aristokrat record, Ceeza Milli and the not-properly-introduced Spotless.
The song's captivating visuals is a street themed video which hires the expertise of one of Nigeria's most sort after music video directors, the incredible Clarence Peters. It has surpassed the 100 Million YouTube views, and over 200 million global streams, making it the first Nigerian record label to achieve such.
The track is gold certified in Canada, and was also among the most searched words on Google in 2018.
4. "Joro"
The hit Jam, Joro was released in 2019 alongside another song, titled Ghetto. Unfortunately for Ghetto, it didn't stand a chance next to Joro. With Joro's intoxicating beats and unforgettable lyrics, Joro has been the most streamed Wizkid's song on Youtube, Spotify, and Boomplay. Special thanks to the aggressive promotion the song received, it bagged over 160 Million views on Youtube.
"Joro" is a mid-tempo jam that sounds spiritual, yet sexy at the same time. It's highly addictive with the catchy lyrics and beat… Soon this song will chase Come Closer away and stand as one of Wizkid's Top 3 song ever!
3. "Come Closer"
Come Closer is a song by Nigerian singer Wizkid, featuring rapper Drake from Canadian. The song was released as the third single from Wizkid's third studio album, 'Sounds From The Other Side'. The Music Video has surpassed 100 Million views on YouTube even without Drake's appearance.
In terms of commercial success, it was one of the top Nigerian songs of 2017. The song earned Wizkid's some prestigious awards.
This song produced by Sarz was the first Nigerian music video to hit one million views in 24-hours.
2. "Ojuelegba"
In 2014, Wizkid released his AYO album and let's just say that the album wasn't welcomed to open hands. People didn't like it, According to many it lacked lyrical depth and it was a disappointing basic pop Album. But when he dropped Ojuelegba video, it managed to redeem the album from the shame.
This song is simply the grass to Grace story of Wizzy, A mid tempo song, quite similar to Essence with the buzz it created and also the way it sounds. In defiance of Wizkid's loud musical style, the beat of Ojuelegba is soothing to the ear.
"Ojuelegba" is the 5th track off Wizkid's "Ayo" album and was inspired by his experiences and sojourn in and around this part of Lagos, Nigeria (Ojuelegba). The video was directed by Clarence Peters and Song produced by Legendury Beatz… Enjoy!
"Essence"
Essence was first described as a 'summer song', with much love from fans and American celebrities like Rihanna, Doja Cat, Kylie Jenner and of course how good the song is, It is undisputedly the 'biggest song' in Africa.
It's a party song, but not a loud, raging and annoying party song. It's soft, sexy one listen and you're slowly swinging your body to the heavy beats. Essence is the first Nigerian song in history to chart on the Billboard hot 100 and the billboard global 200.
It was released on 30 October, 2020 as the 11th track from Wizkid's Made In Lagos and it featured Tems and later Justin Bieber on the remix in 2021.
If Essence doesn't stand as Wizkid's No. 1 song, then no other song can fill the space. With the Hot 100 Billboard crack and Grammy Nods, this Big Wiz's Best Song Ever.