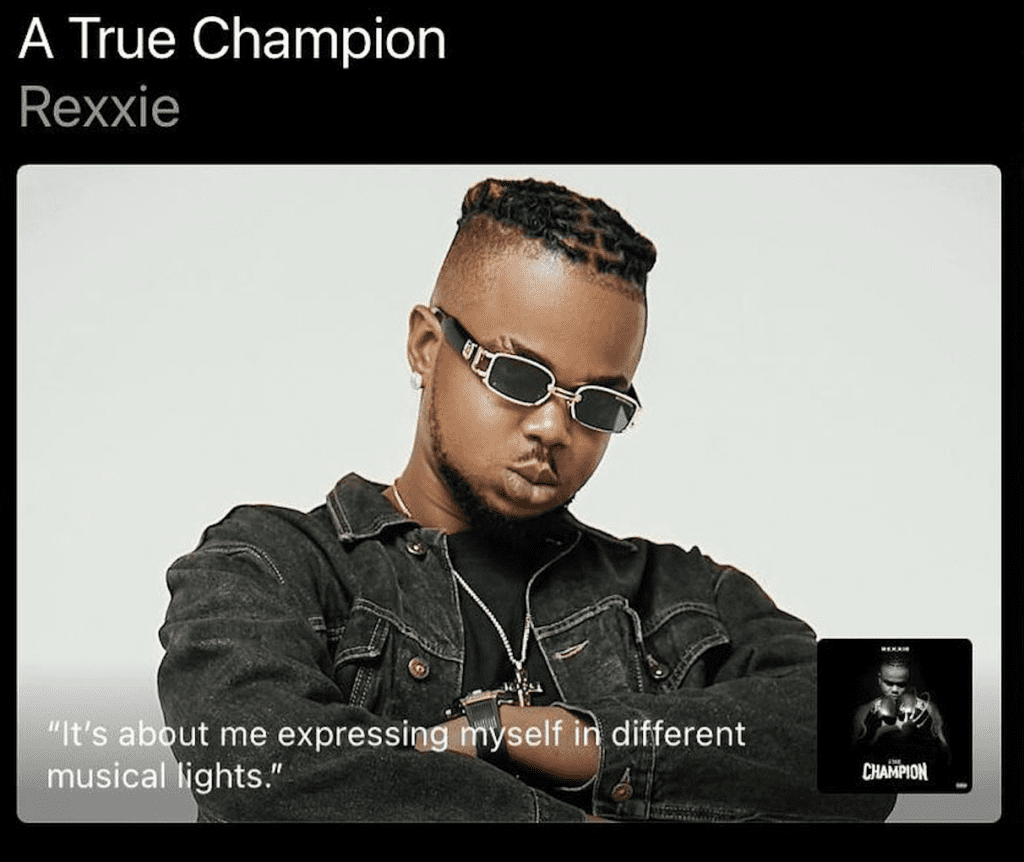 REVIEW – StarStudded features, prolific production, and the courage to showcase talent is the viable goal of this album 'A True Champion' and Rexxie did bring it to life.
Well for those who don't know Rexxie: He is a producer and this album happens to be his Debut, second body of work since he got to fame around 2018.
A True Champion album goes from one end of the spectrum of Nigerian music to the other end (and it's all captured and contained) in this wonderful work by the up and rising producer named Rexxie.
I don't know of any album in recent times in Nigeria with so many artists and collaborations like this one. Rexxie brought the best of the best to crown his effort and got himself an album worth listening to.
You will hear songs featuring Davido, Naira Marley, Zlatan, Oxlade, Buju, Bella Shmurda, and even Sarkodie, just to mention a few. The 17 track record ( although too long) was put together as a channel for showcasing skills, sound, and entertaining the fans.. there isn't a big concept behind the album..just wicked production and good vibes (in hopes, I suppose) to bring recognition and make chart history.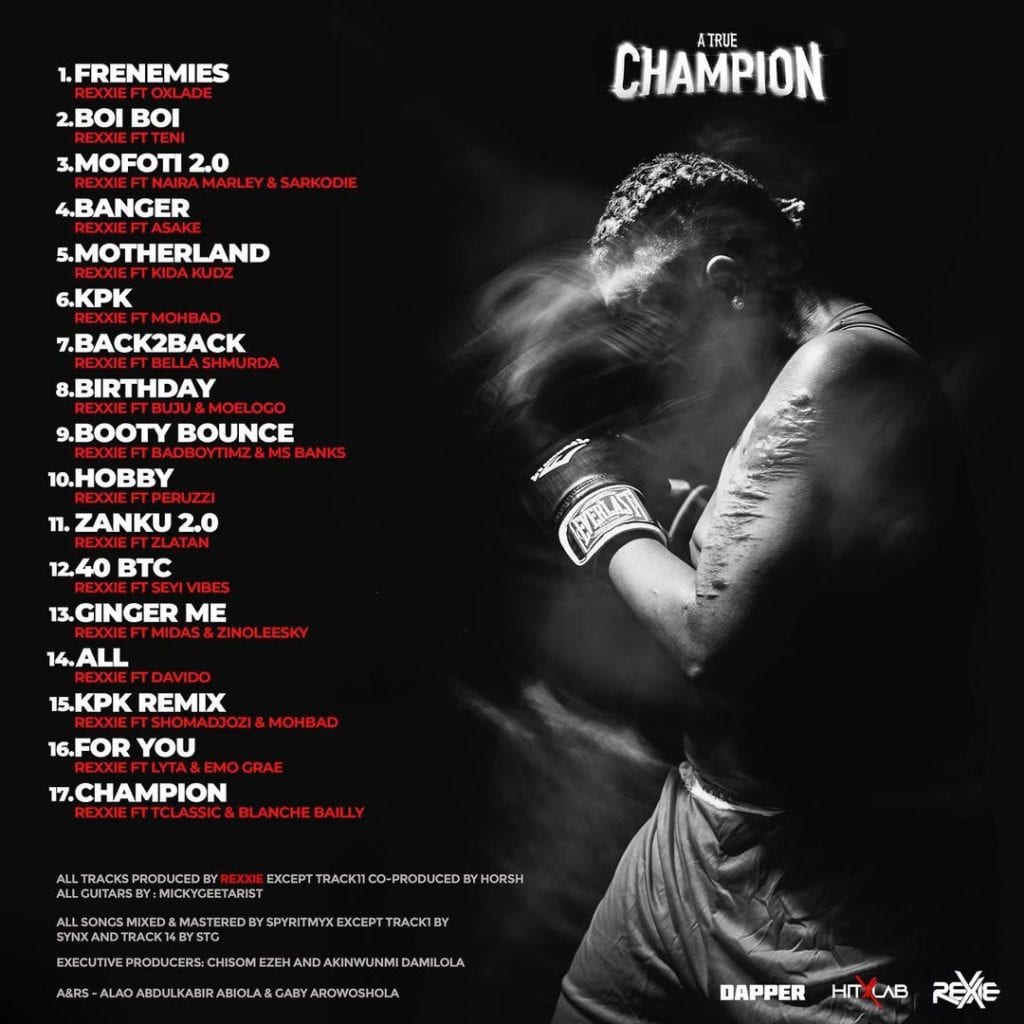 Rexxie production skill undoubtedly is to be praised, especially for the consistency in his signature sound (percussion) but did all the artists and songs live up to expectations? Let's find out.
A TRUE CHAMPION ALBUM REVIEW
1. FRENEMIES Featuring Oxlade
This is one of the songs to look out for on the album. Oxlade got into his feelings and aired it all out about enemies (who are somewhat friends) and In a rhythmic style, he captured the thrill of the sound and brought beauty to the Afro-Pop instrumentals.
The next song is titled:
2. BOI BOI Featuring Teni
Much more like a regular Teni song, BOI BOI is a dance record and the "I want to be a billionaire" crooner had to school everyone on being smart when it got to handling their business. The production is fly and Teni did what we always know her for doing.
3. MOFOTI Featuring Sarkodie & Naira Marley
This is an Afro-Highlife record that cut across two genres (Afrobeat and Highlife) and it has two giants on it. Sarkodie kept the rap flux and Naira Marley kept it street with his clever wordplay. The Rythm guitar is the highlight of this song though ( keep that in mind).
4. BANGER Featuring Asake
One can't deny the vibration of this song. The song is an Afro-Dance record with a prospect. Rexxie's interpolation of Afrobeat and South Africa Dancehall is a great idea ( and one that should be praised). I think this one will get a lot of spin in clubs and Dj sets around Africa.
5. MOTHERLAND Featuring Kida Kudz
Rexxie Percussions, laced under Eastern elements (sounds) and Kida Kudz's grimy vibes grace this record as one of the few outstanding ones on the album. The beauty of the song is valued on the creative effort both producer and artiste brought to the base and also the song is chilling and sounds fresh: so it's a good one.
6. KO POR KE (KPK) Featuring Mohbad
This song has been a single for quite some time now. The Afro-Dance record has always turned the dance floor hot. Now fans can get it in a complete body of work. Rexxie ability to put different elements from the different genres into one song is very remarkable and quite remarkable on this song.
7. BACK 2 BACK Featuring Bella Shmurda
Much like the street anthem Bella Shmurda is known for, he gave out his detailed lifestyle on the record, and Rexxie connected with him well with another Afrobeat fusion sound. Not much of the song one would have expected but loyal fans will love it.
8. BIRTHDAY Featuring Buju & Moelogo
This is a good song for the Happy Belated days to come, both artists did their thing and connected well on the collaboration. The Afro-Highlife beat is made colorful by the artist other than that it's not spectacular.
9. BOOTY BOUNCE Featuring Bad Boy Timz & Ms. Banks
The fusion of Afro elements and Grime is a fine art. Ms. Banks as always gave her boss rap flow behind the Booty Bounce hook by Big Bad Timz. It's a sing-along record and will easily find the admiration of fans.
10. HOBBY Featuring Peruzzi
Peruzzi brought out the fire and set the Afro-Pop record ablaze. Quiet a different Peruzzi we haven't heard something as moving as this one in a while .so yes it's good collaboration and they did bring up the banger out again with this one.
11. ZANKU 2.0 Featuring Zlatan
Let's talk about dance in its essence because that's what this song is about. Zlatan named all the current dance in town and ran all over the Rexxie produced beat with finesse as always. Well, hopefully, a lot of DJs will have this on rotation. Again Rexxie interpolating South Africa Dance rhythm with Nigeria Afro is commendable.
12. 40 BTC Featuring Seyi Vibes
Okay, sound-wise, this is not a remarkable production but Seyi Vibes cornered the street through an Afrobeat production by Rexxie and spoke a lot of people's minds ( more like the street ordeal for many ) so it has some kind of relatability but falls short behind other tracks on the album.
13. GINGER ME Featuring Midas & Zinoleesky
The love chemistry between both artists is impeccable on this song, the production is a laid-back mellow Afro-R&B trip that gets you vibing just when you get into it. And noted are the witty lyrics performed by Zinoleesky… He created the emotion and peppered it with beautiful lyrics.
14. ALL Featuring Davido
This is another Afro-R&B record featuring one of Nigerians elite artists. The sound also has Highlife elements in it and Davido it his thing (nothing special from what he has done before) but the collaboration went well so I suppose this is one song fans will easily take note of .. the guitar highlight flowing through the track is commendable.
15. KPK Remix Featuring Mohbad, Sho Madjozi
The remix of this song is for show. Rexxie added more instruments to the beat and crowned it up with the presence of South Africa Sho Madjozi who brought out the flavor and make you appreciate the South African elements in the beat.
16. FOR YOU Featuring Lyta & Emo Grae
Seriously, Rexxie does some special tricks when he has to. The fusion of Reggae elements mixed with Afrobeat on a mellow cruise is agreeably astounding. The artists on the songs are talented in speaking their hearts and connecting the hearts of their fans. It's an amazing reach.
17. CHAMPION Featuring T-Classic & Blanche
This track can get anyone up to the dance floor. Although nothing extraordinary about the song but the dance instrumental is vibrant. The artiste on the song took the beat for a ride and hopefully, this will be one of those songs playing frequently in the club by DJs. whatever the case, it's a nice effort.
Rexxie's interpolation of different genres and different sounds of music across Africa is applauded and he showcased his prowess on the album "A True Champion (ATC)". We hope and expect him to bring in more improvement in subsequent production and project.
"A True Champion" as said before is not a concrete album with a direction, some of the beats are exceptional while others are basic (there is nothing spectacular about them). I think the artiste gave their best in both lyrics and performance, they wouldn't have done anything better on their songs.
The downside is 17 track is too much and many of the songs sounded like an out of the blue collaboration (not well planned) so fall short below making chart-topping hits but other than that, Rexxie has not only showed his uniqueness as one producer to watch out for, he has also given fans a good body of work they can play all day with almost all the genre inclusive. Talk about good value for your money… STREAM HERE
Rating – 7.5/10
Reviewed by Olalekan Okeremilekun
Twitter: @imjudah1