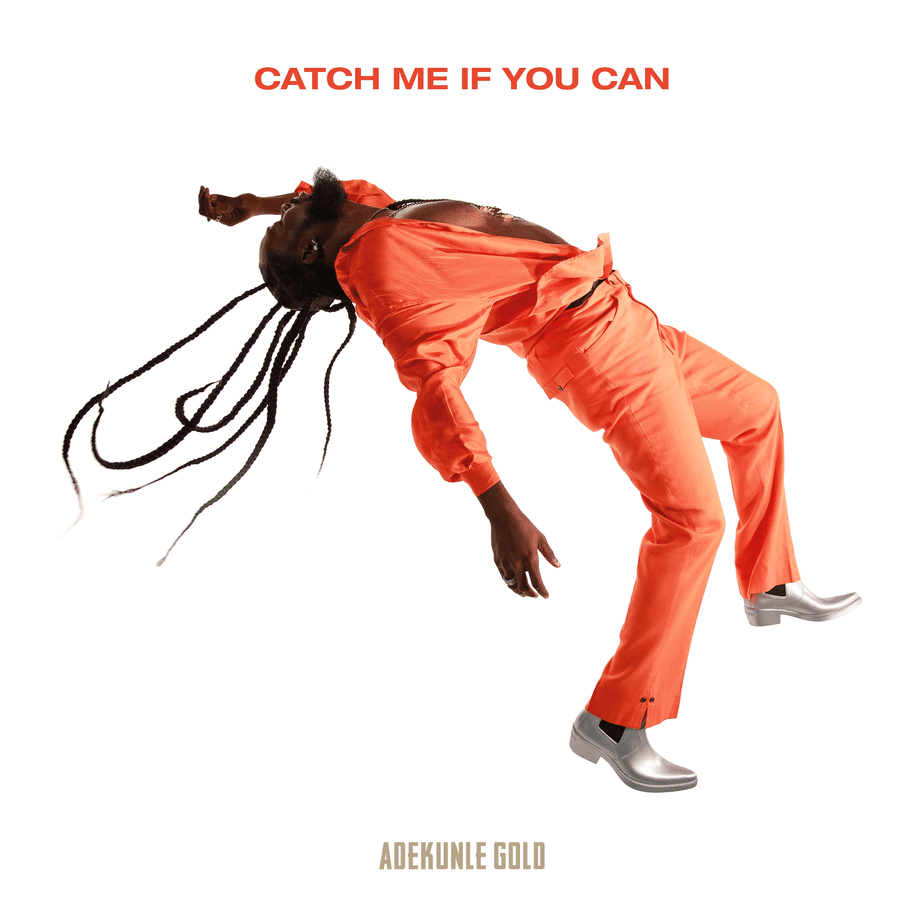 Finally the highly anticipated 2022 Album- Catch Me If You Can by Adekunle Gold is out.
Nigerian Alternate and Afropop artist, Adekunle Gold releases his fourth studio album titled "Catch Me If You Can", today February 4, 2022.
There is something telling about Adekunle Gold referring to his fourth album as the fourth level of a video game: According to the talented singer and Graphic artist, "I think of my whole discography as an adventure game, It gets really interesting at every level."
He explains that I want everyone who listens to this album, fan or not, to understand my story, embrace their own and be fearlessly committed to living life with no regrets.
ADEKUNLE GOLD "Catch Me If You Can" ALBUM
This is a 14 track body of work that consist of his previously released hit singles; 'It Is What It Is', 'Sinner'. 'HIGH', 'Mercy' and 10 fresh new track with guest artists; Fatoumata Diawara, Ty Dolla $ign, Stefflon Don & Fousheé.
See Tracklist below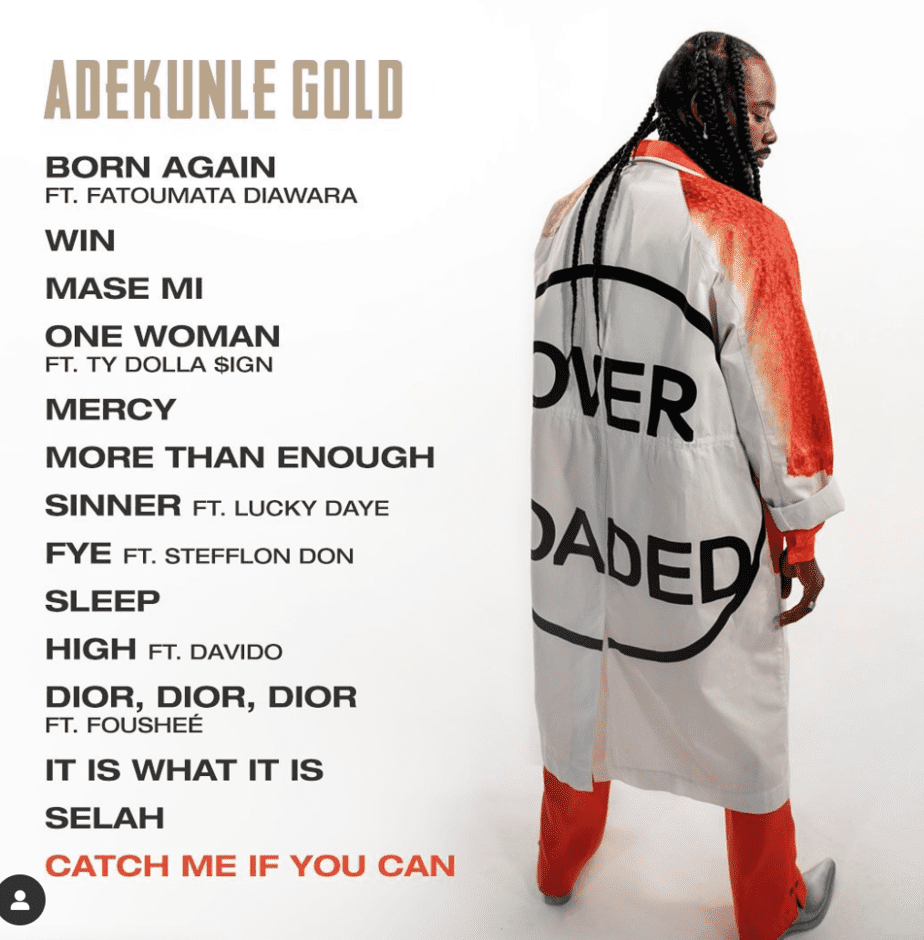 Catch Me If You Can Album is a sensual slow burn steeped heavily in Afrobeats, with a nod to Amapiano. In subject matter, it is both irreverent and earnest. Listen below and GET HERE
Adekunle Gold gives an insight each track on CMIYC project, Talks how they were recorded, Read…
"Born Again" (feat. Fatoumata Diawara)
"The original title of the song was 'Welcome To My Life, You're Not Too Late', but my people said it was too long. So I went with 'Born again'. This song is the energetic intro that introduces the album. A lyric like, 'When I turned 30/It dawned on me/That I've been living for people/but me,' was my realisation that the kind of music I was making, the clothes I wore, my hairstyle, how I wanted my body to be like—I was doing all this for other people. It is now time for me to do things for myself…because I am now completely independent as a person."
"Win"
"This song is my way of giving a shout out to my mom, my friends who held me down for years, and to my fans. But most importantly, it's a shout out to me for not giving up on myself. I've had to be resilient and tenacious to get to where I am. And now I just want to win."
"Mase Mi"
"The title is in Yoruba. It means, 'Don't tempt me'. I'm talking to Satan in this song, saying 'Don't tempt me. Tempt somebody else's son. Not today, Satan.' When I was writing the song I was in a trance. I danced all through the recording of the song. It made me so happy. I felt like the hosts of heaven were with me. I was asking God to protect me, to let me have love in my heart."
"One Woman" (feat. Ty Dolla $ign)
"I wrote this song in during the pandemic in 2020, in my little closet. I was losing my mind. I wanted to say that I'm shamelessly a lover-man. I actually taught Ty Dolla $ign to sing in Igbo and Pidgin. He was so gracious and ready to learn. We had so much fun. The chemistry was so great. "
"Mercy"
"This is my absolute jam. I was just thinking about how you can be in bed with people who don't even like you; and you don't even know. People that you think are for you, are sometimes not for you at all. The first line that came to me was, 'Open my eyes/show me who day for me.' Interestingly, since I wrote this song—it's almost like a personal prayer for me—some people have themselves. I realised they are not the people that I want in my life. It's not an obsession finding who your enemy is; the intention is to know who has the right energy and should be in your midst."
"More Than Enough"
"This song is a holiday. When I was writing it I had no worries at all. I was just thinking of the times when you want to take your significant other out and just spoil them."
"Sinner"
"I wanted to write about the story of King David and Bathsheba from the Bible, but from my own perspective. I thought Bathsheba must have been an African; she's so beautiful. She must have had a great bum that she almost caused the fall of a king. David was ready to risk it all."
"FYE" (feat. Stefflon Don)
"This is the last song I wrote this song in London, with Stefflon Don. I was in the studio with Rymez and Lekaa, and we were just vibing. It's definitely my top 3 in the album. It's the song where I was my nastiest."
"Sleep"
"This one is interesting. It's the one song that I wanted a song that was extremely different to the rest of the album. When we were recording the song I fell asleep, which I never do in studio. When the producer woke me up to end the session because he thought I was tired, I refused. I really think this song should be on people's sex playlist."
"High"
"Back in January 2021, I was with my friend, chilling at a poolside, and he was playing Amapiano in the background. I was like, 'What is this sound?' Amapiano is God's gifeat. to South Africa. It is absolutely beautiful and nobody can make it like South Africans."
"Dior Dior Dior" (feat. Fousheé)
"I wrote this song the same week I wrote "High". I'd set up my studio in an AirBnb because I just wanted to get away from home. I was unpacking my bag and then I saw my Dior cologne. Seeing it inspired me to create a double entendre of the cologne as a girl; the same way musicians used to do about cars."
"It Is What It Is"
"I just wanted to share a few facts about life. Like how people who don't feed you are the first to talk about you; and how money doesn't bring you happiness. I knew that people would come for me, saying that I'm a hypocrite because I have money. But even I didn't realise that it doesn't bring you happiness until I got it. Having said that, I'm still praying that others get money too."
"Selah"
"This song is about Geminis. I'm not that into horoscopes, but I hear a lot about how crazy Geminis are. But the plot twist is that my daughter is a Gemini and I hope she forgives me when she grows up."
"Catch Me If You Can"
"I also wrote this one during the pandemic, in the same closet that I wrote 'One Woman' in. This song almost tells the entire story of the album. It's about my journey: how hard I worked to get where I am. I know that people say that people must be given their flowers, but I'm at the point where I'm getting my own flowers. A whole field of lavender."