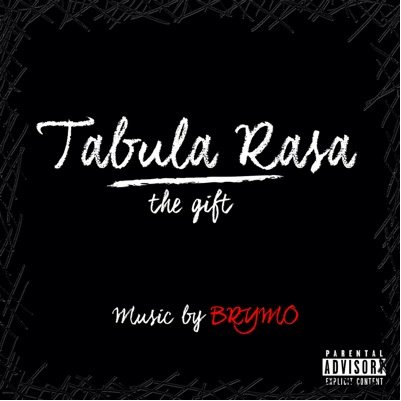 Artist – Brymo
Album – Tabula Rasa
Label – Indie Music
Running Time – 38 minutes
Brymo unarguably is the deepest most soulful lyricist cum vocalist of modern Nigerian time. Let's call him the male version of Asa. Melodious tenors from a voice that allures, vocal crescendos, soulful tunes and sketches of life existence shared in brief narratives, it takes more than just scratching the surface to comprehend the nature of Olawale's mind and it's musings. You have to dig the whole 9 yards through in order to decipher the mysteries formed via a philosophical approach to life's happenstances that are eventually birthed into musical pieces. Music has become one of the most powerful tools of communication and given the setbacks that trailed his eventually sour relationship with label company, Chocolate City, Brymo celebrates his ultimate freedom by taking an odyssey and exploring themed concepts and contexts associated with his victory to remaining unchanged and staying true to his self. This is his tabula rasa – as self-composed and arranged by him.
Back to Love – This journey to finding his self begins with going Back to Love. Not necessarily the phileo kind, love in this case it connotes the start, the basics, times when life was pure, simple. And while you're at it, there's a little something in the mix for you to groove to. What better place than here to start?
Fe Mi – Without mincing his words in relaying his perverted thoughts, Olawale's Fe Mi (Love Me) is a plea to be 'shown love' by a particular doing act. The fact that he delivered it in indigenous style (his local dialect) was a downplay of the explicit content.
Prick No Get Shoulder – Is a surprising switch from the previous and dotes pronouncedly on an x-rated feat to explaining one's involvement in (critical) situations. "Prick e no get shoulder, once you puti head, the rest e enta…" depicts a condition of being. You're either in or out. Never in-between.
Dear Child – Taking us on a perusal of grandma's generous heart, we are literally made to envision instances he shares on what it feels like for a mother to love a child, and he did this by staking out his relationship experience with grandma as basis for this beautiful tale. There's some lessons on wisdom to learn on/from this.
Je'le O Sinmi – Is a painted contrast, a memoir on past years as an innocent child in the daycare to that of the mind of a grown man he's become. There's an event of 'process' in-between these two stages that he attributes for his eventual turn out not ruling out his inquisitive nature and the urge for adventure soon as he came of age.
Never Look Back – A persuasive charge (sort-of), to owning up and taking responsibility. Looking back is a particular distraction that creates room for doubt and skepticism, which is why he sings… "lay down your fears and face it, the future is yours, so take it…" obviously coming from a personal encounter makes it mind awakening!
Alone – This insightful poetic delivery on the discovery of self, touches on the scares and turfs that tend to overtake our minds, which we must fight to overcome because indeed, you are the only warrior you need to wrestle down life's battles.
Jungle Fever – Electro/techno riffs, futuristic sounds are quite the flavour here. It's not the usual hustler's anthem, yet it's a clear expository on the yearning to "make it" and the survival process one must go through – the fever.
1 Pound – Afrobeat inspired and borrows some concept from the late legendary king, Fela. How does one employ ethics and manages to survive in an upscale society like ours, and with 'one pound' being the limit for an income? Brymo cares that much and really wants to know how.
Nothing's Ever Promised Tomorrow – Brymo slays his poetic disposition on NEPT. It's a rhetorical answer to someone asking 'what do you say to taking chances?' The allegorical expression married with parlance only found in our local vocabulary makes communication of the subject clause very relatable even to the average man.
Again – Represents the attitude of a diehard. One not only with a choice but with purpose and reason too. Thus for every try he'll have at it, he'll simply do that which he believes in, again. This tribute which I think is dedicated to his fans carries a subliminal message of the legacy he intends to leave; as one who never backed down or gave up.
Did I forget to mention? Tabula Rasa is Brymo once again at his best, having repositioned himself and wiped the slate clean for a fresh and remarkably memorable start. Styled in a no-holds-barred fashion, Brymo's Tabula Rasa shows off the characteristics and true essence of music. By Forms, it places the music elements into an intelligible structure making you understand his goals, what he sought to achieve and where he's going with it. Timbre is the denseness of the music product. He bared himself totally by simply reaching for his deep. Rhythm, which is simply one's perception of the music and how it carries the entire music piece. Then Melody and Harmony, two small structures that are essential in completing the music piece.
Even if you missed Brymo's brilliant compositional effort on Tabula Rasa, this review strips the metaphorical forms and breaks them down to easily absorbable pieces. It is a collection of themed sentiments that do not heavily rest on their emotional subjects. There is love, sadness, pain, grief, excitement, neediness but he's not even overtaken by any of these feelings. Music is meant to be understood but in rare cases like Brymo's (the kind that evokes your senses), it is only with a deep connection to the musical source, that one's comprehension comes. Thus, Tabula Rasa wasn't crafted for listening pleasure. It is music that should be felt.


Rating – 4.5/5
Reviewed by Jim Donnett
@jimancipation