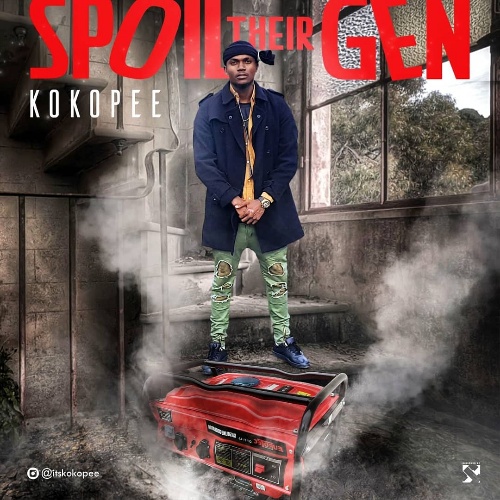 With the advancement of technology and the advent of streaming platforms, there was a fear among music critics and industry enthusiasts that the culture would shift from dropping full projects to dropping only singles. It is great to see that more and more artists are embracing the album culture as only that can cement an artist's place in their fan's hearts and subconscious. One thing I always look forward to in such albums is the direction and general feel-good factor of the project and Koko Pee's "Spoil Their Gen Beyond Repair" EP is one of those projects that somehow manages to tick all the right boxes.
On STGBR, Koko Pee takes the listener through a good number of music genres, more like a buffer, exposing his versatility to the listener. This is quite an amazing feat, considering the fact that the EP houses only 5 tracks including the previously released "Allow Love" and "Normal Misbehavior"
Kicking off with "I Survive", Koko Pee launches an afro-trap vibe on this satirical piece. He speaks about how he manages to come out strong over adversities facing him. No one is left out of his tirade; from the government to his own friends, family and foes.
"Allow Love" is a feel-good Afro-Pop number with a beat reminiscent of the Makossa craze from the early 2000s. On this song, Koko Pee sings about love and how everyone should be allowed to love whoever they want. He also goes into endless adulation about the physical qualities of his lover while encouraging her to flaunt it however she wants. I stan a liberated king.
Not my favorite track on the EP by any means but I felt "Go Down" should have extended a bit longer. The end leaves the listener wanting a bit more. The song buys into the age-old system of African men showing their women love through showering them with financial benefits. On "Go Down", Koko Pee assures his lover that he will provide her with all she wants; naira, dollars, pounds and so on just as long as she cooperates.
"Spoil Their Gen" is an undoubted club banger. Ticks all the boxes; solid beat, easy to sing-along and very catchy. It's no wonder the project was named as such. This is a solid lead single for an EP of this magnitude. Get a sound choreographer to create a dance to this record and we could very well have the next Nigerian club banger. The title itself is one a lot of Nigerians can relate with.
Koko Pee shows another version to this versatility, rounding up the EP with a rap song titled "Normal Misbehavior". The title might be a paradox but it's a street lingua which a lot of Nigerian will relate to. On this one, he speaks on things he does which might seem unusual to some but for him is quite the normal order of his day.
As a buffet, STGBR spoils the listener for choice and puts Koko Pee on quite the pedestal with the exhibition of his ability to switch, mix and match genres. It also sets quite a high bar for him to break with his next release/project. I would very much like to hear a Koko Pee project in the near future which sees him explore one genre to its full capacity.
Verdict: 7/10
---