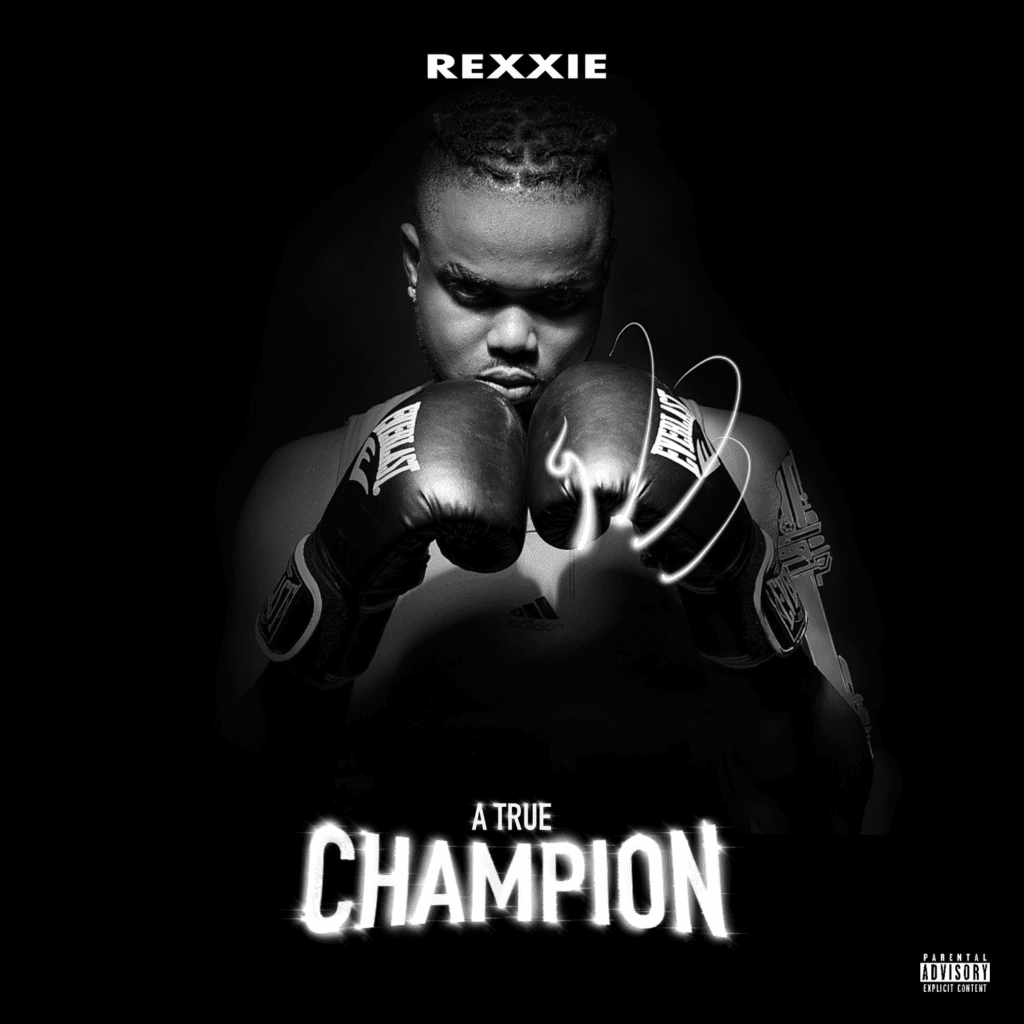 Award winning music producer, Rexxie finally releases his debut Album – "A True Champion".
"A True Champion" Album, Rexxie – 'No matter what you do in life , remember just like me, you're a CHAMPION !
It's been a beautiful journey creating this masterpiece. I put in my blood , sweat , and tears , finally , I'm glad to announce the release of my first studio album "A TRUE CHAMPION"'.
This body of work is a 17 track project with all tracks produced by Rexxie (PonDit), except Track 11 Co-produced by HORSH.
See A True Champion Album Track-listing and credits below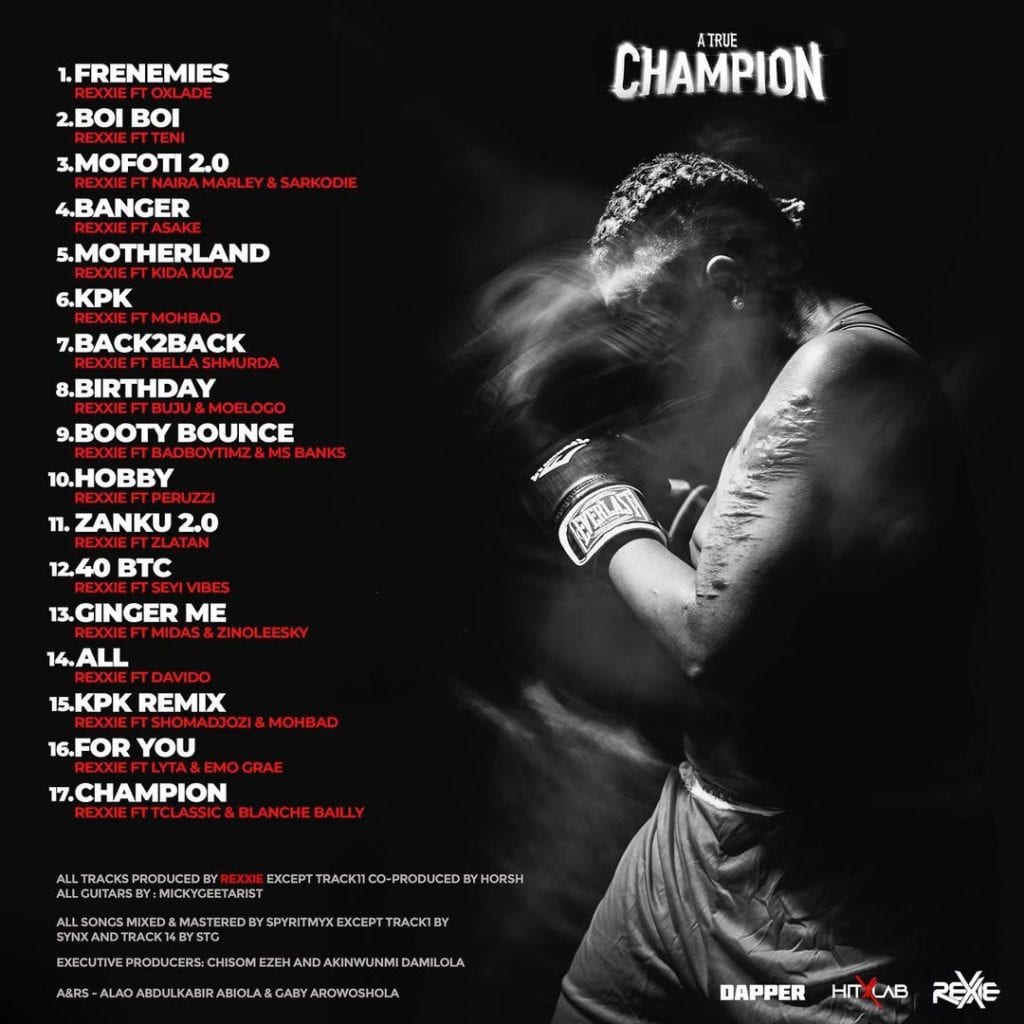 With credits like Chinko Ekun's 2018 single "Able God" and Naira Marley's 2019 hit "Mafo" to his name, Rexxie (born Ezeh Chisom Faith) has proven to be a talented producer and beatsmith capable of laying down both mainstream and niche street cuts, a feat he demonstrated on his 2020 EP Afro Streets. On his debut LP A True Champion, he flexes his chops as he employs the talents of a dynamic group of artists including Oxlade, Teni, Sarkodie, Davido, Naira Marley, Zlatan, Ms Banks, Kida Kudz, Bella Shmurda and more. "On this album, it's more about me expressing myself in different musical lights," he tells Apple Music. "It's not just an Afro-street album. You'll hear Rexxie in different genres, different vibes."
"I want my fans to understand that they're all champions," Rexxie says. "I want my fellow producers to feel inspired and know that if I can move from being that street producer to someone who can actually have a proper project featuring a beautiful selection of Nigerian artists, everybody can do it." Here, Rexxie takes us through his debut, one track at a time.
"Frenemies" (feat. Oxlade)
"Here I explain that, 'Yo, I know that there are so many that are not happy with me and are not happy with where I am right now. I know there are people that act like friends, but you're not really friends. But guess what? I'm not going nowhere. I'm here, man.' Oxlade was my friend for a long time before I was even popping, and we understand this story. He recorded the song first, then I actually lost the song. In fact, half of the songs from my album were remade two times because I lost and misplaced all the data, the vocals, the beats."
"Boi Boi" (feat. Teni)
"'Boi Boi' is talking to every boy out there. Basically, like, get the money, don't sleep. Teni is like my auntie in the industry. I respect Teni a lot. And she's always calling to advise me, always calling to check on me. So we did the song in Dubai. It's just advice to every boy out there, basically."
"Mofoti 2.0" (feat. Naira Marley and Sarkodie)
"So, I did 'Mofoti' three years ago, and Naira was not really feeling it because he didn't know what to sing. So, 'Mofoti' from the word 'I fear not'. Everybody has stumbling blocks they go through. 'Mofoti' is like, 'I'm not scared.' So Sarkodie came, gave his thing, elaborated on more on the story."
"Banger" (feat. Asake)
"Asake just came to the studio and gave me 100, man. 'Banger' is just an Afro-piano banger, basically. As you know, Asake is always with the whole high-energy amapiano vibe. So we just gave them that kind of vibe. It's just a banger that should just get people dancing."
"Motherland" (feat. Kida Kudz)
"I wanted to add a little UK feel. Kida Kudz killed it, basically. I wasn't trying to just do one style; I was trying to just flex on different vibes."
"Kpk (Ko Por Ke)"
"My system actually crashed in October, and I was trying to drop my album in December that time, so I was really down. I didn't just lose songs on my album, I lost so many artists' projects. I started growing enemies from the fact that they couldn't understand; some couldn't believe my excuse; some just think that 'this guy is no more good anymore', or maybe 'this guy has lost focus'. So I just needed a song, and God just gave me that song. I will always tell people that 'Kpk' was just from God, because it was just the explanation."
"Back2Back" (feat. Bella Shmurda)
"Back2Back is just that vibe about giving them back-to-back. Bella Shmurda is a talented young man. Very talented and blessed young man. It was a stressful one at some point; it was a creative one at some point. It was everything. But thank God it's out there."
"Birthday" (feat. Buju & Moelogo)
"When I sent a beat to Moelogo, he sent back the chorus to me and it was just amazingly written. It's just the typical guy singing for a girl, and it's like, 'Oh, I love your vibes. I don't want to marry you, but I like you. And it's your birthday today, so let's turn up for you.' Buju drooped a killer verse. It's basically the typical Owambe birthday vibe; it's a song you want to hear at a party while you're waiting for your rice and all that."
"Booty Bounce" (feat. Bad Boy Timz and Ms Banks)
"I actually shared this idea with a few artists . I'm just happy that most of the artists are part of it now. Bad Boy Timz sent his verse and chorus; this was during corona time. And I just felt like, 'Yo, this just needs a UK touch,' and Ms Banks was riding with it, also. 'Booty Bounce' is a club banger for the girls to shake their booty, basically."
"Hobby" (feat. Peruzzi)
"The story behind the song with Peruzzi was that there was an initial song before, but that went missing with my laptop and we had to remake another song, then we had to do something madder, and so we made 'Hobby'. It's a dope song. I don't know how to explain it; it's just a beautiful song."
"Zanku 2.0" (feat. Zlatan)
"The session with Zlatan was just crazy. When we are working together, everyone is filled up with so much energy. He's dancing, his guys are dancing. I'm making the beat, my legs are shaking. So we gave them 'Zanku 2.0'—this one comes with more energy, more ginger. For the dance floor, basically. The typical Rexxie sound."
"40 Btc" (feat. Seyi Vibez)
"Seyi Vibez is one very talented young artist. Despite the fact that I was trying to create a dope album, I wanted to also have the opportunity to promote some talents that I believe are really good. '40 Btc' is just an inspiration for everybody on the streets, every hustler, everybody that wakes up with the mindset of, 'Yo, what's going on with this life? Will I make it?' Or the ones that wake up today having money, and tomorrow they're broke. It's just trying to tell them that if you don't have today, you'll have tomorrow. So forget your sorrows, because tomorrow is another day with its own blessings. It's that hustler song."
"Ginger Me" (feat. Midas the Jagaban & Zinoleesky)
"Midas was in London when I sent her this song. She sent her verse, and Zinoleesky finished it up in Nigeria. It's saying, basically, 'If you love me, let me know. If you're feeling me, let me know. The vibes I'm getting around you, it feels like you love me. Do you love me? Let me know.' It's a love vibe."
"All" (feat. Davido)
"It was amazing working with Davido. I went to the studio to help someone else do a song featuring him, and Davido saw me and was like, 'Yo, I have this song I wrote down, and it's going to be the next "Jowo".' After, he didn't say anything about the song for some time, till two weeks later when I sent him the demo of what I've worked on, and he's like, 'Wow, this is a hit. Do you want it for your album?'"
"For You" (feat. Lyta & EMO Grae)
"Those are Marlian artists, talented boys. 'For You' is a song for everybody that is showing me love. It's a gratitude song. It's an appreciation song to my fans, telling them that this is for you who show me love, for you that buy my song, for you guys that are my fans, basically, and for the loved ones. Because I'm a Marlian, and Marlian Music has a lot of amazing talents that I really want the world to . So, with me having a project, why not use the opportunity to actually make this point? You hear MohBad on 'Kpk', so opportunity to help my guys and let them know they're good.'"
"Champion" (feat. T-Classic & Blanche Bailly)
"Blanche Bailly is from Cameroon. The song is just talking about being a champion. I'm just hyping myself and saying, 'I'm feeling myself. I'm a champion. I'm a champion in my own right.' You're a champion in your own right. Don't let anybody tell you nothing. You're a winner. Put God first. Put in the work and expect the result."
Listen and Enjoy A True Champion Album below