Do you have a Steam or Google gift card you will like to sell? Have you been searching for a platform that is trustworthy enough to transact with, but simply hasn't had the luck to find one? Well, you are in luck as in this post, you will find the solution to the problem you have been facing.
The solution to your dilemma is, in one word, Cardtonic.
What Is Cardtonic?
Cardtonic is an online exchange platform that was established in 2016 to help make it easy for people to exchange their Steam and Google Play cards for naira at good rates. Cardtonic is an exchange platform that is well known to both new and experienced gift card sellers in Nigeria.
Why Cardtonic Is The Best Platform To Sell Steam And Google Play Cards.
If you're not new to the gift card business, you definitely would have heard for cardtonic. People choose Cardtonic as their online exchange platform for several reasons. Some of these reasons are that;
it offers one of the fastest transaction time in the country with you, the customer receiving your money within five (5) minutes;
it is very safe and secure means
it has a vigorous customer service system that is always on hand to provide support to its customers.
Apart from having a safe and secure website through which its customers can conduct their transactions, Cardtonic also has a mobile application which runs on both iOS and Android devices.
The application was developed to ensure that it continues to serve its customers in the best way possible, as one of the easiest ways to conduct an online transaction these days is through a mobile app.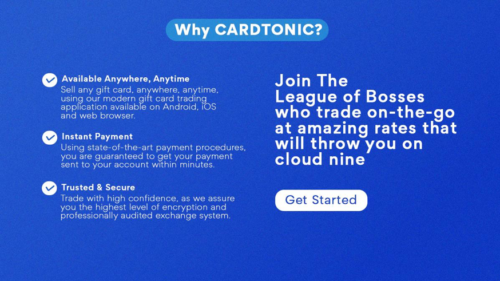 Selling Steam Wallet Card On Cardtonic
Steam wallet gift card can be purchased from a retail store and can be redeemed on Steam website. When redeemed, you get credits on the site which can be used to buy games, software and any other item available for purchase on the website. The denominations steam card come in include $20, $30, $50 and $100
If you have an unused steam card and you'd like to exchange it for naira, look no further, this is where cardtonic comes in. Cardtonic offers one of the best steam card rates in Nigeria.
On Cardtonic you can sell your steam wallet gift card within the range of 190 – 280 naira per dollar.
Selling Google Play Gift Card On Cardtonic
Google play gift card can be purchased from many retail stores like Target, Walmart, CVS, Walgreens and many more. Google play gift cards are redeemed in google play store. When redeemed, it can be used to buy apps, games, movies, music, tv shows and other items available on the store.
Do you wish to get cash for your Google Play gift card, Cartonic is the right place for you as well.
On Cardtonic you can sell your Google Playstore gift card within the range of 200 – 280 naira per dollar.
How To Start Trading
In short, if you are looking for a trustworthy and reliable company to help exchange your gift cards for cash, then Cardtonic is where you should go to.
Click Here To Download Android App
Click Here To Download iPhone App
Click Here To Visit Cardtonic Website
For questions, you can Call/WhatsApp 07060502770.
---