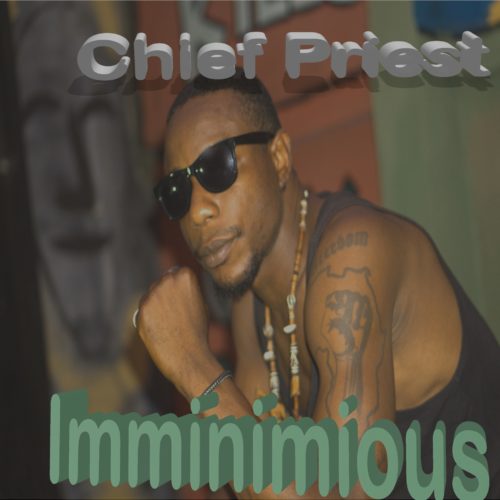 Chief Priest, an Ikwerre born Rapper and performer, just released his single titled "Imminimious". A Portharcourt Artist who is also a known stage presence abroad: Warsaw, Poland and most recently in Oslo, Norway.
'Imminimious' is an Igbo romanticized word coined from "Omimi" or "Ime ime" meaning, "Deep Inside," beyond surface. It is a Rap song inspired by the daily intellectual discussions/arguments among the post colonial Africans
about the true nature of our culture and the roots of socio-cultural corruption that is believed to be sponsored by some sects, to the disadvantage of the larger group.
It is a Nigerian version of what Hiphop may refer to as hardcore Rap song.
The song mimics the beginning of time and the relationship of the Black, to the shifts, causes and changes through these days of global pity and mockery. It challenges the listener through lyrics and exoteric punchlines to contrast our essence from colonial workings as it's Askarian administrators could not deliver on what was long preached or promised, instead retorted to puppetry and imitation.
It is a gangsta version of African unity for the collective renaissance that has been written and song in better forms.
Listen!!!
Watch and Enjoy the music video for 'Imminimious", also get the Lyrics below
Lyrics
Intro
Yeah
Chief Priest i remain
Yes oo
Chorus
See how them do us
U see how them do us
who help them know us
You know who help them know us
See how them do us
You see how them do us
Who help them fool us
U know who help them fool us
I lost my conscience
I don't want to lose my conscious
Owaa di very very very Iminimious
I mean, imminimious
Very very very Iminimious
I mean, Iminimious
Verse 1.
In the beginning, man was nice
black, peaceful like the night
Before the devil born him son
We dey ok, with Oluwa daughter
As true becomes pale and sicker
Colors change meaning..
When blood becomes money
That was when niggaz transplanted to low life
Neighbors no want pay..
but they want all we got.
Your land or your lives
So them come with their tricks, disguise force, organised lies.
Violence no work .
So they coach the Satan to live among us.
Trying to kill God, they fake him with a homo picture
However
We resist…. some of us through the street
but when they bring the war in the family through the trinity
evil becomes the reality of the economy.
They kpafuka the real…king and priests
To give us chiefs and sheriff
I mean these motherfucking thieves
That was when Jesus came from Europa
Escorted by his brother
His twin from Arabia
They came to make us dumb
slow and slave through the cane and new rules .. check your school books
Where you got fooled
Way before 1600,
the grand interuption
The main foundation of corruption
Divide us with their gossip
Therefore tribal wars,
more in the way, like religious wars
We stopped doing and started following.
Them plant their school to miseducate us.
Build court of law to intimidate us
Hire Askarians to dey downgrade us
Implant new brain to self eradicate us
Army and police protect them to starve us.
Watch their salaries… they get big pay to keep us down.
No matter how we try… we still dey beg… either for food or heaven
No freedom or happiness
The problem is not color blind…
The special ones choose on who to deliver
Cuz Jesus died so we can be slaves…
dirty, corrupt and under his brothers for 2000 years
It's already 2000years…. nothing could be more backward
There is a white cult among us.
The president is a member
My king and a Few other graduates are the excos
The frat name is Askaria
Black youth, pursue them from Africa.
Yeah
We no need fear to produce truth
Cuz na only her go set us free
The program they imported is expired.
Come on brother
Are you not tired?
Cheii
Of this broad day massacre
Now we know the book is lies
The god is dawg
And their peace kill you the fastest
Everybody makes progress
Them put us on a fasting
Ordinary food we never learn how to get
Na disease and mosquito Way them dey spread
Dispossessed
Humiliated even by our own kind
Destination is extermination
Stay out of the line
As we count time
Few more hours before the masses begin judge them
Cuz only us fit help us or condemn us
We need to change everyman
Wey follow them to minimise us
The mindset is colonial
Self Hatred and lack of confidence
We got that when we submit to the fraud called
Jesus christ
You know his name…
Wetin be his African name
Nada Nada!
I mean
April Fool
He's among them
We've been praying for so many years
No help come our way
We need to change the things we do
Plan in our own way
Primitive
Don't worry about it
We will civilise in a black way
Aby no be God creat us?
So we can serve him through a foreigner?
Are you not ashamed
Mehn!
Yeah
So… them begin to write new books
With no truth inside
Them cancel all African names inside
Everything we did before no trace
So, self esteem, backslide
Their black zombie believers;
Na our administrators
Verse II
Yeah
Na so e go
Then i come back in the cold
With my hands full of gold
People Wey disagree are just poor illiterates
The weak ones become leaders
so everything scatter
But who send them no look like you.
Sister.. control your story.
No let them get in ur childs mind.
Discuss afresh.
to bring back our guts and our god
remake leaders and the procedures.
School too expensive.
church don finish my family money
every man dey Para
I know we can do better
Let's rewrite our history
no fear.
If we go hell, so be it.
we are used to one.
Every night person dey sleep
Mosquito dey biteam
You no fit even fuck your own woman
With a rest of mind
So when we read, we no see ourselves
As if we never exist
New students begin to learn foreign Crap to replace themselves.
I mean
That's why no job,
Cuz nothing you know to do for self.
All your energies are for other people
Chai..
Africa; Sorry, hear!!
Self Hatred is the only way to get pay.
Faster if you destroy one of yours or yourself
But for them no be the same.
Cuz, Them dey sponsor their people all the time
We, dey arrest our own
Dey Keep them hungry
Make them sick
So that we fit bury them earlier
That thing need to change
Earlier
Chorus
Verse III
We and Oyibo
No fit go the same heaven
Cuz down here on earth
They sideline us
Why do you think say, there go dey different?
Machine, them no teach us
No job and you want to go to heaven?
Make una wake up
Ordinary machine them no teach us
Wetin be this nonsense
Ordinary machine them no teach us
We got to do wetin we fit
Leave the rest for Oluwa
Talk life, family and never quarel with each other.
Start from beginning
Do wetin dey real.
We no go forever remain person property
Physically or mentally
Let's remain original
Who no gree
Amadioha… fiream
Cuz this no be government
This na the laziest people on planet earth
Getting paid in secret to kill my fellow africans
Forget the look…
Them democracy fake
Human rights na the new peace
Watch out
Old preacher in a new cloth
No doubt in my mind
Africa will rise
We are born to make it happen
The beautiful ones are here
Nigga
Outro
Chief Priest
I will Preach
In the street
2x
Abekulan Abekulan
Coming from Akebulan
Africa United
Uhuru

"[Audio + Video] Chief Priest – "Imminimious"", 5 out of 5 based on 1 ratings.
---