Ayra Starr, the popular Nigerian singer, has once again sparked speculation that she has a special kind of relationship with fellow singer, Rema.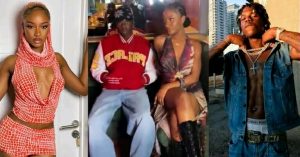 Taking to her official TikTok page, the Celestial Being star shared a video of herself jamming to a Nigerian song where she was seen listening and singing along to Rema's part in Victony's hit song, Soweto. Ayra Starr made hand gestures as she vibed to the music, and within no time, the video went viral on other social media platforms, which elicited a series of interesting comments from netizens.
View this post on Instagram
The video of Ayra Starr enjoying the song featuring Rema has, without a doubt, aroused curiosity in the minds of fans and followers across the world. It is not the first time that Ayra Starr has made a post or video about Rema, as both singers have been publicly seen together on several occasions. The fact that Ayra Starr shared the video of herself vibing to the music where Rema featured has only added fuel to the existing speculation of the two having a relationship.
Ayra Starr is no stranger to speculations regarding her romantic life. Over the years, she has been linked to several other music celebrities, including Rema. However, in an interview with a media house, Ayra Starr maintained that she and Rema are just close friends, and nothing more. She further clarified that they have a strong bond and mutual admiration but have never been an item in any way.
Nevertheless, her recent video paints a different story as several netizens have come out to express their thoughts on the situation.
Read some of their reactions below:
__chukwu4pf:
"Em fit dey date lowkee o."
heisreeky:
"Lol, iykyk."
tegasbeatz:
"Normal she and Rema dey reason dem self."
big_5ve:
"This girl and rema are into something."
ck_lala77:
"Omalichanwa?? @ayrastarr Omo this babe dey game ."